We've got a fabulous collection of cookout recipes including salads, sides, beverages, desserts and of course lots of grilled steak, chicken, pork, and seafood dishes, too!
Last Updated: 23 June 2020
The best part of summer - aside from the fabulous weather - is spending time with family and friends. One of the best ways I know of to do that is with a good old-fashion backyard barbecue. Today I've got loads of amazing cookout recipes to share with you.
How to Plan a Cookout
Here are some of my top tips for planning a cookout:
Put on some fun upbeat music and make sure you have plenty of seating areas. You'll want to make sure you have some shaded areas for people to sit.
I prefer using plastic silverware and paper plates for a cookout. It just makes things easier!
Be sure to place a trash can and recycling bin where they are easily accessible for your guests also.
Clean out the fridge a day or two beforehand so you have plenty of room for all your dishes.
Best Cookout Recipes
What kind of food do you have at a cookout?
The type of food really depends on your guests and their preferences. Generally speaking, you want to offer the following types of items:
Main Dishes
Snacks, Sides and Salads
Beverages
Desserts
For a family gathering with lots of kids, be sure you have kid-friendly food like these Chili Cheese Hot Dogs from Doodlecraft, burgers and fresh fruit. I like to offer two main dishes for larger gatherings.
For instance, I might make grilled chicken and kielbasa. Then, I cut the chicken breasts in half, and the kielbasa into smaller pieces. This way everyone can try a little bit.
Let guests bring a side dish or dessert to share. If you're going for a certain theme, you can share that. Otherwise, if someone offers, let them run with it! This makes for a little less work for you!
For adults, be sure to offer a variety of of both non-alcoholic and alcoholic beverages. Juice boxes are great for the kids. However, a dispenser for lemonade and water is a great idea, too.
Best Chicken, Beef, Pork and Seafood Main Dishes - Easy Cookout Recipes
Tender Petite Sirloin Steaks with Cowboy Steak Rub is an impressive recipe and perfect for a smaller gathering.
For an awesome batch of ribs, check this recipe from Deb at Bowl Me Over for How to Cook Ribs on the Grill.
Amy from House of Nash has a fabulous Grilled Cilantro Lime Chicken Thighs recipe that is super easy and full of great flavors like garlic, cilantro, lime, and cumin.
Grilled Sirloin Steak Tips
Grilled Sirloin Steak Tips is a flavorful Summer dinner option that even your kids will love.
Get the Recipe >>>
Chicken Kabobs
Easily acquired pantry staples combine to create a delicious depth of flavor in this recipe where I show you how to grill chicken kabobs.
Get the Recipe >>>
Grilled Lemon Pepper Chicken
This Lemon Pepper Chicken has a tangy lemon flavor that pairs beautifully with pepper and garlic to deliver just the right amount of punch. Pair this recipe with a simple side salad for the perfect summer meal!
Get the Recipe >>>
Cookout Recipes for Simple Side Dishes
Cornbread Salad is a great dish for vegetable lovers! It's got tons of peppers, onions, tomatoes, grilled corn and black beans. To make this a vegetarian dish, just skip the bacon.
Lisa at Bloghetti has an incredible Homemade Peach Salsa with jalapeno peppers, peaches, red onion, a pinch of chili powder and of course, cilantro.
This Maple Grilled Asparagus from Lazy Budget Chef is an easy cookout recipe with just three simple ingredients!
More yummy sides:
Grilled Asparagus
Grilling asparagus in tinfoil imparts flavor without burning and gives you perfectly tender, perfectly cooked veggies every time.
Get the Recipe >>>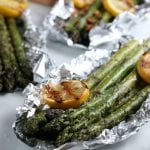 Grilled Veggies
This is the best guide for how to cook vegetables on the grill and it will become a new Summer side dish at your house.
Get the Recipe >>>
Grilled Potatoes
These are the Best Grilled Potatoes you'll ever eat. They are easy to make and the best grilled summer side dish.
Get the Recipe >>>
Grilled Corn on the Cob
Grilled corn on the cob is a Summer staple of a side that packs a ton of delicious flavor into a low-calorie dish.
Get the Recipe >>>
Summertime Drinks and Cocktails
These Cherry Lime Mojitos from Cheese Curd in Paradise are made with white rum, cherry lime syrup, club soda and fresh mint and lime.
Sesame Ginger Iced Tea from Simple and Savory is a great non-alcoholic drink that is especially perfect if you're serving dishes with Asian flavors.
This unique Bloody Mary from Terri Steffes is complete with leafy stalks of celery and a meat stick!
More tasty beverages:
Mermaid Drink
Blue-Green Lemon Drop Recipe will give you the perfect Mermaid Drink!

Get the Recipe >>>
Fruity Pineapple Cocktail
Fruity Pineapple Cocktail - naturally sweet and so beauitful, too!
Get the Recipe >>>
Delicious Desserts Recipes
This Raspberry Cream Cheese Dessert from Who Needs a Cape is a great make ahead dessert!
Cool refreshing Coconut Granita from For the Love of Food is
More amazing desserts:
S'mores Skillet Dip
Loaded with melted chocolate and toasted marshmallows, plus a drizzle of caramel, this Smores Dip is a decadent game day treat or party dessert!
Get the Recipe >>>
We even have suggestions for fabulous grilling gift ideas, as well as the best grill recipes and 55+ grilling recipes from top bloggers to whet your appetite too!