DIY Sidewalk Chalk in any form is a fun way to pass this time this summer. We've got lots of creative ways to make your outdoor playtime even more fun with these Easy DIY Sidewalk Chalk Ideas.
Jump to:
You'll love these DIY Sidewalk Chalk projects! From paints to molds, we've got tons of #BoredomBusters to keep the kids busy!
DIY Sidewalk Chalk is super simple to make at home! It's a project that gives twice since it keeps the kiddos engaged while you're making it plus then they get to go play with it outside. My kids just adore sidewalk chalk and are always asking for it. We especially enjoy making DIY Chalk Paint in the summer.
It can get a little messy, but if it's warm enough, I have my kiddos put their bathing suits on, and then when they're done, they can rinse off on the sprinkler... see what I did there? Three activities for one simple little craft. Genius right?
In the summer, it's all about keeping the "I'm bored" at bay, which is why I'm sharing with you loads of fun projects to keep your kids entertained all summer long!
Sidewalk Chalk Activities
Here are some ideas for keeping kids of all ages entertained with fun activities using chalk:
Sidewalk chalk is a great way for younger kids to practice fine motor skills by holding the chalk and drawing. However, planning an obstacle course is ideal for getting them to move their little bodies, too!
Games like tic-tac-toe, four square, hopscotch, or a chalk maze are also great for kids to get moving.
For school age kids, chalk is an awesome way to practice sight words and spelling words.
You can even make these educational games like practicing math skills as part of hopscotch.
Find more sidewalk chalk games your kids can create while playing outside from Kids Activities Blog.
Our Favorite Chalk Activity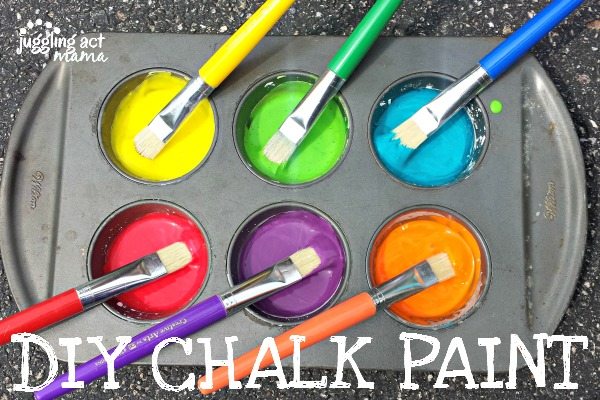 DIY Chalk Paint from Juggling Act Mama: Using three simple ingredients, you can make your own sidewalk chalk in a snap. Turn washable finger paints into easy chalk with this quick and simple process! It's such a creative way for kids to express themselves. You can even use painter's tape to section off different areas for each child.
For this project, all you need is washable finger paint, water, and corn starch. (I like this 2-pack of corn starch because it's great to have on hand for making slime, and this fun faux snow project that's great for rainy days.)
Fun DIY Sidewalk Chalk Projects
These awesome DIY Sidewalk Chalk Projects will keep the kiddos busy all summer long!
Popsicle Sidewalk Chalk from Hello Wonderful: How gorgeous are these popsicle-themed chalks? You'll need plaster of Paris, food coloring, water, popsicle molds, and popsicle sticks to make them pretty like these. Just make sure the kiddos understand not to put them in their mouths! They're best for older children.
Color Changing Sidewalk Chalk from Frogs and Fairies: These color-changing sidewalk chalk pieces are a fun twist on traditional chalk. As you draw, it changes from one color to the next thanks to incorporating several paint colors in the chalk molds. Isn't that a fun idea?!
Sidewalk Chalk Bugs from Finding Zest: This bug-themed DIY sidewalk chalk recipe is perfect for kids who love all things creepy and crawly. Draw a grid with various insects and keep track of how many of each kind you spot!
DIY Sidewalk Chalk "Pops" from Project Nursery: These colorful little pops will help kids make "pops" of color all over your sidewalk and driveway. The neon colors ensure the chalk is nice and bold. This is just so much fun!
DIY Chalk Paint and Sprays
Glow In The Dark Squirt Chalk from Growing a Jeweled Rose: Did you know that you can turn neon paint into glow-in-the-dark sidewalk chalk? It's so simple, too! Grab some squirt bottles to hold the paint and blacklight flashlights to see them glow brightly at night. So cool! If you have older kids that think sidewalk chalk is for only for little kids, this is a fun way to entice them outside.
Sidewalk Chalk Paint from Burlap and Blue: Not only can kids squeeze this colorful sidewalk chalk paint on the concrete, but there's a fun fizzy element to try after they've painted their designs. This activity is your classic baking soda and vinegar science experiment with a colorful twist. The kids will LOVE it!
Spray Chalk from Growing a Jeweled Rose: Get your spray paint on with this fun recipe for spray chalk. Buy new spray bottles or recycle some that you already have for this fun summertime activity. It's such a blast to spray the paint on and then wash it away. This would be a great recipe to use on snow in the winter, too.
Foam Paint from the Tie Toe Fairy: The secret ingredient in this foamy sidewalk chalk is shaving cream! It's a fun take on the usual sidewalk paint in that the thick lines it creates stand out prominently and helps kids better draw their designs. Kids will forget all about screentime with this fun activity!
Puffy Sidewalk Paint from Midget Momma: And if your kids like that, they'll love this.
Whether they're drawing different shapes or playing the ABC sidewalk chalk game from Buggy and Buddy, kids will love making and using this puffy paint.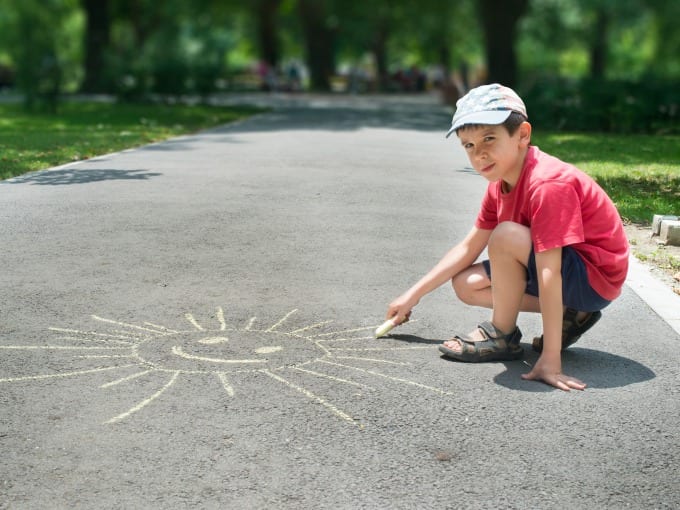 Which one are you going to try out? Leave me a comment and let me know... As for us, I think we'll be doing the foam paint next!
Outdoor Chalkboard Project
If you need more space for your little ones to play with their chalk, check out this Outdoor Chalkboard Project. It's perfect for kids to draw on and for outdoor entertaining as well. Play a game of Pictionary! Write out the menu for your backyard barbecue. There are so many fun ways to use it.
More Outdoor Summer Fun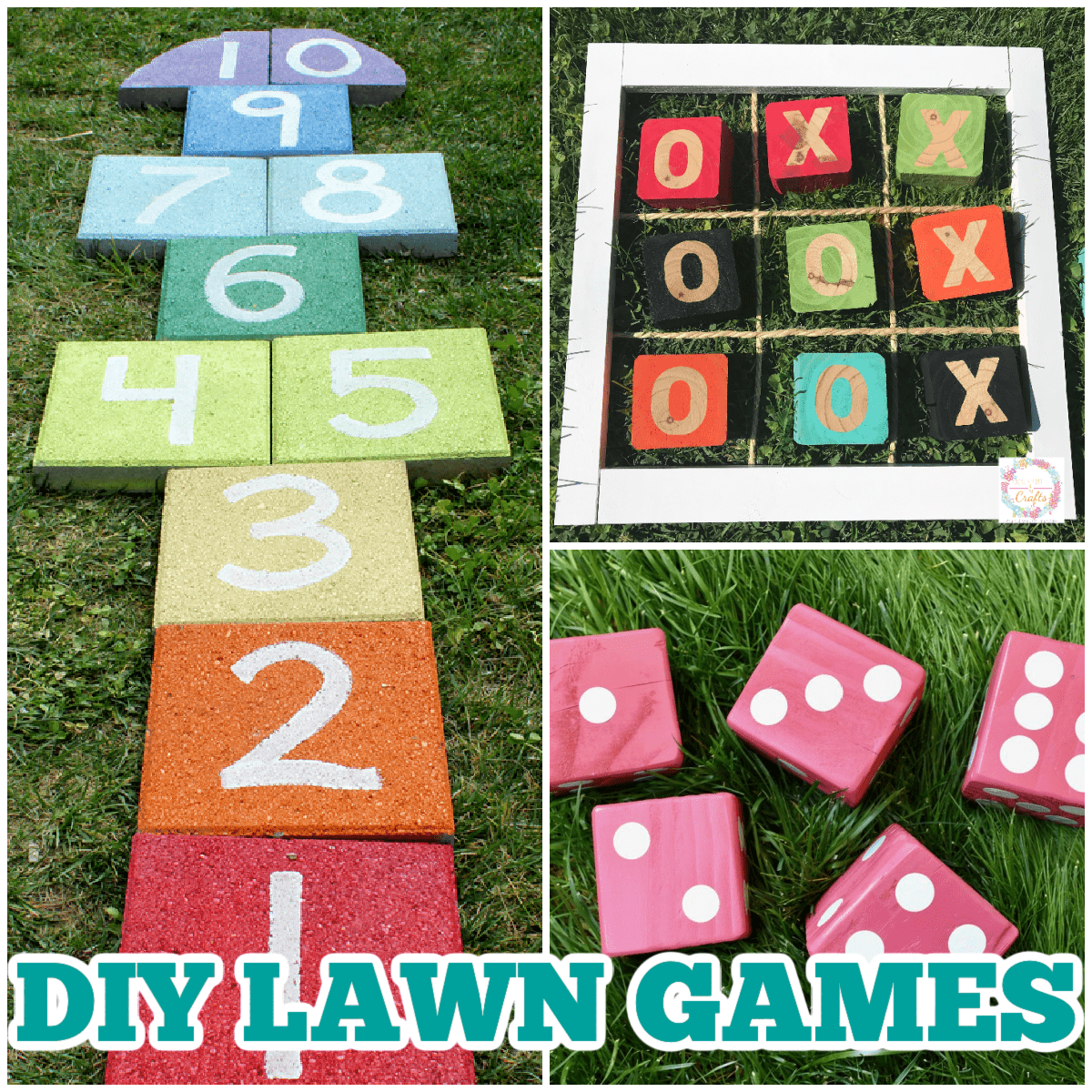 These DIY Lawn Games are perfect for keeping kids entertained during the summer months. Hopscotch, bean bag toss, and giant Yahtzee are just a few of the fun games you'll find here.