Making your own homemade rooting hormone is easy and we'll show you how to do it using three different all-natural ingredients you might even already have on hand!
Jump to:
Synthetic rooting hormones are easily available online or in the store, but you can make your own homemade version without ever leaving your house. This can come in handy when you need it in a pinch or live far from the stores.
If you happen to be planting something you want to consume later like strawberries for example, this is a more natural alternative that is safe to eat. Making your own natural rooting hormone can make sure that you know what your plants have been exposed to while they grow instead of having to look up the ingredients.
While willow water is an extremely effective rooting hormone, it's not as readily available as some others I'll tell you about shortly.
By the way, these Mini DIY Dollar Tree Planters are perfect for potting small shoots and succulent plants! You can also dress up any size planter pot with this Decoupage Flower Pot Project.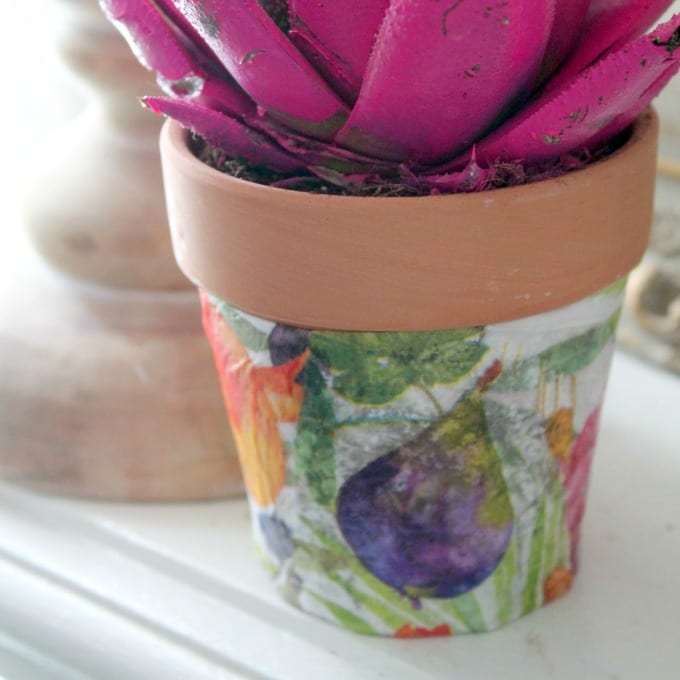 What is a rooting hormone?
Rooting hormone is simply something you put on the stem to help stimulate the roots and help increase your chance of successfully plant rooting. When hormones are used, the root will develop more quickly and be higher quality than the plants that don't have rooting hormone added.
However, many store-bought products use various chemicals. The good news is that there are three awesome all-natural items you can use that are simple and inexpensive.
I love being able to propagate new plants from stem cuttings! Using a simple natural plant hormone can help new cuttings grow strong roots.
DIY Rooting Hormone
There are three common ways to make your own rooting hormone - cinnamon, aloe vera, and honey. Some people also use apple cider vinegar or make willow water from willow trees. While I use the cinnamon method myself, the other options work quite well.
Cinnamon Homemade Rooting Hormone
Cinnamon works great as a rooting agent and works just as well as your typical hormone rooting powder. With the help of a little cinnamon powder, you can give your plants a quick start!
Here is how to make your own homemade rooting hormone:
First, take about a tablespoon of cinnamon powder and put it onto a paper towel. Make sure that you are using pure cinnamon.
Next, get the stems wet (this will make it easier for them to stick to the cinnamon).
After that, roll damp stem ends in the cinnamon, coating them on both sides.
Finally, plant the stems into fresh potting soil.
The cinnamon powder will help your plants produce more stems and prevent fungi from growing on your plants! Pretty simple, right?
Aloe Vera Homemade Rooting Hormone
This is especially convenient if you grow aloe plants!
First, take a leaf of aloe vera, and place the leaf on your cutting board.
Next, using the smallest end of the leaf, point it in your direct. Cut into your aloe vera from the opposite end.
Using a kitchen spoon, push from the end of the leaf and move the spoon toward where you cut it. The pressure from the spoon will force out the gel.
After that, put your gel into a cup, and stir the aloe vera until the chunks start to become more uniform.
Lastly, dip your stems into the cup.
Pot your plant cuttings into soil.
Honey Homemade Rooting Hormone
To start, bring a pot over to the stove and boil two cups of water.
Let the water fully come to a boil, then add a tablespoon or enough to fill a large spoon with the water.
Stir until your honey becomes integrated with the water.
Take the pot of honey and water off the heat to cool for a few minutes.
Then transfer to a canning jar or a container with a tight cover.
Coat the bottom of your stems with the honey liquid .
Lastly, plant the stem.
Find Gardening Products
The following are affiliate links. We are a participant in the Amazon Services LLC Associates Program, an affiliate advertising program designed to provide a means for us to earn fees by linking to Amazon.com and affiliated sites.
If you're not sure you want to try your hand at making your own plant hormones for propagating new plants, there are lots of commercial products on the market. Commercial rooting hormones can be found online and in stores.
When I'm placing my stem cuttings into water to encourage roots to grow, I love using these wooden stands. Plus it's cute home decor, too. I love doing this for my indoor plants. (I have about a million baby spider plants!)
Be sure to check out my Juggling Act Mama Storefront on Amazon where you'll find all kinds of great products to make your life easier! Thanks so much for being a part of Juggling Act Mama ❤
More Gardening Ideas
If you love gardening and DIY, then I think you'll also enjoy these articles:
Find more information and gardening resources here.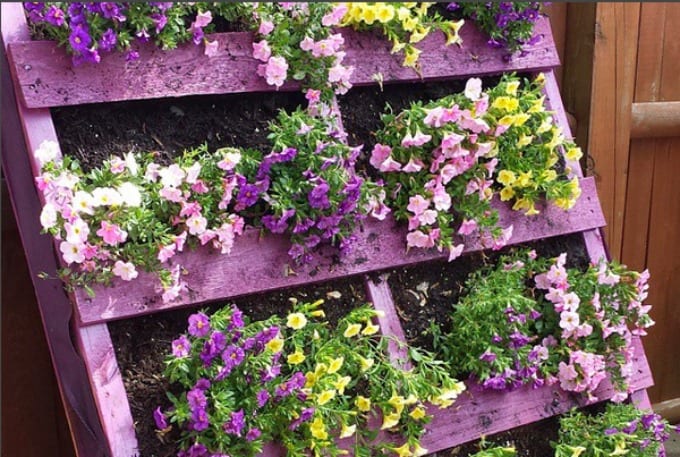 Pallet Planter
This easy DIY project upcycles an old pallet into a planter in just a few hours!