As an Amazon Associate, I earn from qualifying purchases.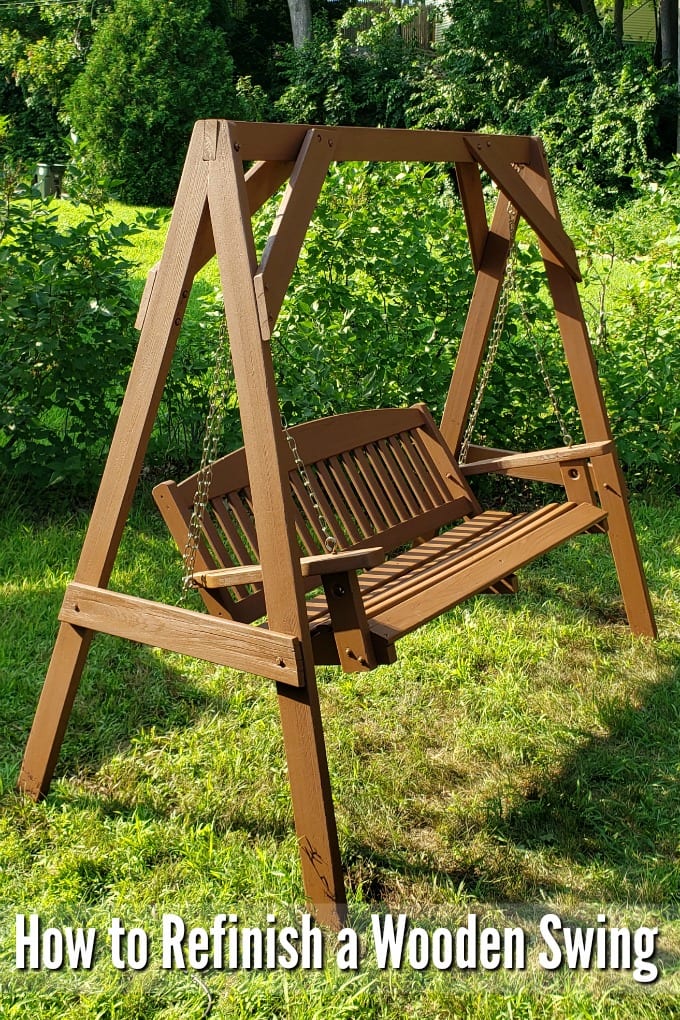 DIY Deck Furniture – Making your own DIY outdoor patio furniture is a terrific way to save money, and you get the satisfaction of a job well done!
With summer in full swing, you're probably spending a lot more time outdoors. But if your outdoor space isn't exactly the oasis you're dreaming of, we've made a list of DIY outdoor patio furniture ideas that will help you turn that around.
By the time you're finished with a few of the projects on this list, you'll have a terrific patio or deck that's all set for lounging with the family or entertaining your friends.
DIY Outdoor Furniture
What are you waiting for? Get those power tools ready, and let's hop to it!
Outdoor Lounge Chair Build Plans from Houseful of Handmade: Add more seating to your outdoor area with the plans for these gorgeous outdoor lounge chairs. They're mostly made from 2x4s, so they're strong and sturdy. They're also large and comfy, so they're perfect for sitting around the fire pit with your family or entertaining friends. Add cushions to make them even more comfortable.
DIY Kids Patio Chairs from Houseful of Handmade: Of course, the kids need their own comfortable seating, too. That's where these cute kids patio chairs come in. Paint them bright colors to add a pop of color to your outdoor space, or keep them neutral, like the chairs for the grown-ups.
Super Easy Pallet Couch from The Boondocks Blog: No power tools are required for this quick and easy project! You'll need six pallets for the project. Four are used for the seat portion, stacking two on top of two to create the bottom. The backrest is made with two single pallets. They are secured together using rope. Did we mention this was a fast project? It was pulled together in just 15 minutes.
Outdoor Couch from Amber Oliver: Here's another version of the pallet couch, but this time the pallets are encased in painted plywood to give the project a more polished look. The money-saving tip for cushions is brilliant—use crib mattresses instead of purchasing large, expensive outdoor cushions.
Outdoor Dining Table with Benches from Houseful of Handmade: A large picnic table with coordinating benches is just what you need to create the perfect outdoor dining area for entertaining. This rustic dining space creates seating for eight or more people and will look super stylish out on your patio.
DIY Outdoor Farmhouse Table from Amber Oliver: This farmhouse table will look fantastic on a covered patio. It's a terrific weekend project, and you'll be able to enjoy it with your friends and family gathered for years to come. It seats about six with large chairs but could accommodate a couple more people if using benches or slimmer chairs.
DIY Industrial Patio Cart from Simply Designing: My sweet friend Ashley comes up with the greatest DIY projects and this beverage cart is no exception! How fun would this be to roll out while you chill on your patio in the late afternoon? I think it would be great for a grill side table. (While you're visiting Ashley, you might like to check out her DIY fire pit, too).
DIY Outdoor Planter Bench
Create a bench with planter boxes for your backyard or porch.
This adds more seating and a beautiful pop of color to your yard.
DIY Deck Furniture
DIY Outdoor Table with Composite Decking from The DIY Nuts: Do you have a bit of leftover composite decking from a recent build? Use that material to make an outdoor eating space! The skinny tables don't take up too much room, but you'll have lots of additional seating for your guests. Plus, it'll be easier to clean up than a wooden surface.
Outdoor Coffee Table with Hidden Side Tables from Saws on Skates: Add extra table space without taking up tons of room on your patio with this genius outdoor coffee table with four hidden side tables. It's just brilliant and makes it so easy to provide guests with a space to sit their drinks, etc., without overwhelming the space when the tables are not needed.
DIY Outdoor Concrete Table from The Lived-In Look: Create this Pottery Barn look-alike on the cheap. If you don't have $600 to drop on a set of these concrete side tables, making your own is a great alternative. The DIY version only costs about $50 to make, so that's quite a lot of savings!
Outdoor Buffet Table from Salvaged Living: The top of this table is made from an old door, so if you have one stored in the garage or just happen to drive by one on a trash heap, now's your chance to turn an old door into something useful! The kitchen sink serves as a built-in ice chest (which is brilliant for keeping drinks cold), and the remainder of the bench can hold all your food while entertaining. The bottom rung is a great place to store extra food, dishes, outdoor toys, etc.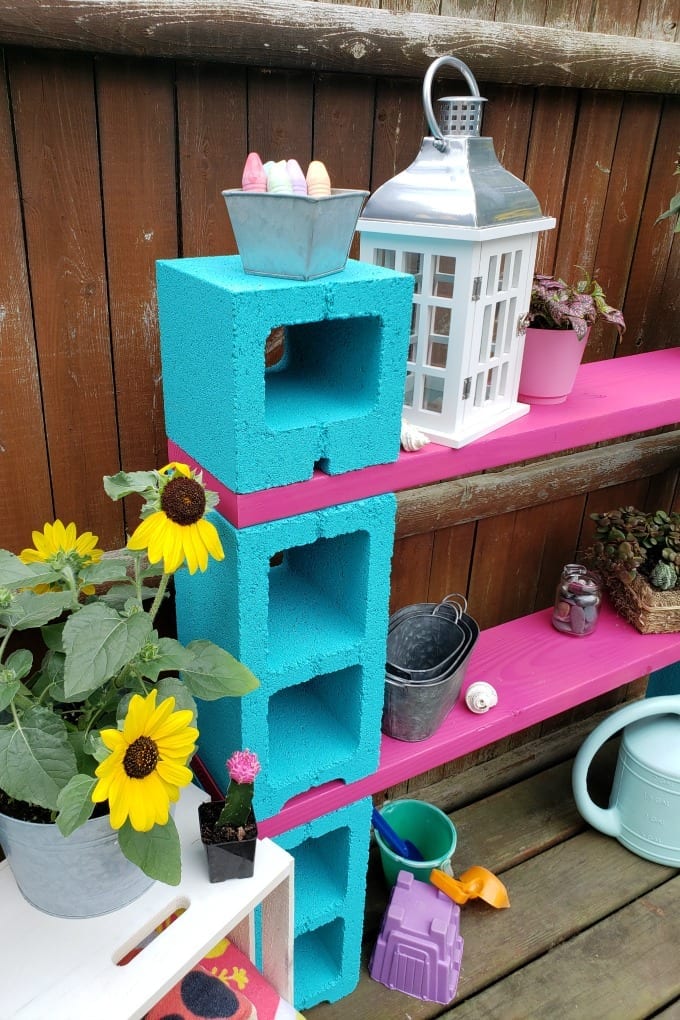 DIY Cinder Block Shelves
Create more backyard storage with this easy and inexpensive project.
This is a fun project that takes hardly any time at all!
Pin this list of DIY outdoor patio furniture so you'll have a weekend project ready to improve your outdoor space!
More Outdoor Patio Ideas
DIY Cedar Planter Box
This tutorial for building a cedar planter box uses cedar fence post boards.
A planter like this adds instant curb appeal to your porch or deck!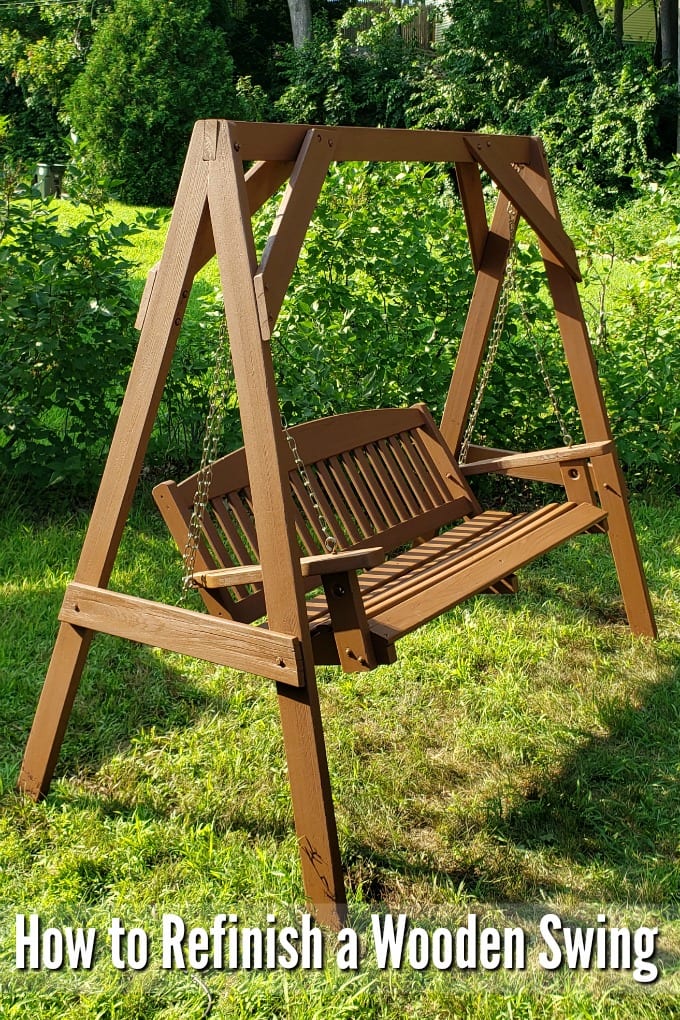 Refinish a Wooden Swing
A little elbow grease and fresh stain refreshes this old wooden swing.
See how easy it is to refinish this wooden swing.
You might also like: