As an Amazon Associate, I earn from qualifying purchases.
Outdoor lighting can seem daunting, but I promise it doesn't have to be! Let me teach you How to Hang Patio Lights and your backyard will be Summer ready in no time!
I wanted elegant and whimsical string lights over our patio but I wanted it all to look simply effortless. It took us a little trial and error to figure out exactly how to hang outdoor patio lights, but I do think this is the easiest method.
What is the best way to hang outdoor string lights?
Fancy brackets, hooks, and poles can be expensive. By using EMT conduit and PVC conduit, you can hang beautiful string lights over your patio inexpensively.
All you need to do is add one-hole straps to the top of the EMT, which will hold the guidewire. Then, add a little spray paint really gives the whole thing an expensive look. Next, secure the EMT into PVC 'holders'. After that, all that's left to do is string up the lights! Maybe that was too quick, let me walk you through it!
For each pole you will need the following:
(1) 3/4″ x 10′ EMT conduit
(1) 3/4″ EMT one-hole straps – to secure the guide wire
(1) #10 x 1/2 in. Zinc Plated Steel Self-Tapping Pan Head Phillips Drive Sheet Metal Screws
(1) 1-1/4 in. x 10 ft. PVC Schedule 40 Conduit, cut to 36″ – to anchor the pole
Materials & Equipment
Here is a complete list of materials – please be sure to purchase the correct amount of materials for the number of poles you want to install.
3/4″ x 10′ EMT conduit
3/4″ EMT one-hole straps
#10 x 1/2 in. Zinc Plated Steel Self-Tapping Pan Head Phillips Drive Sheet Metal Screws
1-1/4 in. x 10 ft. PVC Schedule 40 Conduit
guide wire
spray paint (I used a brown "hammered" paint for mine).
outdoor string lights
extension cord
drill
wire cutters
ladder
hammer
mallet
nail set or nail punch
hack saw
How to Hang Patio Lights
First, mark one side of each EMT conduit as the top of your supports.
On each, measure the same length down from the top for the location of the one-hole EMT strap which will act as a "hook" to support your guidewire. Mark the spot with a permanent marker.
Next, pre-drill small holes into the 3/4″ x 10′ EMT conduit at the locations you marked earlier. Use a nail punch or nail set to make a small indent to help guide your drill bit. Make sure to use a bit that is slightly smaller in diameter than the screw you will use to attach the one hole EMT strap.
Now, spray paint the poles and hardware the color of your choice.
Then, cut the PVC pipe to 36″ and use a mallet to drive it at least 24″ into the ground. You can spray-paint this as well.
Once that's done, place your pole into the PVC pipe and push it into the ground. This will help secure the poles.
Now, string the guidewire through the strapping in your desired pattern.
Finally, string your lights using the guidewire.
Photographs to Guide You
More Fabulous Outdoor Living Ideas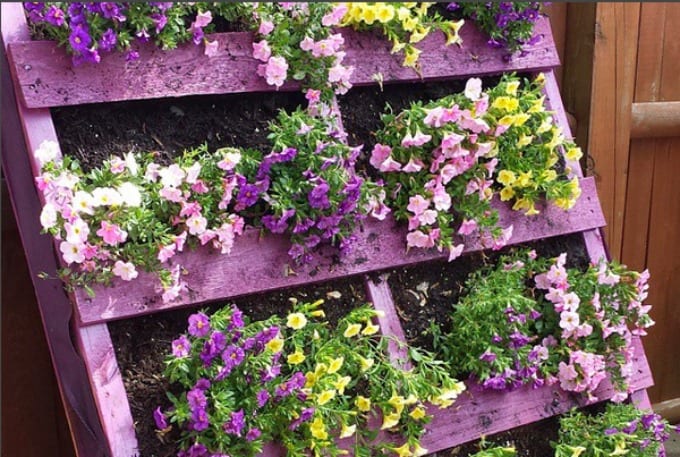 Pallet Planter
This easy DIY project upcycles an old pallet into a planter in just a few hours!
DIY Cedar Planter Box
This tutorial for building a cedar planter box uses cedar fence post boards.
A planter like this adds instant curb appeal to your porch or deck!