As an Amazon Associate, I earn from qualifying purchases.
Homemade Montreal Seasoning Mix is a pantry staple must-have in my house. It's simple to make and oh-so-very delicious!
This Homemade Montreal Seasoning Mix will become your go-to mix for flavoring everything this summer!
Every week, Mr. Juggling Act makes a big batch of chicken thighs to take to work along with a salad. He loves using Montreal Seasoning Mix for the convenience and flavor. He's especially fond of the kick from the crushed red pepper flakes. If you've never had Montreal seasoning mix before, it's really a versatile blend of spices that works great for all kinds of recipes including chicken, potatoes, and vegetables, not just steak.
So there Mr. Juggling Act is, prepping his chicken for the week and disaster strikes! We ran out of the mix. No worries friends, this was an easy one to fix. I always have tons of seasonings and spices on hand and love making my own mixes like my Cowboy Seasoning Mix and Italian Garlic & Herb Seasoning Mix. It was only a matter of time before I gave this classic blend a try, too! Our Homemade Montreal Seasoning Mix is quick and easy to make and tastes even better than the expensive brand from the store.
Montreal Steak Seasoning Ingredients
For this seasoning mix, you'll need the following spices:
Salt
Pepper
Onion Flakes
Dried Minced Garlic
Crushed Red Pepper
Thyme
Rosemary
Paprika
For a list of some of my favorite items to use when cooking, and why I chose them, please visit my Kitchen Resource page.
Homemade Montreal Seasoning Mix
Here's how to make your own Homemade Montreal Seasoning Mix.
Montreal Seasoning Recipe
You can even print this recipe on a decorative card and give it as a gift with a jar of your mixture to your friends and family. Enjoy!
Montreal Seasoning Mix
This tastes just like the real Montreal seasoning! You won't be able to notice a difference.
Print
Pin
Rate
As an Amazon Associate, I earn from qualifying purchases.
Ingredients
1/2

cup

coarse salt

1/3

cup

cracked pepper

1/3

cup

onion flakes

1/2

cup

dried minced garlic

2

tablespoons

crushed red pepper

2

tablespoons

thyme

2

tablespoons

rosemary

2

teaspoons

paprika
Instructions
In a food processor, combine the salt, black pepper, onion flakes, garlic and red pepper. Pulse 8-10 times until the mixture is well combined.

In a medium-sized bowl, combine the mixture from the food processor, with the rest of the ingredients. Gently combine using a wire whisk.

Transfer the mixture to a large mason jar. Makes about 1.5 cups.
Please Note: I am not a registered dietician. Any nutritional data I provide is an approximation and actual dietary information can vary based on ingredients and portion sizes.
Tons More Recipes
You'll be cooking up a storm with this Montreal Seasoning mix. I have 5 simple weeknight meals in my cookbook, and you can get it for free! Just request the cookbook and it will be emailed to you, easy!
How to Use Montreal Seasoning
Montreal seasoning is super easy to use. For every pound of meat (chicken, pork, steak) sprinkle about a tablespoon of seasoning.
Beyond Meat: Other Montreal Seasoning Recipe Ideas
What can you use Montreal seasoning on that isn't meat? Here are some ideas. If you are making the Montreal Seasoning as a gift, maybe print these ideas on a pretty card and tie it around the neck of the mason jar.
Sprinkle some on chunks of bread and broil for homemade croutons
Sprinkle on vegetables and roast in the oven for amazing roasted veggies
Mix Montreal Seasoning with olive oil and lemon juice for a flavorful salad dressing or marinade.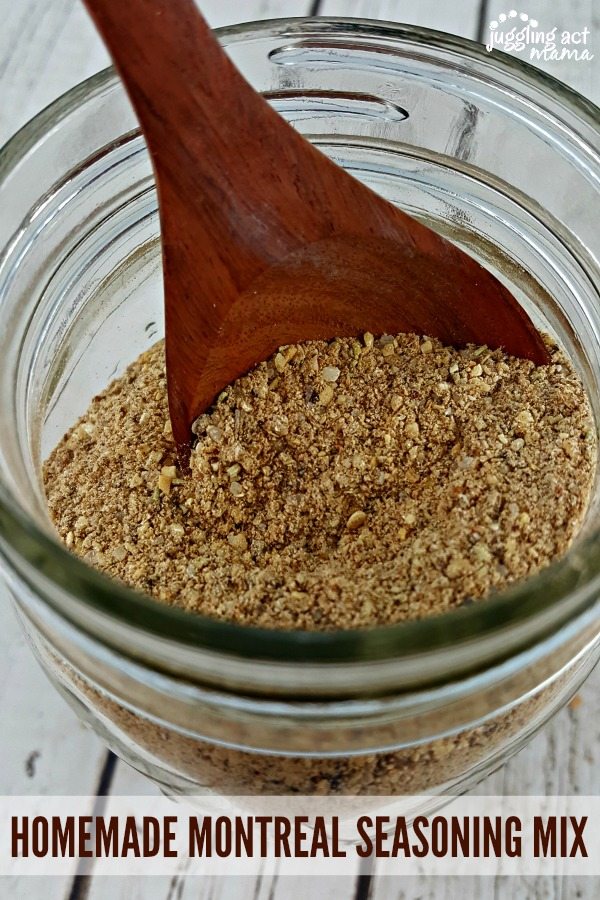 Montreal Seasoning Gifts
You can also package these in 4oz jars and give them as gifts for family and friends! This makes a nice addition to a grilling gift basket with your favorite barbecue sauce. Gifting tip: use their favorite colors (or the colors from their favorite sports team) throughout the basket for an extra special personalized touch.
Do You Need a Food Processor to Make Your Own Spice Mix?
No, you don't need a food processor to make your own spice mix, but it really does make the job so much easier. The food processor chops up all the spices so they are all the same consistency throughout. If you simply put the spice mixture in a large mason jar and shake it up, it will still make meats taste amazing. Don't worry if you don't have a food processor, but you will really be impressed with how it helps.
Food Processor Alternatives
If you don't have a food processor and buying one isn't in your budget, these are fantastic alternatives that will chop up the spices and mix them up really well.
Magic Bullet
Immersion Blender
Shop the Post
You might also like these other homemade mixes!
Making your own seasonings and spice blends at home is simple and inexpensive. Give one of these great recipes a try:
From Left to Right:
Homemade Rubs & Marinades
Do you enjoy making your own spice mixes for meat rubs and marinades? Here are some of my favorites from bloggers I recommend!
Jamaican Jerk Marinade – Curious Cuisiniere – This marinade is spicy, smoky and slightly sweet. Serve with rice and roasted veggies.
Homemade Carribean Rub – Today's Creative Life – This rub has more brown sugar than any other spice, so your meats and veggies will be sweet and spicy at the same time.
Cilantro Lime Chicken Marinade – Joyfilled Eats – My favorite thing about this marinade is that it is keto friendly! Put it on chicken and broccoli for only 5 carbs!