Forget little side dish salads, this is all about delicious salads with chicken perfect for an entree that fill you up!
Jump to:
I love a good chicken salad recipe. I'm not talking about the kind of chicken salad you make for sandwiches - I'm talking about hearty dinner salads with lots fresh vegetables and yummy chicken on top. These delicious green salads are perfect for last minute meals.
Best Chicken Recipes
Here are some of my favorite chicken recipes which are delicious on top of a large bowl of greens!
Whether you use leftover chicken, store-bought rotisserie chicken, or homemade slow cooker pulled chicken, you're going to love these salad recipes.
Salads with Chicken
I've collected some of my favorite and most delicious chicken salad recipes to share with you. Grab a fork and let's dive in!
This dinner salad is a play on Caprese salad with tomatoes. However, it's also got chicken, avocado, cucumbers, and parmesan cheese - plus a sprinkle of sesame seeds. This is a great low carb option!
This is one of my favorite chicken salads because of all the delicious fresh fruit. Plus the light and creamy poppyseed dressing on top of the salad is so good! If you're into healthy eating, this salad is for you.
I'm in love with this hearty salad loaded with cherry tomatoes, bacon, hard boiled eggs, avocado and grilled chicken. And, I might be bias, but I think that this is one of the best cobb salad recipes you'll ever try!
With lots of fresh strawberries, baby spinach, red onion, slivered almonds, feta cheese, and creamy avocado, this chicken salad truly is a complete meal.
Switch it up and add blueberries or even apples depending on what fruit is in season. This has a Greek yogurt dressing, but would also be good with red wine vinaigrette.
This incredible salad start with our Slow Cooker Buffalo Chicken Recipe. It's super easy (and great for those that like to meal prep). You'll love the tangy blue cheese with all the fresh salad ingredients like slices of red bell pepper and shredded carrots, on top of romaine lettuce. I like a little squirt of lime juice on my buffalo chicken salad so I always add lime wedges.
You only need a few simple ingredients for this classic chicken salad - grilled chicken (or any leftover chicken), parmesan cheese and lots of black pepper. Although, you could toss on a few grape tomatoes or red onions if you have some on hand. My husband loves to add black olives to his salad!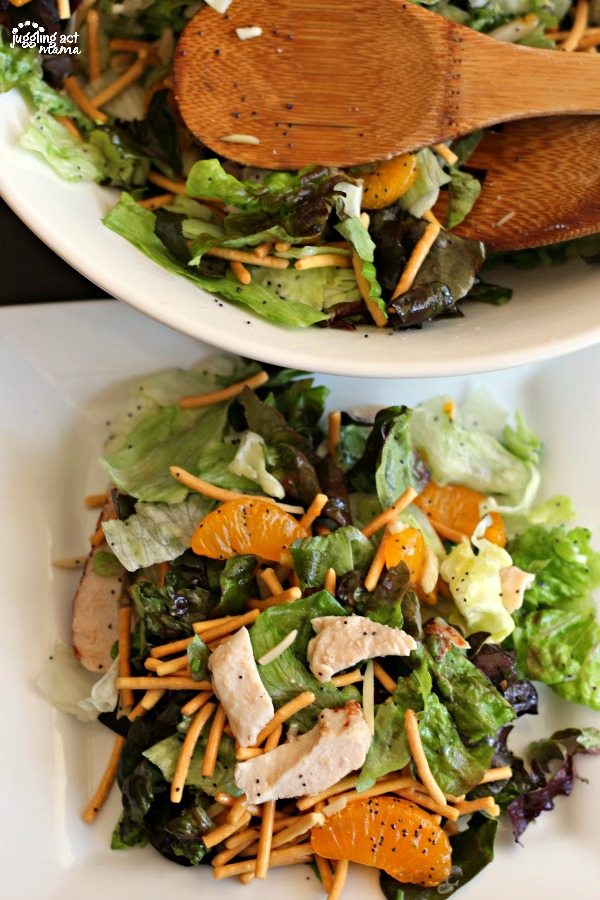 This big salad is one of my favorite easy recipes. Sliced boneless skinless chicken breasts with sweet mandarin oranges and crunchy chow mein noodles on top of mixed salad greens is just so good! I like mine with diced green onions on top.
This is a different dressing too, I love the combination of fresh ginger, soy sauce and poppy seeds!
Even though this isn't a traditional salad recipe, I had to include it. I mean, it's a pasta salad with buffalo chicken - what's not to love about that?! This is really good with some black beans or fresh corn kernals, also.
Dressings and Vinaigrettes
From Bellyfull - Everyone will love this light Honey Chicken Salad with fresh apples, peaches, blackberries, pecans, grilled chicken, and a fantastic dressing. With creamy dressing, this is perfect for lunch or light dinner.
From Recipes from a Pantry - Your whole family will absolutely love this easy Chicken Fajita Salad! Homemade seasoned juicy chicken fajitas, crisp lettuce, creamy avocado, and a delicious cilantro lime salad dressing makes a great weeknight dinner that comes together in less than 20 minutes.
From Cook at Home Mom - This easy Greek Salad with Chicken is a wonderful entree salad made with tender marinated chicken thighs, feta cheese, cucumbers, tomatoes, onions, avocado, hummus, with a homemade dressing.
More Chicken Salad Recipes
More Salads You'll Love