Enjoy this Mandarin Orange Salad with Chicken in no time at all when you use store-bought rotisserie chicken. The sweetness from the mandarin oranges and crunch from the slivered almonds make it a super kid-friendly option, too!
Need something different for dinner? Try this 15 minute Mandarin Orange Salad with Chicken!
Our Asian-inspired Mandarin Orange Salad with Rotisserie Chicken is fast, simple and delicious with many ingredients you probably already have on hand.

Mandarin Orange Salad couldn't be easier to make! Even though this is a super quick meal, I use rotisserie chicken to cut down on prep time even more. If you are trying to get your children to eat more vegetables, this salad is a great choice. The iceberg and romaine lettuces are crisp, but not bitter, and the sweet juicy Mandarin oranges add so much flavor and texture. The dressing is mild, with a hint of ginger and soy sauce that really compliments all the other ingredients in the Mandarin salad.
This is also an easy recipe for kids to help make. Teach them to use a handheld can opener and they can open and drain the oranges while you chop the lettuce. Can openers are actually a great tool for helping kids to strengthen their hand muscles. Of course, kids can also sprinkle on the Chow Mein noodles, slivered almonds, and chopped green onions. When it is time to make the dressing, kids can also whisk or shake together the ingredients.
Cooking in the kitchen with my kids is a great chance for me to connect with them in a different way. They love helping and don't consider it a chore at all - not like when I need help with the laundry! Now, I know that sometimes having the kids in the kitchen actually makes things take a little longer, but this is an uncomplicated recipe that is quick, so if it takes an extra 5 or 10 minutes it's not a big deal.
There are lots of great teachable moments you can have with your kids in the kitchen - everything from good nutrition to math (measuring ingrdients) and science (making an emulsion).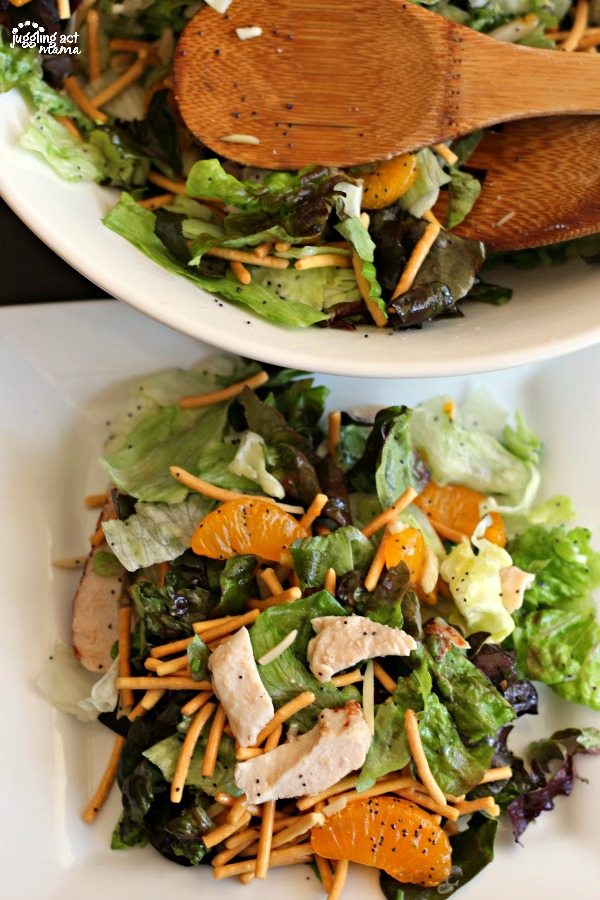 What are Mandarin Oranges?
Mandarin oranges are a small citrus fruit with bright orange skin. Consider them the smaller, sweeter sibling to a Naval orange. The peel is very easy to remove, and these are a delicious snack for kids. Variations of Mandarin oranges include Clementines and Tangerines.
All of these fruits are high in Vitamin C and they are also a good source of Vitamin A and Potassium. For our Mandarin Orange Salad, we are using canned mandarins because all you need to do is drain them and you're ready to go.
Shopping List for Mandarin Orange Salad with Chicken
This is what I consider to be a pantry type meal because most of the items you will already have on hand in your refrigerator or on your pantry shelves. Like most of you, we buy lettuce every week, usually Romaine. Canned Mandarin oranges, Chow Mein noodles, and slivered almonds are pantry staples in our home. It's super easy to grab them off the shelf and throw a Mandarin Orange Salad together. If you already have the rotisserie chicken ready to go, you can have this meal on the table in about 15 minutes!
Romaine or Red Leaf Lettuce
Ice Berg Lettuce
Green Onions
Slivered Almonds
Canned Mandarin oranges
Chow Mein Noodles
Poppy Seeds
Rotisserie Chicken
Honey
White Vinegar
Canola Oil
Fresh Ginger
Soy Sauce
salt and pepper
Items You May Need
This post contains affiliate links; we are a participant in the Amazon Services LLC Associates Program, an affiliate advertising program designed to provide a means for us to earn fees by linking to Amazon.com and affiliated sites. I only promote things that I love and think you will love, too! For more information, please see our Disclosure Policy.
Salad Bowl
Salad Tongs
Whisk (these are the ones I use) or a mason jar
Cutting Board and a Good Knife
Measuring Cups and Spoons
How to Carve a Rotisserie Chicken
Place the chicken on a cutting board breast-side up. Remove any twine holding the legs together.
Use a large fork to help steady the chicken and hold it in place while you pull one leg away from the breast and slice it where it connects to the rest of the bird. Repeat with the other leg.
Hold the wing tip with one hand while you use the knife to slice between the wing and the breast.
Separate the thighs and the drumsticks by slicing through the joint.
Remove the breast from each side by slicing where it meets the bones.
Now that all the meat is off the carcass, you can easily chop or shred it as desired.
Mandarin Orange Salad with Chicken
Mandarin Orange Salad with Chicken
Enjoy this Mandarin Orange Salad with Chicken in no time at all when you use store-bought rotisserie chicken. The sweetness from the mandarin oranges and crunch from the slivered almonds make it a super kid-friendly option, too!
Print
Pin
Rate
As an Amazon Associate, I earn from qualifying purchases.
Ingredients
Salad
1

bunch romaine or red leaf lettuce

1

head ice berg lettuce

4

green onions

chopped

½

cup

slivered almonds

1

can mandarin oranges

drained

1

cup

chow mein noodles

½

teaspoon

poppy seeds

1-2

cups

rotisserie chicken
Dressing
3

tablespoons

honey

¼

teaspoon

salt

¼

teaspoon

pepper

¼

cup

white vinegar

½

cup

canola oil

1

teaspoon

fresh ginger

grated

1

teaspoon

soy sauce
Instructions
Chop or tear the lettuces into bite size pieces. Wash and dry well.

Pour the lettuces into a large bowl and toss.

Top the salad with the chopped green onions, slivered almonds, mandarin oranges, chow mein noodles, poppy seeds, and chicken.

Add the dressing ingredients to a medium jar. Cover tightly with a lid and then shake well.

Pour the dressing over the salad then toss to combine all ingredients.

Serve immediately.
Sign up for our emails and never miss another recipe!!
We'll never share your email or send you spam.
Please Note: I am not a registered dietician. Any nutritional data I provide is an approximation and actual dietary information can vary based on ingredients and portion sizes.
Make this Mandarin Chicken Salad your own!

Substitute red cabbage or shredded carrots for an extra burst of color and texture.
Add 1 teaspoon of chili-garlic sauce to the dressing for a kick.
Add in one red bell pepper, chopped, for color and flavor.
Sprinkle feta cheese on top, the combination of the feta and mandarins is delicious!
Add thinly sliced red onions for a sharp bite and pretty color.
This is a great salad for Spring and Summer and makes a nice addition to potlucks, buffets and parties. It is such a versatile dish! It's easy enough for a weekday dinner, but perfect for a bridal shower, too. Not a salad person? No problem! Use a pita pocket or whole wheat wrap to make it into a sandwich that's easy for lunchboxes or on-the-go meals.
If you liked this recipe for Mandarin Orange Salad, you might also like:
More Salad Recipes: