Our Asian-inspired Mandarin Orange Salad with Rotisserie Chicken is fast, simple and delicious with many ingredients you probably already have on hand.
Jump to:
Mandarin Orange Salad couldn't be easier to make! Even though this is a super quick meal, I use rotisserie chicken to cut down on prep time even more. If you are trying to get your children to eat more vegetables, this salad is a great choice. The iceberg and romaine lettuces are crisp, but not bitter, and the sweet juicy Mandarin oranges add so much flavor and texture. The dressing is mild, with a hint of ginger and soy sauce that really compliments all the other ingredients in the Mandarin salad.
This is also an easy recipe for kids to help make. Teach them to use a handheld can opener and they can open and drain the oranges while you chop the lettuce. Can openers are actually a great tool for helping kids to strengthen their hand muscles. Of course, kids can also sprinkle on the Chow Mein noodles, slivered almonds, and chopped green onions. When it is time to make the dressing, kids can also whisk or shake together the ingredients.
Cooking in the kitchen with my kids is a great chance for me to connect with them in a different way. They love helping and don't consider it a chore at all - not like when I need help with the laundry! Now, I know that sometimes having the kids in the kitchen actually makes things take a little longer, but this is an uncomplicated recipe that is quick, so if it takes an extra 5 or 10 minutes it's not a big deal.
There are lots of great teachable moments you can have with your kids in the kitchen - everything from good nutrition to math (measuring ingrdients) and science (making an emulsion).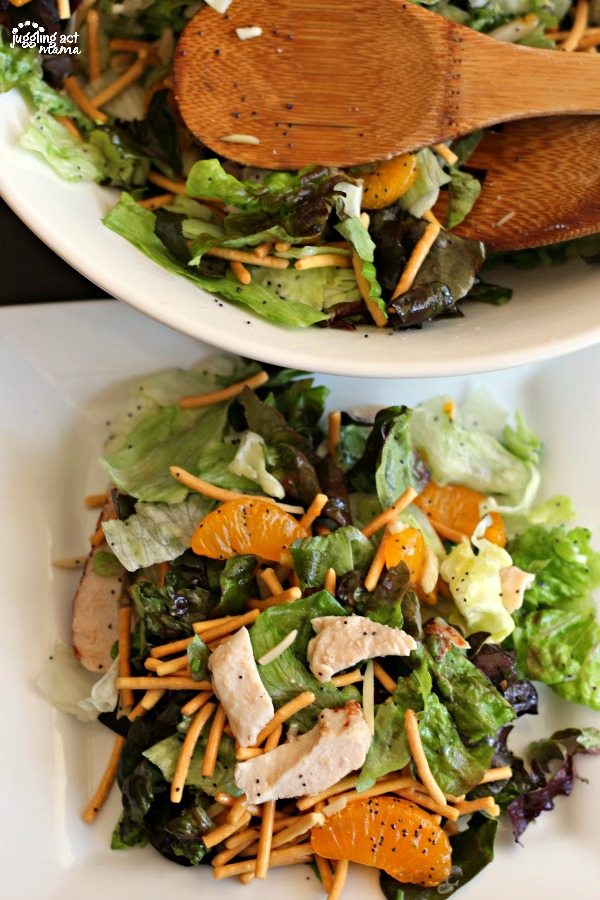 What are Mandarin Oranges?
Mandarin oranges are a small citrus fruit with bright orange skin. Consider them the smaller, sweeter sibling to a Naval orange. The peel is very easy to remove, and these are a delicious snack for kids. Variations of Mandarin oranges include Clementines and Tangerines. All of these fruits are high in Vitamin C and they are also a good source of Vitamin A and Potassium. For our Mandarin Orange Salad, we are using canned mandarins because all you need to do is drain them and you're ready to go.
This is what I consider to be a pantry type meal because most of the items you will already have on hand in your refrigerator or on your pantry shelves. Like most of you, we buy lettuce every week, usually Romaine.
Canned Mandarin oranges, Chow Mein noodles, and slivered almonds are pantry staples in our home. It's super easy to grab them off the shelf and throw a Mandarin Orange Salad together.
If you already have our Healthy Pulled Chicken ready to go, or have a store-bought rotisserie chicken, you can have this meal on the table in about 15 minutes!
Ingredients
Romaine or Red Leaf Lettuce
Ice Berg Lettuce
Green Onions
Slivered Almonds
Canned Mandarin oranges
Chow Mein Noodles
Poppy Seeds
Rotisserie Chicken
Honey
White Vinegar
Canola Oil
Fresh Ginger
Soy Sauce
salt and pepper
How to Carve a Rotisserie Chicken
Place the chicken on a cutting board breast-side up. Remove any twine holding the legs together.
Use a large fork to help steady the chicken and hold it in place while you pull one leg away from the breast and slice it where it connects to the rest of the bird. Repeat with the other leg.
Hold the wing tip with one hand while you use the knife to slice between the wing and the breast.
Separate the thighs and the drumsticks by slicing through the joint.
Remove the breast from each side by slicing where it meets the bones.
Now that all the meat is off the carcass, you can easily chop or shred it as desired.
😋 Similar Recipes
Next time, try one of these tasty recipes: