Strawberry Avocado Salad + Greek Yogurt Dressing with chicken and feta is packed with tons of great flavors
Thank you to Stonyfield for sponsoring this Strawberry Avocado Salad + Greek Yogurt Dressing recipe! #ad #StonyfieldBlogger #TaylorFarms #NationalDairyMonth #SaladsOnRepeat
I'll be honest, salad isn't always my thing… I'm more of a chocolate cake kind of girl. Heehee. But if I'm going to eat a salad, it's got to be really delicious. Since I've got a sweet tooth, I love incorporating fruits into my salads. I love this time of year because of all the fresh produce that's available. Strawberry picking is a family favorite every June, and I love coming up with ways to incorporate the strawberries into fun new recipes. This salad is loaded with sweet strawberries, creamy avocado, grilled chicken, tangy feta and loads of delicious mixed greens from Taylor Farms. Our dressing is made with garlic and lemon, paired with Greek yogurt. Stonyfield Greek yogurt is my favorite choice because I know it's a quality product.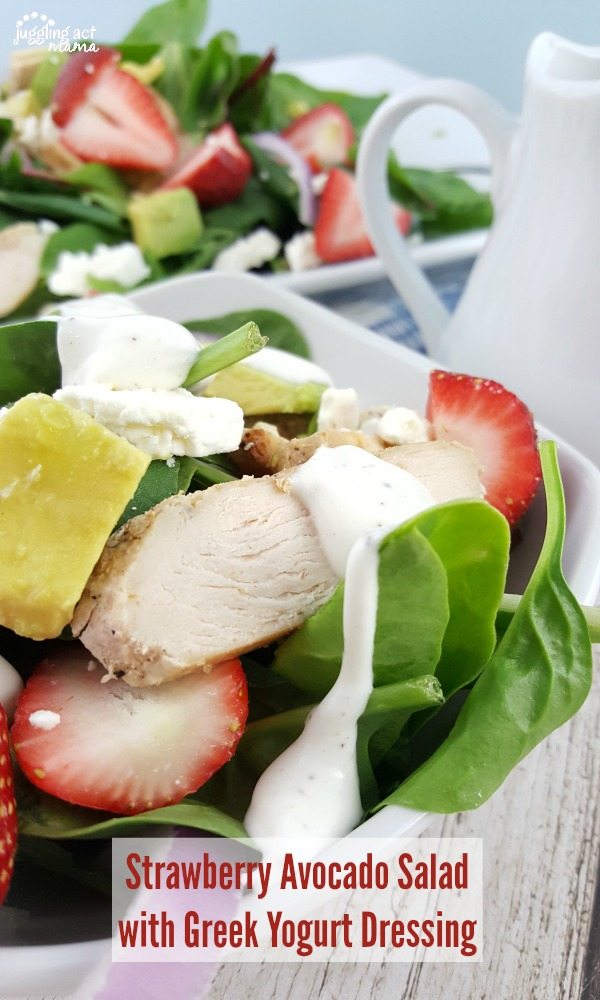 Strawberry Avocado Salad + Greek Yogurt Dressing
Here's how to make Strawberry Avocado Salad + Greek Yogurt Dressing:
Dressing Ingredients:
1/2 cup Stonyfield Greek Yogurt
1/4 cup milk
1/8 cup feta cheese, finely crumbled
2 tablespoons lemon juice
1 clove garlic, grated
salt and pepper to taste
Dressing Directions:
Whisk the ingredients together until well combined and smooth. For best flavor make ahead and let the flavors all marry in the refrigerator.
Salad Ingredients:
juice of one lime
1 large avocado, pitted and chopped
4 cups mixed greens
2 cups strawberries, hulled and sliced
2 chicken breasts, grilled and sliced
1/2 red onion, sliced
1/2 cup crumbled feta
1/4 cup slivered almonds
Salad Directions:
Squeeze the lime juice over the avocado and toss to coat.
On a large platter or in a large bowl, arrange the greens. Top with the strawberries, grilled chicken, red onion, crumbled feta and slivered almonds.
Serve with Greek dressing.
You Might Also Like: