Try a Pineapple Cranberry Smoothie for an irresistible flavor combination that's unexpectedly perfect any time of year.

Thank you to Barlean's for sponsoring today's recipe. #ad #SeriouslyDeliciousOmega3s #Barleans #BrunchwithBarleans

There are some recipes I like a lot, and there are others that I just love. I am over-the-moon in love with my Pineapple Cranberry Smoothie! It's got a sweet and tart flavor that's perfect for waking you up in the morning, but there's just the right amount of creaminess from the yogurt. While you might think of cranberries only during the holidays, this is a smoothie and tasty and nutritional all year long! This smoothie is the perfect opportunity for you to sneak some healthy goodness into your family. Not only are cranberries one of the healthiest fruits you can eat, but adding Barlean's Omega 3 Swirl gives the Cranberry Smoothie a boost of amazing nutritional benefits.
Why I use Barlean's Omega-3 Products
Some of the items below contain affiliate links; I am a participant in the Amazon Services LLC Associates Program, an affiliate advertising program designed to provide a means for us to earn fees by linking to Amazon.com and affiliated sites. However, I only promote things that I love and think you will love, too. For more information, please see our Disclosure Policy.
Because of the way Barlean's makes their Seriously Delicious Omega-3 products, your body can absorb 3x more Omega-3s than if you take traditional liquid fish oil or softgels. Plus, it tastes waaaay better!

3X better absorption of Omega-3s & NO fish burps
720mg of EPA/DHA + 400 IU of Vitamin D per serving
Non-GMO, Gluten Free, Sugar Free; no artificial flavors, colors or sweeteners
Made with highly purified fish oil: free of mercury and other heavy metals
I use Barlean's Seriously Delicious Omega Swirls in just about all my smoothies for the added nutrition and health benefits. There are tons of great flavors, including Strawberry Banana Smoothie, Pina Colada, Mango Peach, Pomegranate Blueberry, Lemon Creme, Orange Creme, Key Lime Pie, Blackberry Smoothie, and Citrus Sorbet.
Health Benefits of Cranberries
Cranberries are considered a superfood because the contain antioxidants that fight disease. With vitamins B, C, E, fiber and more, cranberries are one of the world's healthiest foods! In addition, studies of have shown that cranberries are good for the brain and can improve your memory, help heal skin conditions, and flush your kidneys. Fresh cranberries are healthiest. If you're using frozen or dried cranberries, be sure to check the label for added sugar.
Health Benefits of Pineapple
Like cranberries, pineapple also contains vitamins B6 and C and loads of antioxidants. The enzymes in pineapple can even help ease digestion and can even ease the symptoms of arthritis.
Pineapple Cranberry Smoothie Shopping List
cranberry juice
vanilla yogurt
fresh or frozen pineapple
fresh or frozen cranberries
1-2 teaspoons honey or other sweetener of you choice
elderberry syrup (I like to use Sambucus)
Items you may also need:
For a list of some of my favorite items to use when cooking, please visit my Kitchen Resource page.
How to Make a Pineapple Cranberry Smoothie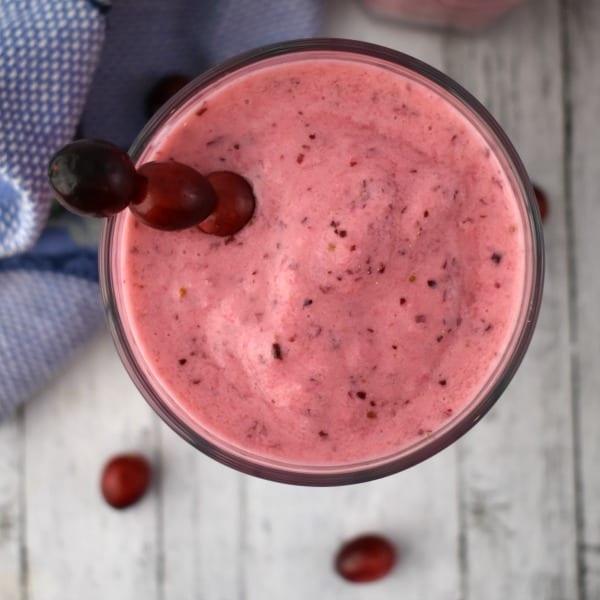 Pineapple Cranberry Smoothie
Packed with nutrition from the pineapple and cranberries, this is an antioxidant-rich smoothie with an Omega-3 boost.

Print
Pin
Rate
Ingredients
1

cup

cranberry juice

1

cup

vanilla yogurt

2

tablesooons

Barlean's Passion Pineapple Seriously DeliciousOmega Swirl

1-1/2

cups

fresh or frozen pineapple

1-1/2

cups

fresh or frozen cranberries

1-2

teaspoons

honey or other sweetener, to taste

1

tablespoon

elderberry syrup (optional)
Instructions
Into the blender, add the juice, yogurt and Barlean's Passion Pineapple Seriously DeliciousOmega Swirl. Add the elderberry syrup if desired. Pulse to combine.


Add the pineapple and cranberries and pulse 3-4 times until the mixture begins to puree. Taste for sweetness and add honey (or other sweetener) as needed.


Puree until smooth and creamy. If the mixture is too thick, add a splash more juice until the smoothie is your desired consistency.

Notes
If you are using fresh fruit, but want a frozen smoothie, add 1 up of ice to the blender with the fruit.

Pineapple Cranberry Smoothie Recipe Variations
Switch up your juices for various flavors by using pineapple juice, or try orange juice, which pairs well with cranberries and pineapple.
Add other fruit such as strawberries or pomegranate seeds for even more antioxidants!
Use less liquid and more yogurt to create a beautiful Pineapple Cranberry Smoothie bowl instead. Top with fresh fruit, nuts, and seeds.
More amazing recipes using Barlean's products:
My Favorite Smoothies and Smoothie Bowls:
from left to right: