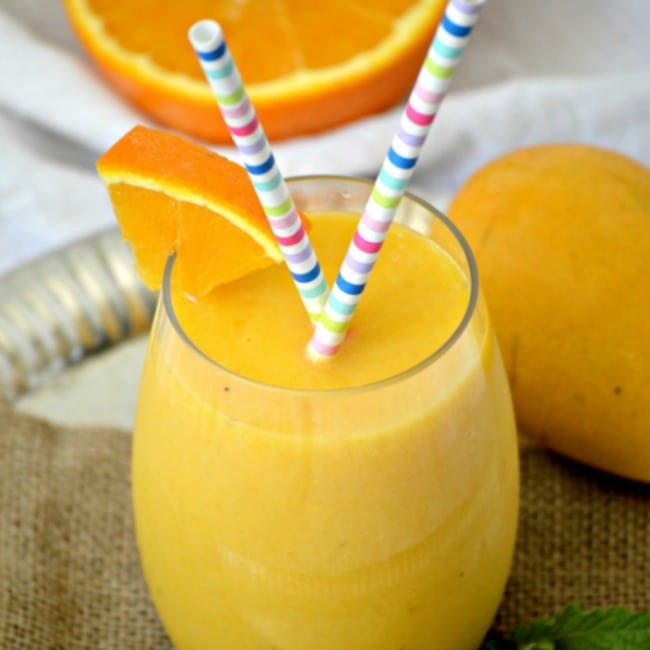 Learn everything you need to know about making homemade smoothies along with recipes, tips, and suggestions and you'll be showing everyone how to make homemade smoothies in no time!
Jump to:
Here we'll share with you the basics of making a smoothie, loads of smoothie recipes, and lots of tips, too.
If you're on a special diet, be sure to check out our low calorie smoothies and high calorie smoothie recipes.
How Do You Make a Smoothie?
Making a homemade smoothie is super simple (and delicious!) Here are our tips for making frozen and unfrozen smoothies:
Put the liquid in the bottom of the blender first, then add the fruit and add-ins. When you are making a frozen smoothie, but the ice in last. It's easier for the blender to get going when you layer ingredients this way.
What Makes a Smoothie Thick?
For frozen smoothies, it's typically the frozen fruit or ice that helps thicken the smoothie. For unfrozen smoothies, you'll want to use yogurt, avocado, banana or a nut butter to help thicken your drink.
Can You Make a Fruit Smoothie Without Milk?
There are tons of liquids you can use to make a homemade smoothie besides milk. Here are a few alternatives:
Water allows the other flavors to come through
Fruit Juice such as orange, pineapple, cranberry are delicious
Plant Milks such as oat, coconut, rice or almond all work well
You might like this dairy-free Pineapple Raspberry Smoothie from my friend Ashley. She knows a thing or two about awesome smoothies!
Which is the Best Blender for Making Smoothies?
There are a lot of blenders out there, and some are super expensive. For my money, I love this Hamilton Beach Blender which we use daily. It works so well and even has a smoothie setting. This baby is durable, too. We make 1-2 smoothies everyday and it has been a total workhorse. We've had this machine for a couple of years and it's still blending homemade smoothies beautifully.
If you make lots of blended drinks and soups, you might want a heavy-duty blender. I would recommend a Vitamix blender.
For a middle-of-the-road blender, I've heard great things about the Nutri Ninja Blender.
It's easy to mix and match ingredients to make an amazing homemade smoothie!
Our Favorite Homemade Smoothies
Here are some of the smoothie recipes that we've shared over the years right here on Juggling Act Mama:
From left to right:
Find More Homemade Smoothie Recipes
Check out these other fabulous smoothie recipes:
How Do You Make a Smoothie Bowl?
Smoothie bowls have a thicker consistency and are topped with loads of yummy ingredients like nuts and fresh fruit. Learn How to Make a Smoothie Bowl in Six Simple Steps.