Slow Cooker Tips, Recipes and Resources to help you learn how to use a slow cooker to get delicious meals on the table every night of the week.
One of the first things my mom taught me in the kitchen was how to use a slow cooker. With four kids and both my parents working full time, she used the slow cooker for meals all the time. It's easy and so convenient! To this day, some of my most favorite meals start with the slow cooker. It won't be long before I'm teaching Ethan and Olivia how to use a slow cooker, too!
Last Updated: 27 January 2020
Jump to:
Why Use a Slow Cooker?
A slow cooker cooks food low and slow for a long time. It is wonderful for transforming tough cuts of meat. A slow cooker brings out the flavor of foods and helps to tenderize meat. My slow cooker, is the workhorse of my kitchen. I use them every week, sometimes daily. Even in the summer, the slow cooker is perfect for making shredded chicken or pork for tacos and sliders.
How Much Power Does a Slow Cooker Use?
A slow cooker is used for more time than an oven in preparing a meal but runs on very low wattage. Because it uses less electricity, it's a very economical cooking method. Check your owner's manual for information on your exact model.
Do You Have to Put Water in a Slow Cooker?
Nope! In fact, using a lot of liquid in the slow cooker can actually dry out your meat! Liquids in the slow cooker do not boil and very little moisture escapes. Follow the instructions for your recipe and do not add any extra water to the slow cooker.
Can You Put Raw Meat in a Slow Cooker?
Yes! This is the beauty of the slow cooker. It's a dump and go method where you don't need to pre-cook a lot of ingredients which is why is such a time-saver! However, please note that putting frozen meat into the slow cooker is not recommended.
Because a slow cooker cooks, well, slowly, it takes a lot of time for the meat to reach a safe temperature so there's a risk of bacteria developing and contaminating the meat if you start with it frozen. To avoid this, simply take your meat out of the freezer the day before and let it thaw in the refrigerator.
What is a Good Meat to Slow Cook?
Using a slow cooker means that you can choose less expensive cuts of meat. Here are some suggestions:
Pork Shoulder
Chuck Roast
Blade Steak
Skirt Steak
Round Steak
Short Ribs
Chicken Thighs
You can also use chicken breasts or drumsticks and lamb shanks. You can even make amazing Sweet and Spicy Slow Cooker Chili with ground beef.
Is it Safe to Leave a Slow Cooker on?
Slow cookers are safe to use for a long period of time, even when you're not home. It is important that you follow the manufacturer's directions for how to use a slow cooker and also inspect your slow cooker before each use. Always make sure that the cord is in good condition with no wires exposed.
Can You Cook Pasta in a Slow Cooker?
The short answer is yes, but you have to do it carefully. It's a fine line between an awesome time saver and a pile of mush. Follow your recipe to the "T" when it comes to cooking pasta. Most recipes will have you add the pasta near the end of the cooking time to avoid having soggy pasta.
How do You Thicken a Sauce in a Slow Cooker?
This is a life lesson you need, grasshopper. It works for thickening a sauce in a skillet as well. In a ramekin make a slurry using 2-3 teaspoons of corn starch with a teeny bit of cold water - just enough to make a paste. The water must be cold! Pour the mixture into the slow cooker and stir to combine. Cook for another 10-15 minutes until the sauce thickens. You make need to adjust the amounts if you have a very large meal.
Slow Cooker Recommendations
Now that you know how to use a slow cooker, which one should you buy?
Personally I use the Hamilton Beach Programmable Slow Cooker, which I love. Being able to program the time and heat settings is truly awesome.
I have also heard great things about the Crock-Pot Programmable Slow Cooker, but I have not used this one myself.
For a list of some of my favorite items to use when cooking, please visit my Kitchen Resource page.
Tips for Getting Week Night Meals on the Table
There's nothing worse at the end of a long day than hearing your child ask "What's for Dinner?" and having no idea. Here are some tips for getting weeknight meals on the table fast!
Take Short Cuts
Double Up and Make Ahead
Use a Menu Planner
Prep Cook on the Weekends

Our Favorite Slow Cooker Recipes
You've got the right model, and you know how to use your slow cooker - AWESOME! Now the question is what to make? There zillions of slow cooker recipes, but here are some of our most favorites that we think you will love:
Slow Cooker Easy Weeknight Dinners
When it comes to getting dinner on the table during the week, I will take all the help I can get! Planning ahead makes all the difference in the world. Even if it's just making a list of what I'm going to make for the week. If you struggle with getting yummy meals on the table Monday through Friday, download my menu plan (above) and let's figure this out together! In the meantime, these are a couple of my family's favorite slow cooker meals:
Slow Cooker Beef and Broccoli
Simple and scrumptious Slow Cooker Beef and Broccoli perfect for a weeknight dinner. Cook it low and slow for tender beef and then pop the broccoli in 30 minutes before serving. You'll love this delicious meal slathered in the yummiest soy and garlic sauce!
Get the Recipe >>>
Homemade Crockpot Jelly Meatballs
Crockpot Jelly meatballs are a cinch to make and so very tasty as a main dish, or an appetizer!
Get the Recipe >>>
Honey Garlic Slow Cooker Chicken
Honey Garlic Slow Cooker Chicken is like eating delicious Asian take out right at home. It's so easy!
Get the Recipe >>>
Crockpot Barbecue Chicken is perfect when you can't get out to the grill. This sweet and saucy recipe is easy to make and has all the flavor of low and slow barbecue. Plus, it makes for the BEST BBQ Chicken Sandwiches!
Slow Cooker Sunday Suppers
The slow cooker is the perfect way to make a really awesome Sunday supper to enjoy with your family, and you can enjoy the leftovers later in the week.
These recipes below take a little more time than the weeknight ones above. With these, I recommend searing your proteins to add lots of flavor. These meals are particularly amazing on cold winter nights!
Slow Cooker Pork Roast with Apples
Slow Cooker Port Butt simmered in apples, onions and broth for an incredibly flavorful and delicious meal.
Get the Recipe >>>
Slow Cooker Italian Roast Beef with Potatoes & Carrots
Italian Roast Beef with Red Skin Potatoes & Carrots is a full meal, that'll feed a family, made right in the slow cooker.
Get the Recipe >>>
Beef Bourguignon Slow Cooker Recipe
Loaded with deep rich flavor, this hearty Beef Bourguignon Slow Cooker recipe will soon be a family favorite!


Get the Recipe >>>
Slow Cooker Soups, Stews and Chili
For me, soups and chili are some of the easiest recipes to make in the slow cooker. Pretty much you can just toss all your ingredients in and turn it on. Soups cook for about 3-4 hours on high or 6-8 on low heat usually.
Because there is very little evaporation in slow cooker recipes, you will not need quite as much liquid as with stovetop recipes, so keep that in mind if you're converting a recipe. Remember, pasta and rice should be added at the end so you don't end up with mush.
Slow Cooker Chicken Chili
Incredibly flavorful Slow Cooker Chicken Chili is a 'set and forget' kind of recipe that makes entertaining a breeze! This chili recipe will feed a crowd, and then some!

Get the Recipe >>>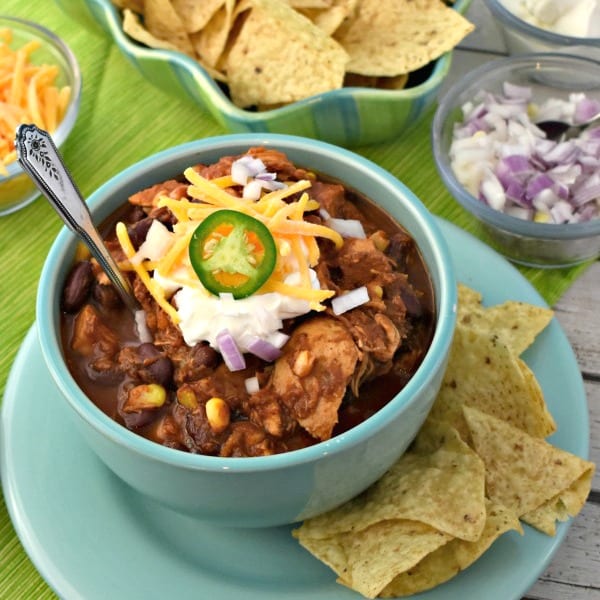 Slow Cooker Potato Soup
Hearty and delicious, Slow Cooker Potato Soup is an easy meal the whole family will love, and it's just perfect for a cold winter day!
Get the Recipe >>>
For more tips on making soup, check out this Homemade Soup Complete Guide from Bowl Me Over.
Try one of these recipes from some of my favorite blogs…

How To Use a Slow Cooker Like a Boss:
8 Tips for Getting The Most From Your Slow Cooker Meals
Use The Right Size - of course the first step for how to use your slow cooker has to be to make sure you are using the right size! Make a slow cooker isn't too big or too small for the recipe you're creating.
Choose The Right Cut - lean cuts of meat can dry out easily, so be sure to take that into consideration.
Trim The Fat - excess fat doesn't help the flavor when you're using a slow cooker, so trim if off.
Brown The Meat - you can skip this step, but browning the meat will another layer of flavor to your recipe.
Take Care With Wine - liquids don't evaporate as much in a slow cooker, so either deglaze your searing pan from browning the meat and let a little of the alcohol cook-off, or use a little less.
Keep the Lid Closed - opening the lid means letting the heat escape so it can take longer for your food to cook.
Add Dairy Near the End - milk, cream, and cheeses should be added near the end of the cooking time for best results.
Brighten Up With Fresh Ingredients - add fresh herbs to your finished dish for a note of freshness.
How Do I Clean My Slow Cooker?
Always unplug your slow cooker before cleaning.
Wash the ceramic insert with hot soapy water. Some are dishwasher safe, but it is best to consult your owner's manual first.
The outside of the slow cooker can be cleaned easily with a damp sponge. Drips and spills should be wiped up after every use to keep your slow cooker in good condition.