My slow cooker is my best friend - especially this time of year! There's so much to do and so little time to do it, right?
The thing I really love about this Chuck Wagon Chili Slow Cooker Recipe is that it's so unique with beer, cinnamon and even chocolate as some of the ingredients. Plus, it has big chunks of boneless beef chuck instead of ground beef.
I love making chili (try my Leftover Turkey Chili recipe, too) and this one is just one of many recipes here on the blog for this hearty dish! And serve any of my chili recipes with my Cheesy Cornbread. It's the perfect side.
Vegan Chili Recipe
Super Easy Vegan Chili Recipe made with beans, pasta and tomatoes

Get the Recipe >>>
FAQ About Chuck Wagon Chili
Here are some frequently asked questions about this recipe:
Why do you put Masa in chili?
Masa flour is added to help thicken your chili and it gives it a subtle corn flavor also.
What can I use instead of masa flour?
There isn't really a great substitute for masa flour. Your best bet is to use cornstarch, tapioca or instant potato granules.
You can choose to omit this and instead use tomato paste to thicken the chili.
Why do you add semi-sweet chocolate to the chili?
Using chocolate adds more depth by enhancing the beef flavor.
What is a dark Mexican beer?
In Mexico, Negra Modelo is the best-selling beer. It is a lager that is made with a slow brewing process for a rich and smooth taste.
Slow Cooker Chicken Chili
Incredibly flavorful Slow Cooker Chicken Chili is a 'set and forget' kind of recipe that makes entertaining a breeze! This chili recipe will feed a crowd, and then some!

Get the Recipe >>>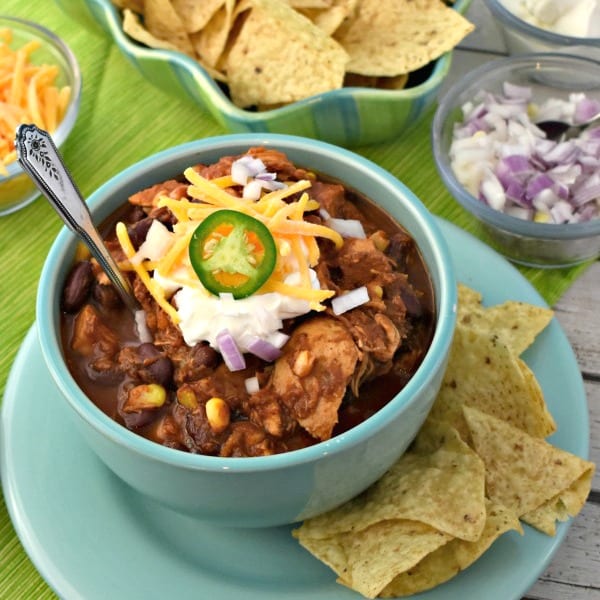 Chuck Wagon Chili - Slow Cooker Recipe
This delicious recipe is a take on Emeril Lagasse and it's full of big, bold flavors - even chocolate and cinnamon!
Ingredient
For the Spice Mixture
¼ cup chili powder
2 tablespoons whole cumin seeds
1 teaspoon cayenne
¾ teaspoon ground cinnamon
2 teaspoons oregano
3 bay leaves
2 teaspoons brown sugar light or dark - I used dark
For the Chili
4 lbs. boneless beef chuck cut into 2 inch cubes
1 teaspoon freshly ground black pepper
2 tablespoons salt
3 tablespoons oil
3 medium sweet or white onions coarsely chopped
1 ½ cups chopped celery
6 cloves minced garlic
2 jalapenos diced
12 oz dark Mexican beer
2 tablespoons tomato paste
1 28 oz can crushed or diced tomatoes
1 oz semi-sweet chocolate chips
3 tablespoons masa flour
Optional Garnish
Grated Cheddar cheese
Chopped Green Onions
Sour Cream
Cilantro
Instructions
Put together your spice mixture and set aside.
Put ½ the oil in your skillet and turn onto high heat.
Season your meat with the salt and pepper.
Brown the outside of your beef in batches, adding more oil when needed. Do not cook your meat all the way through, you just want a crust on the outside about 2 minutes on each side.
Throw the meat into your 6 qt or larger slow cooker.
Add the onion, celery to the skillet and saute until they begin to soften.
Stir in the crushed tomatoes, beer and tomato paste and simmer for 3 minutes
Add the garlic, jalapenos and spice mixture to the skillet, stir and simmer for 1 minute.
Pour this over the beef in your slow cooker and cook on low for 6-8 hours until the beef is tender.
Stir in the parsley and cilantro leaves and serve.
Stir in the masa harina and chocolate chips and stir until they are melted.
Recipe Notes
Save yourself the trouble and have your butcher cut your chuck roast into cubes, it's free!
More Chili Recipes
Serving Suggestions
Find More Slow Cooker Recipes
If you love slow cooker recipes as much as I do, you'll want to pin and bookmark these recipes - they're two of my go-to favorites. On cold dreary New England winter days, they're nothing better than one of these great comfort foods in the slow cooker!
Slow Cooker Potato Soup
Hearty and delicious, Slow Cooker Potato Soup is an easy meal the whole family will love, and it's just perfect for a cold winter day!
Get the Recipe >>>
Easy Slow Cooker Asian Pulled Pork Sliders with Slaw
Mouthwatering Slow Cooker Pulled Pork Sliders + Asian Slaw are the perfect easy meal for sleepovers, game day, and other entertaining. These sliders are total crowd pleasers!
Get the Recipe >>>
Slow Cooker Italian Roast Beef with Potatoes & Carrots
Italian Roast Beef with Red Skin Potatoes & Carrots is a full meal, that'll feed a family, made right in the slow cooker.
Get the Recipe >>>
Ways to Use Leftover Chili
Chili Potato Skins
Take your boring old potato skins to the next level by adding chili for an awesome appetizer or even a meal!
Get the Recipe >>>