Christmas Day Brunch - no one wants to cook on Christmas, right? All the fun is sitting by the tree watching the kids open gifts, posing for silly photos, telling stories and enjoying one another's company.
However, with a little prep and planning, you can put together a delicious brunch the whole family will love, without missing all the fun.
Jump to:
Start the morning off with these delicious Cranberry Mimosas or Morning Mimosas. Of course, for the kiddos, you can make up a batch of these healthy Blueberry Lemon Smoothies or Cranberry Pineapple Smoothies.
Tater Tot Breakfast Casserole
This easy Tater Tot Breakfast Casserole is super tasty and easy to prep ahead of time. I cook the ground sausage and the bacon ahead of time. That way I only have to assemble everything on Christmas morning!
Ham and Cheese Croissants
Ham and cheese croissants are fantastic for making ahead of time, too. You can roll the ham and cheese inside the puff pastry. Place them in an airtight container between layers of parchment paper.
Honey Lime Fruit Salad
Make a big batch of our Honey Lime Fruit Salad and keep it in the refrigerator. It's great for Christmas Day brunch, but also as a quick snack for the kiddos!
Cranberry Eggnog French Toast Bake
With a little prep work, this Cranberry Eggnog French Toast Bake is the ideal dish for Christmas Day brunch!
More Christmas Day Brunch Recipes
Bacon Puff Pastry Twists
My Bacon Puff Pastry Twists are a delicious, savory snack or side dish. Perfect for the big game or movie night.
Get the Recipe >>>
Sheet Pan Pancakes from a Mix
No need to stand at the stove flipping regular pancakes when you can make these fluffy sheet pan pancakes ahead of time. This recipe is easy and delicious and will teach you how to bake pancakes in the oven.
Get the Recipe >>>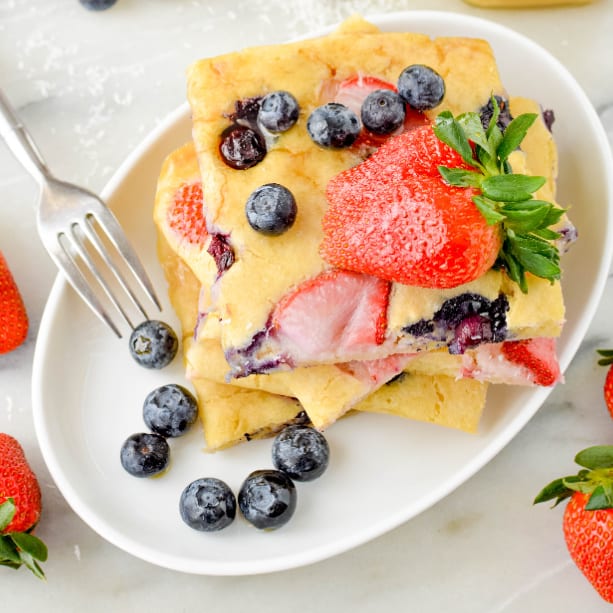 More Holiday Ideas: