Light, fruity and sweet this Moscato Sangria recipe is perfect for brunch!

Easy and elegant Moscato is the perfect brunch beverage. Loaded with fruit, this Moscato Sangria Recipe is simple to make and a fun, fruity wine cocktail!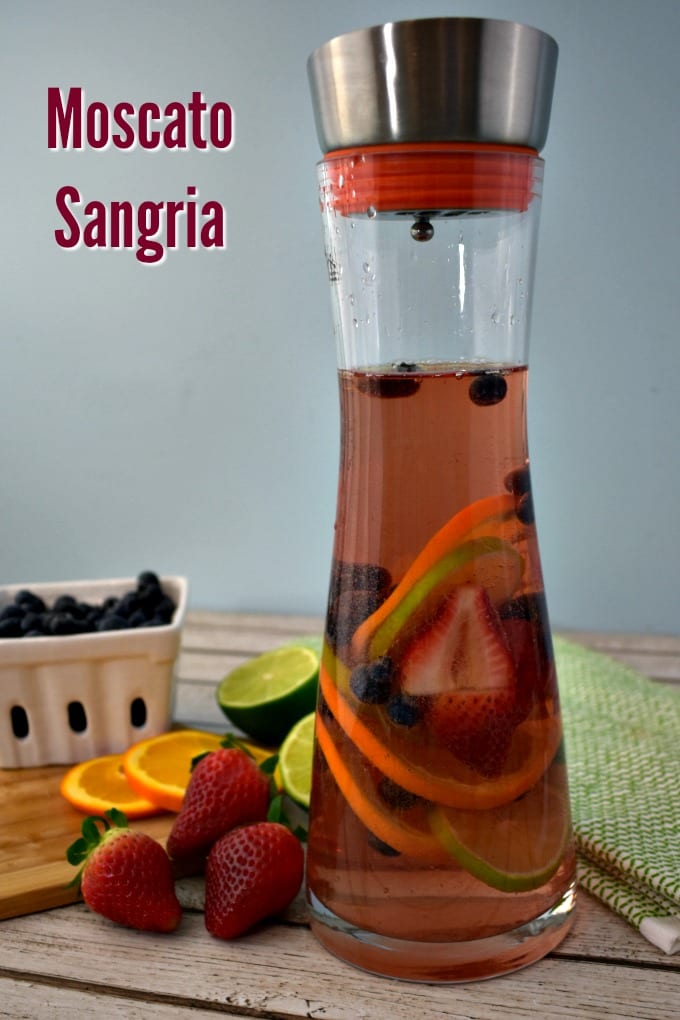 Jump to:
First Published: April 11,2019... Last Updated: January 10, 2022
There's something about a wine glass - even a stemless one - that makes drinks more special, don't you think? There's something pretty perfect about fruity drinks which is why Moscato Sangria is my go-to rather than a mimosa.
Don't get me wrong, champagne has its place, but I prefer a sweet instead of dry wine. With fresh fruit, this cocktail is just the thing to make your brunch wine a little more special.
Moscato is my wine of choice over just about any other kind of wine because I enjoy the sweetness. It pairs well with fresh fruit which is why making sangria with Moscato is so very delicious!
Sangria is a sweet cocktail made from red or white wine. It's customized with your favorite fruit and brandy or fruit juice. It's sweet and light and perfect for a summer party or brunch!
💭 Frequently Asked Questions
Here are some questions (and answers!) readers often ask about this sangria with moscato recipe.
What kind of wine do you use in Sangria?
You can use red wine, white wine or a bubbly wine like Moscato. Bottom line - only use a wine you would drink!
What does Moscato taste like?
Moscato is a sweet, white, sparkling wine that is most often made with muscat grapes. It's often considered a dessert wine because of the sweetness.
Pink Moscato (used in this recipe), is very similar to white Moscato. That's because it has just a little bit of red grapes along with the muscat grapes. Red Moscato uses even more of the red grapes. Any of these will work in Moscato Sangria, but the pink Moscato is my favorite!
How long should sangria sit before drinking?
Sangria is best chilled and should be refrigerated at least two hours before serving. Making the Moscato Sangria Recipe the night before is even better! It allows the fruit to soak up the cocktail juices and they are so tasty!!
How do you serve sangria?
Serve this cocktail chilled in a wine glass (stemless glasses work great here too!) Have plenty of chopped fruit available and add about ¼ cup of diced fruit to the glass prior to adding the drink.
For a list of some of my favorite items to use when cooking, and why I chose them, please visit my Kitchen Resource page.
Ingredients
Moscato (white, pink or red) - choose your favorite!
Blueberries and Strawberries - a perfect choice for sangria.
Oranges and Limes - the tang of lime and sweet oranges give this a tropical flare.
Instructions
It really couldn't be more simple to make this sweet delicious drink!
First, add the prepared fruit to the infuser pitcher.
Next, pour the Moscato over the fruit.
Then, refrigerate about 2 hours until chilled (overnight is even better).
Finally, serve with fresh fruit garnishes.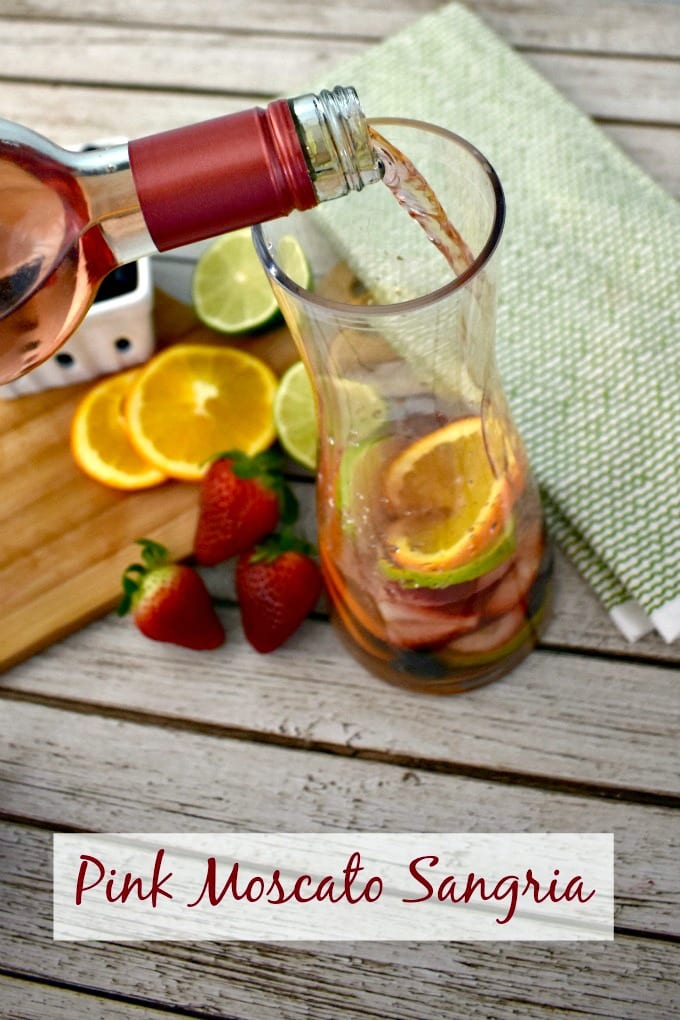 Recipe Variations
Because we test all our recipes, we recommend that you make them once just as it is without substitutions or changes. Sometimes variations can go awry. Making our Moscato Sangria recipe as we have tested it will yield the best results. If you really want to get creative, here are some ideas for variations that might work well. (Please note, we have not tested these variations).
Use apples and pears instead of lemons and oranges if you like.
Add a tropical flair by using pineapple, mango and papaya.
For a non-alcoholic version, skip the Moscato and use sparkling cider or ginger ale.
More Delicious Cocktails:
If you love this drink, then you'll definitely want to check out Berry Wine Spritzer.
Kid-Friendly Brunch Beverages
Moscato Sangria
If you love this recipe, please give it a 5 star rating!
Ingredients
1

750ml bottle

Moscato

1

cup

strawberries, hulled

1

cup

blueberries

1

large

orange, sliced

1

lime, sliced
Instructions
Add the prepared fruit to the pitcher.


Pour the moscato on top.


Refrigerate until chilled. (Overnight is best).


Serve with fresh fruit garnishes.

Notes
Moscato Sangria Recipe Variations
Use apples and pears instead of lemons and oranges if you like.
Non-Alcoholic Version
Substitute ginger ale or sparkling cider for the moscato.
For best results, be sure to check our Tips and FAQs above with important tips and questions that can help your delicious recipe come out perfectly.
Please Note: I am not a registered dietician. Any nutritional data I provide is an approximation and actual dietary information can vary based on ingredients and portion sizes.
Sign up for our emails and never miss another recipe!!
We'll never share your email or send you spam.
New Recipes You'll Love