This fun Book Page Craft decorating Easter Eggs to a whole new level! These cute little chicks are easier to make than they look!

Happy Monday, everyone! It's Katie from View From The Fridge, and I'm so glad to be back again this month at Juggling Act Mama. Since it is April already tomorrow, I decided to share a fun Easter craft … DIY Book Page Easter Egg Chicks!
Such a fun way to add a little whimsy to your Easter and Spring decor! These little chicks would also be a great Easter Basket topper or fun gift for Mom or Grandma!
This whole idea started when our dog tore apart several old books from our bookshelves (this winter has been long and rough on her … she's getting a little antsy for Spring). The books were no longer readable after she was finished with them, but I just couldn't part with them. I was bound (did you catch that pun??) and determined to figure out something to make with the pages. Not too long after the book 'incident', I was flipping through my Better Homes and Garden Magazine, and came across these awesome dyed book page wreaths:
Awesome wreaths, huh? A project for another day, possibly? Well, I wanted to use this same concept (dyed book pages) to do something for Spring and Easter. Enter … Book Page Easter Egg Chicks:
Want to make some for your Easter Decor? Here's how:
First you'll need dyed book pages. I used Rit dye in three colors: Lemon, Petal Pink, and Teal. BHG has a great tutorial for this process here. Below is my picture version of the process:
Important: I followed BHG steps exactly, including #6 which says you can put them in the microwave for one minute to speed up the drying process. I DON'T RECOMMEND THIS!! I did this, and started our microwave on fire. No joke! Our microwave no longer works, but no other damage … luckily!! My husband was thrilled that I broke our microwave by microwaving dyed book pages … lemme tell 'ya!
While I had all the dye 'baths' made, I ended up dying quite a few pages. I'm sure there will be more crafts in my future involving dyed book pages (maybe those gorgeous wreaths?!?).
Now that you have your dyed book pages … here's what you'll need to make the chicks:
Dyed book pages from previous step
Paper Mache Easter Egg (Craft store)
Mod Podge (I used glossy)
All Purpose Glue
Small pieces of thick cardstock or thin cardboard (for wings)
Glue on eyes
Mini Pom Poms (I wanted orange, and of course my pack didn't have any. I simply used an orange marker to color a white Pom orange).
Here's the step-by-step: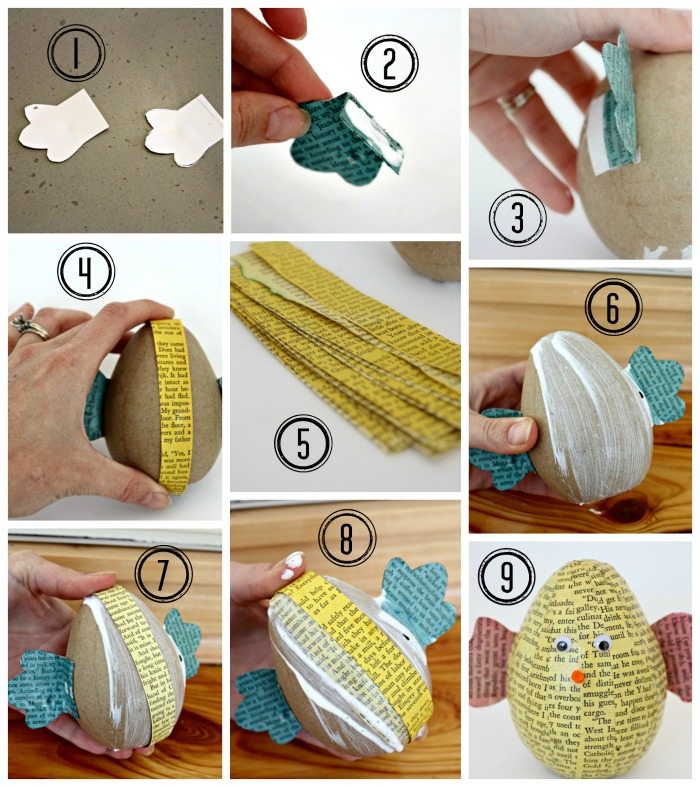 Cut wing shape out of cardboard (I just did this freehand), and mod podge book pages to either side. Let dry.
Fold bottom part of wing over and apply glue to tab.
Glue wings onto either sides of egg.
Cut book page strips long enough to cover length of egg.
Strips should be about 1/2″ – 3/4″ wide.
Apply a generous amount of mod podge to egg.
Place strips onto mod podge.
Cover strips with more mod podge, then add the next strip. Continue this process until entire egg is covered. Let dry.
Add eyes and pom pom 'beak'.
COMPLETE:
Make a couple or a whole flock for your mantel! Once you have the pages dyed, and the supplies out … each egg only takes a couple minutes (excluding drying time). Stick to the traditional yellow like I did, or make several colors of pastel chicks! You can easily make different shades of the same color by adjusting the dye time.
Hope you enjoyed this fun Easter craft, and I hope you're enjoying some Spring weather this week! A big "thank you" to Ang for having me here today to share with all of you! I'll be back in a couple weeks with more craftiness!