Peeps Treats for Easter are a fun way to incorporate a bit of whimsy into your desserts and Easter baskets. We've got 20+ Peeps Treats for Easter to share with you from awesome bloggers.
Peeps are one of the cutest candies and an Easter classic. It doesn't matter if you're a fan of the chicks or the bunnies, they're adorable and come in a variety of beautiful spring colors. If you're a fan of the sugary marshmallow candy, you'll be over the moon with these 23 cute and easy Peeps treats you can make. Add them to some delicious desserts that your kids, big and small, will love!
Putting this list together, I was actually surprised by some of the creative ways people use Peeps in recipes. I'll be honest, this group of recipes is sort of like a to do list for me. A sunflower cake, carrot cake cake-pops, neon colored Easter pudding - I better start stocking up on Peeps now! Which one is your favorite? I just can't decide!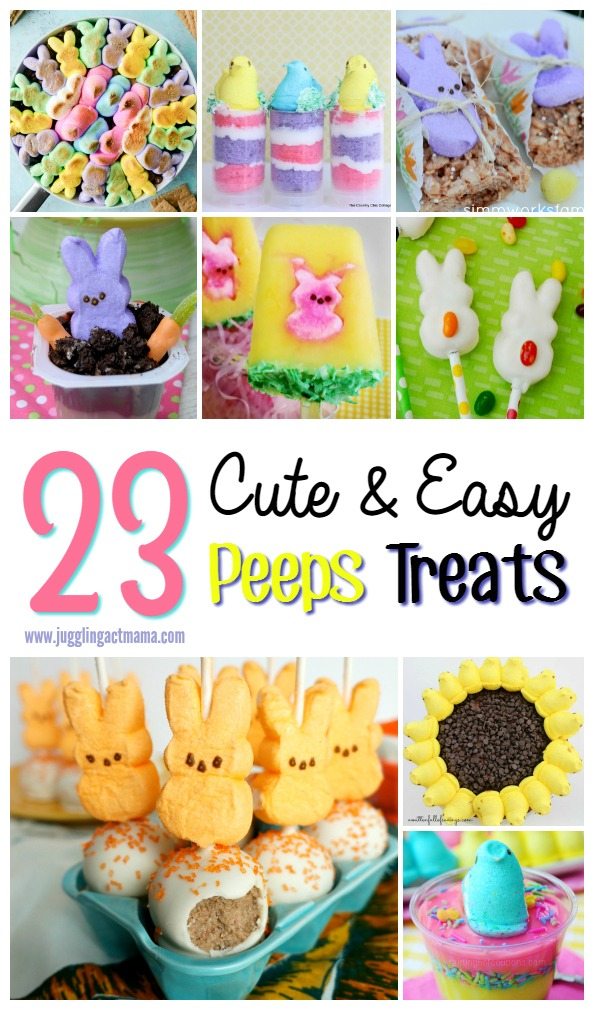 20+ Peeps Treats for Easter Recipes
Simply Stacie - Chocolate Dipped Chick Peeps
A Mitten Full of Savings - Peep S'mores
7 on a Shoestring - Peeps Marshmallow Treats
Upstate Ramblings - Peepsicles - Chocolate Covered Frozen Peeps Pops
The Country Chic Cottage - Peeps Whoopie Pies
The Baking Fairy - Easter Peep Brownie Pops
Oh My Creative - Peeps Pudding Pops
How Sweet It Is - Chocolate Peanut Butter Peeps Skillet S'mores
The Pinning Mama - Peeps Birds Nest Easter Treats
Endlessly Inspired - Peeps Ice Cream
The Country Chic Cottage - Spring Push Pop Cupcakes
The Domestic Rebel - Peeps Candy Bars
In Katrina's Kitchen - Peek-a-boo Peeps Cookies
Shake Bake and Party - Rainbow Peeps Trifle
What's Cooking Love - Peeps Marshmallow Popcorn Eggs
Cincy Shopper - Peeps Cupcakes
The Baking Fairy - Carrot Cake Pops
A Mitten Full of Savings - Peeps Sunflower Cake
Raining Hot Coupons - Neon Peeps Pudding Cups
More Easter Ideas: