Compound butter recipes are really so simple. We've got sweet and savory flavors that are easy to make. These simple semi-homemade condiments add so much to any meal. Whether you're looking for a sweet flavored butter for breakfast or brunch, or a savory herb-filled compound butter, we've got just the recipe for you!
Jump to:
You'll love this collection of sweet compound butter recipes. They make a great addition to any brunch spread. There are so many luscious flavors you can combine! Adding one or two of these to your brunch menu really dresses it up. Your guests will think it's gourmet, and never know it only took a few minutes!
Some of my favorite compound butter recipes are savory and full of fresh herbs. Just look at all these delicious combinations! Herbs work wonderfully in any compound butter. It's a great way to use up leftover herbs also since you can freeze a compound butter for a couple of months with no problem.
Homemade Condiments
I love making my own condiments like compound butter, barbecue sausage, and even spicy ketchup.
Savory Compound Butter Recipes
These are some of my most favorite compound butter recipes that we make here in the Juggling Act household: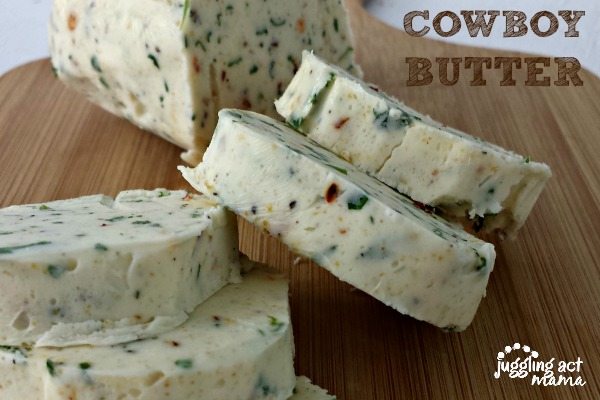 My Cowboy Butter, adapted from The Pioneer Woman, is a reader favorite! This garlic butter is made with lemon zest and a pinch of red pepper flake.
It's totally amazing on grilled chicken, steak, and pork. Although, to be honest, I use this butter in so many different ways:
Tomato Basil Compound Butter is my favorite for quick pasta dishes, but it also makes the most amazing garlic bread! Try it with focaccia bread, or any other fresh bread or dinner rolls.
My Simple Dill Compound Butter is great for seafood dishes especially! However, this herb butter is also delicious on anything with the flavors of ranch and buttermilk.
Garlic Basil Compound Butter makes the most amazing garlic bread you've ever tried! It's also really good on baked potatoes. Try this with our Parmesan Risotto Recipe or on top of any pasta instead of red sauce.
This savory herbed butter can also be made with rosemary, thyme, or sage.
Garlic Chive Butter is the best compound butter on potatoes or rice. I like to use fresh chives, but you can also use dried herbs. Try this also on Italian bread or pasta.
Sweet Compound Butter Recipes
There are so many types of compound butters, but some of my favorites are sweet.
Cranberry Butter makes a great addition to your holiday dishes and also a lovely hostess gift!
No brunch spread is complete without this Maple Bacon Butter. This takes unsalted butter and combines it with two of the most delicious things - maple syrup and bacon! Slather it on pancakes or waffles, muffins and more!
Brown Sugar Butter is perfect for toast or bagels every day of the week. Your kids will love it. It also adds amazing flavor to sweet potatoes. This one is easy to personalize, like adding a bit or orange zest.
Butter Dipping Sauce
This isn't truly a compound butter, although it is inspired by our Cowboy Butter and is a delicious way to add tons of flavor to so many different dishes.
Cowboy Butter Dipping Sauce is delicious with beef or chicken. It's also super tasty drizzled over grilled or steamed vegetables and amazing with seafood like shrimp and lobster.
💭 Frequently Asked Questions
Here are some questions (and answers!) readers sometimes ask about our compound butter recipes.
What's the difference between regular butter and compound butter?
Regular butter is just that - plain butter. Compound butter has added sweet or savory ingredients.
Why is it called compound butter?
It's called compound butter because it is two or more ingredients combined - in this case, softened butter combined with either sweet or savory ingredients to make seasoned butter.
What are the two types of compound butters?
The two types are savory or sweet.
How do you make compound butter?
Combine room temperature butter with your favorite fresh herbs, fresh garlic or other ingredients like black pepper, dried herbs, even citrus juice or zest.
Roll the butter into a log shape using a piece of plastic wrap or a piece of parchment paper.
Click through anyone of the links above for the recipe card and step by step photos showing how to make compound butter.
What do you use compound butter for?
Often, compound butters are used to finish a dish, say like adding a pat of sweet compound butter to your pancakes, or a savory version to a warm steak straight off of the grill. But they can also be used as a spread on toast, bagels, and more.
Is compound butter the same thing as finishing butter?
Yes.
How long does compound butter last in the fridge?
Kept tightly wrapped in the refrigerator, compound butter lasts about 3-5 days.
Can you freeze compound butter?
Yes, you can freeze compound butter for up to 6 months. If you only plan to use a little at a time, cut the log into smaller sections before freezing.
Butter Board
You can make a butter board using any one of these delicious compound butter recipes.
More Compound Butter Recipes
You Might Also Like