Make-ahead, Easy Vegan Chili Recipe made with simple, everyday ingredients. Use kidney beans and refried beans to make a hearty vegan chili for the whole family
Hello, readers of Juggling Act Mama. My name is Rini and I blog at Healing Tomato. I am thrilled beyond words to be able to bring you this Dutch Oven Vegan Chili.
Vegan Cooking Is Very Easy
I find that vegan cooking is so much similar to meat cooking, if you ask me. The techniques are almost the same, which always surprises people. The roasting, stir-frying, boiling, etc is just like any meat recipe
It always makes me happy to see how quickly meat chefs can pick up vegan cooking. So, I have no doubt that all of you will easily make this chili like you were pro chefs you are
Vegan recipes are not at all intimidating and I hope you will love the process of making this chili as much as I do. The meatless chili takes almost no effort and its made with just a few ingredients
What is your favorite part of making this vegan chili
Why this is the Best Vegan Chili
I decided to go with a spicy vegan chili recipe which is very similar to a hearty meat chili. The base is made with onions, celery, garlic and bell peppers
For the tomato, I found that the fire roasted tomatoes from a can are the best tomatoes to use in this chili. They added a slight smokiness to the chili
My favorite ingredient to add to this easy chili was the cork screw pasta (Cellentani Pasta). When cooked in the dutch oven, they plump to double their size and add so much texture to the recipe.
This was the first time I put pasta in my chili and it will forever be a staple in my chili recipes. That's how much I loved it.
Tips for making vegan chili
Buy pre-cut vegetables like celery and butternut squash in this vegan chili recipe as this will make your life much easier
Use a large Dutch oven (6.5Qt) to make the chili because you can put it in the oven and it will slowly cook by itself
My cooking is always low on salt amount. Believe me, I hear that often from family members. So, once the chili is done, make sure you give it a taste test to confirm that you are satisfied with the salt
I always rinse the canned kidney beans thoroughly before adding to the chili.
If refrigerating the vegan chili recipe for future use, I cool it to room temperature before transferring to meal-prep containers
Vegan Chili Recipe FAQs
What kind of beans can I use in this vegan chili recipe
If you ask me, there isn't a bean that can't be added to vegan chili. I have even made vegetarian chili using navy beans. Here are some of the beans I suggest using in chili
Kidney beans
Pinto beans
Black Beans
Red Beans
Lentils (Not a bean, but, part of the legume family)
Chick peas
Black Eyed Peas
Can I make this vegan chili the day before?
Yes, this is the perfect Make-ahead vegan chili recipe. I made on a Tuesday and enjoyed it for the rest of the week. You can make this as far out as a week ahead of when you want to consume it
Is this a freezer friendly vegan chili recipe?
Yes, absolutely. It can be refrigerated or frozen, depending on your choice. Personally, I like to refrigerate it and use it up in a week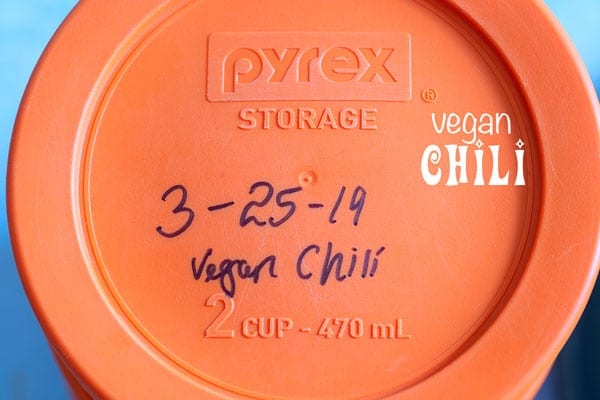 How do I freeze this vegan chili?
There are 2 very easy ways to freeze this chili.
1) Put it in a big ziploc bag
This is what I would like to call, "the last option". I am not a fan of putting it in the ziploc, mainly because it harder to reheat.
But, its a great space saver in the refrigerator. I always like to put the date on the bag before freezing it

2) Put it in glass containers
This is my all time favorite way to store any food, including vegan chili. The glass container keeps the flavors sealed in and its so easy to re-heat it. I love the 2 cup glass containers because I can save individual portion sizes.
For this chili I used 5 of these 2-cup glass containers
How do I cook frozen chili?
I always recommend using the stove top method because the flavors/textures will remain intact. With microwaving, chances are the chili will become runny. I am sure you don't like a runny chili, am I right?
Don't thaw the chili, just put it directly into a pan and put the heat at low. Let the chili cook slowly and it will thaw itself out
If you are using a ziploc bag, place the bag in boiling water. When its thawed enough to the point where you can dump the ingredients into a pan, put it in the pan and let it cook on medium heat
Thawed chili may need to be re-flavored. I found that a I needed to add a little more chili powder and lemon juice after re-heating it
What kind chili pepper should I add to vegan chili?
This has to be my favorite question. I love spicy vegan chili and so, I go nuts with the amount of chili pepper I put in it. My favorite chili pepper to use is Thai Green Chili.
Its mostly found in Indian/Asian Grocery stores, but, I have seen it sometimes in regular grocery store.
But, it comes down to how much spice can you handle. Here are some of the chili peppers I have used in the past
Jalapeno
Habanero
Cubanelle
Poblano
Serrano
Chipotle
What chili pepper do you plan to use in this vegan chili recipe?
Are Refried Beans Vegan?
No, if you buy the traditional refried beans from a can, they have lard which is pig fat. Many companies do make vegetarian friendly refried beans and mark it clearly on the can.
However, vegan refried beans are almost impossible to buy, so, I make my own. Luckily its so easy to make vegan refried beans at home. Its as simple as cooking pinto beans and then, blending them when they are soft
Also, if you have questions on what Vegans don't eat, I have a comprehensive guide on our diet restrictions. Check it out and let me know what you think.
Can this be a slow cooker vegan chili recipe?
Yes, you can absolutely cook this vegan chili in the slow cooker or crock pot
Start the process in the same way. Cook the celery, onions, bell pepper and garlic on "high" settings. When they are done, add all the other ingredients in it and let it cook on high for about 4-5 hours. You may have to play around with the time.
The slow cooker size I would recommend is at least a 6 quart or more
How To Make Vegan Chili
Time needed: 2 hours.
The Best Vegan Chili Recipe
Preheat oven to 400 degrees

Oven temperatures may vary, so, adjust your cooking time accordingly

Place dutch oven on stove and heat on medium heat

I always makes sure the dutch oven is warm before I add any ingredients

Add the oil and onions

I cooked the onions for about 4 minutes on medium until they were translucent

Next, Add the celery to the onion

Add about 4 small celery stalks, diced to the pan

Add the Bell Pepper

Add 1 Bell pepper to the pan. I julienned the bell peppers

Add the Butternut Squash

Add 16oz cubed butternut squash (1 Lb)



Next, add one can of Fire-roasted tomatoes

Add 15 oz can of fire-roasted tomatoes. If you feel comfortable, add more


Add the spices

Add the spices to the Dutch Oven. See the list of spices below in the recipe card

Add the pasta and water

Add 2 cups of uncooked corkscrew pasta and 8 cups of water

Add the Bay Leaves

Add 2 whole bay leaves. Keep them intact because we will be removing them once the chili has cooked

Place the Dutch Oven in the oven

Place the dutch oven inside the oven and let it cook for 90 minutes

Open the Dutch Oven

After 90 minutes, turn off the oven and carefully open the Dutch oven. Remove it just enough to open and remove the 2 Bay leaves

Add remaining ingredients

Add 1/2 cup of refried beans, 1/2 tsp lemon pepper and 1 tsp lemon juice

Mix Well

Mix every thing gently, close the lid of the Dutch oven and put it back into the oven. No need to turn the oven on again as it will still be hot

Ready to serve

Remove from the oven after 10 minutes and mix well. Its ready to serve, so, enjoy with a good beer
Vegan Chili Recipe
Super Easy Vegan Chili Recipe made with beans, pasta and tomatoes

Print
Pin
Rate
Cook Time:
1
hour
40
minutes
Ingredients
2

Tbsp

Extra Virgin Olive Oil

1/4

Onion

finely diced

5

cloves

Garlic

minced

4

celery stalks

I used the small celery stalks

16

oz

Butternut Squash Cubes

1 LB, got them pre-cut

15

oz

Fire roasted tomatoes

1 can

1

Bell Pepper

Julienne

3

tsp

Salt

1

tsp

Thyme

1

tsp

Dill

1

tsp

Marjoram

2

tsp

Cumin-Coriander Powder

2

tsp

Chili Powder

Adjust to taste

1

Thai Chili

Optional, add if you like the heat

2

cup

Corkscrew Pasta

8

cup

Water

1/2

cup

Vegetable Stock

Optional

2

Bayleaf

1/2

cup

refried beans

1/2

tsp

Lemon Pepper
Instructions
Preheat oven to 400 degrees

Place dutch oven on stove and heat on medium heat

Cook the onions for about 4 minutes on medium until they were translucent

Next, Add the celery, Bell Pepper and Butternut Squash


Add one can of Fire-roasted tomatoes and the dry spices (except Lemon Pepper)

Add the pasta and water, mix well


Add the Bay Leaves at the top which will be discarded in the end

Place the Dutch Oven in the preheated oven and cook for 90 minutes


After 90 minutes, turn off the oven and carefully remove the Dutch oven


Remove the 2 Bay leaves before adding the remaining ingredients (Beans and lemon pepper)

Close the lid of the Dutch oven and put it back into the oven. No need to turn the oven on again as it will still be hot

Remove from the oven after 10 minutes and mix gently before serving

More Amazing Recipes:
from left to right: