Buffalo Chicken Recipe Ideas - you're going to love this collection of outrageously delicious recipes and every one of them includes buffalo chicken!
Jump to:
When it comes to buffalo chicken recipes, it seems like the sky is the limit! Of course chicken is super versatile to begin with, but when you pair it with hot sauce and cheese, you've got a dynamite combination.
Crispy buffalo wings might be bar food, but they have become an American classic with so many variations. I hope you'll love this collection of incredible buffalo recipes!
Best Buffalo Chicken Recipes
These recipes are our favorite tried and true recipes using buffalo chicken. Most all of them are going to contain the classic ingredients you expect in buffalo chicken dip like cream cheese, shredded cheese, shredded or sliced chicken breast, garlic powder, onion powder, salt and black pepper.
It's kind of amazing how creative we can get using the same set of ingredients to make awesome appetizers and easy dinners like pasta, sandwiches, and soup.
When it comes to easy recipes, this slow cooker buffalo chicken is one of my favorites. It's so simple and SO good! I like to make a double batch and then I can use it all week long for sandwiches, tacos, pizza, salads, and more!
This might just be the most delicious buffalo chicken dip you ever taste! Our buffalo dip is creamy and a little bit tangy from the bleu cheese dressing. Hands down, this is my husband's favorite appetizer!
Serve this easy buffalo chicken dip alongside celery and carrot sticks with crackers or even tortilla chips for a fabulous appetizer or party snack.
Creamy buffalo chicken tucked inside flaky puff pastry is one of my favorite easy recipes. It's so versatile that you can serve it during football season as an appetizer or with a side salad for a great meal that's quick.
Serve with a side of ranch dressing or creamy blue cheese dressing for dipping.
RELATED: If you like these then you'll also want to try our Pastry Chicken Pockets using rotisserie chicken (or leftover chicken).
I absolutely love to use my crock pot to make buffalo chicken mac! You can place the raw chicken right into your slow cooker with the chicken broth, buffalo wing sauce, and other ingredients. It's a super easy dinner with all the classic flavors of buffalo wings.
You will love this healthy dinner recipe! With fresh lettuce, peppers, carrots, and red onions, this hearty salad has lots of shredded chicken making it one of the best buffalo chicken recipes on this list - in my opinion!
This is a great recipe for those on a keto or low carb diet. The spicy flavor of the broth with the tender boneless skinless c hicken breast makes this creamy soup recipe a family favorite. I like to top my buffalo soup with a little bit of shredded mozzarella cheese.
This side dish is perfect for cookouts! With tangy sour cream, al dente pasta, and buffalo chicken, this is a great addition to your next backyard BBQ.
Whether you use boneless chicken breasts or canned chicken, the only thing better than a piece of this buffalo chicken appetizer is a second piece! I like to serve this with carrot and celery sticks.
I adore the buffalo chicken tater tot casserole!
You can serve it with a dollop of sour cream, blue cheese crumbles, or ranch dressing for a hearty meal that's as comforting as it is flavorful.
Best Buffalo Chicken Appetizers
Whether you're watching the World Series, March Madness, or the Super Bowl, these buffalo chicken recipes are sure to be a huge hit!
Talk about party food! You can use store-bought or homemade buffalo sauce to make crispy egg rolls stuffed with a cheesy buffalo chicken mixture. These bold flavors are of course perfect with blue cheese or ranch dressing.
These Instant Pot buffalo wings are a great crowd pleaser any time you crave! Wings have never been easier to make.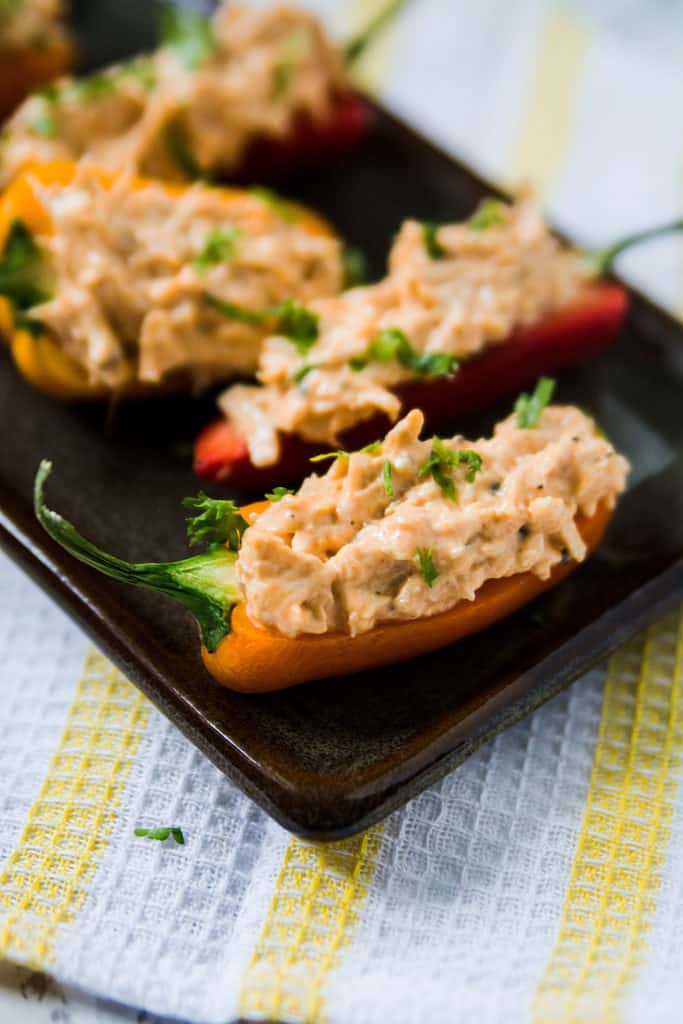 The combination of chicken, mayo and buffalo sauce all tucked into the fresh and crisp mini pepper make these the best appetizer for game day or really ANY occasion!
If you need a quick, easy appetizer that's big on flavor, try these Buffalo Chicken Bites! Bite-sized phyllo cups are filled with buffalo chicken and topped with green onions. They are perfect for game day, BBQs, or add a salad and make it a meal!
Awesome Buffalo Chicken Sandwiches
Here are some fabulous buffalo chicken recipe ideas for sandwiches that are sure to be popular with your crew!
Stuffed with grilled chicken tossed in hot wings sauce, lettuce, avocado and blue cheese crumbles, these wraps are perfect for busy weeknights.
With blue cheese and smoked cheddar cheese, onions, green peppers, and - of course - lots of buffalo chicken, this isn't your mom's grilled cheese sandwich!
Sliced jalapenos add another layer of heat to these yummy buffalo chicken sandwiches. It's all the best buffalo wing flavor you love in an easy-to-eat sandwich.
Easy Buffalo Chicken Casseroles
If you're looking for some new Buffalo chicken recipe ideas to spice up your mealtime routine, you're going to love these tasty dishes!
Cheesy sauce and crispy tater tots make this an awesome - and easy - weeknight meal. (Try it with our Easy Italian Bread Sticks on the side - they're great for scooping up any leftover cheese sauce!)
This buffalo chicken lasagna is full of the buffalo flavor comfort food favorites! You'll love the creamy sauce made from cream cheese, ranch dressing, and hot sauce. It's fantastic for a weeknight dinner and also great for potlucks and parties.
Buffalo Chicken Stuffed Shells combine spicy buffalo chicken, creamy melted mozzarella, and salty blue cheese into a stuffing for cute convenient pasta shells. Stuffed Shells never tasted so good.
With a few simple ingredients and 15 minutes, you can get this buffalo chicken bake recipe in the oven quickly. Use leftover chicken breast to make this delicious recipe even easier!
Buffalo Chicken Enchiladas from A Gouda Life
Everyone will love these enchiladas! The combination of soft flour tortillas stuffed with spicy buffalo chicken and lots of cheese with spicy buffalo enchilada sauce makes for one tasty dish!
A combination of shredded chicken, Frank's Red Hot Sauce, and cheeses make this pasta over-the-top delicious. You'll love the crispy breadcrumbs on top, drizzled with your favorite blue cheese or ranch dressing!
More Recipes with Buffalo Chicken
Haven't found enough buffalo chicken recipes yet? Here are a few more I think you'll love!
Tender chicken, spicy buffalo sauce, and lots of cheese make this buffalo chicken pizza soo good your whole family will devour it! (This is a great way to use up leftover chicken).
Lean chicken meatballs with lots of spicy buffalo flavor make great sliders or sandwiches. This is an easy recipe you can make in your crock pot. Talk about easy buffalo chicken sliders!
This healthy buffalo chicken dish is one that the entire family will love. Fresh zucchini stuffed with shredded cooked chicken, Greek yogurt, cream cheese, buffalo sauce, and shredded cheese is an easy way to get your family to the dinner table.
Other Chicken Recipes
Now that you've gotten tons of buffalo chicken recipe ideas, check out one of these tasty dishes to make next time: