As an Amazon Associate, I earn from qualifying purchases.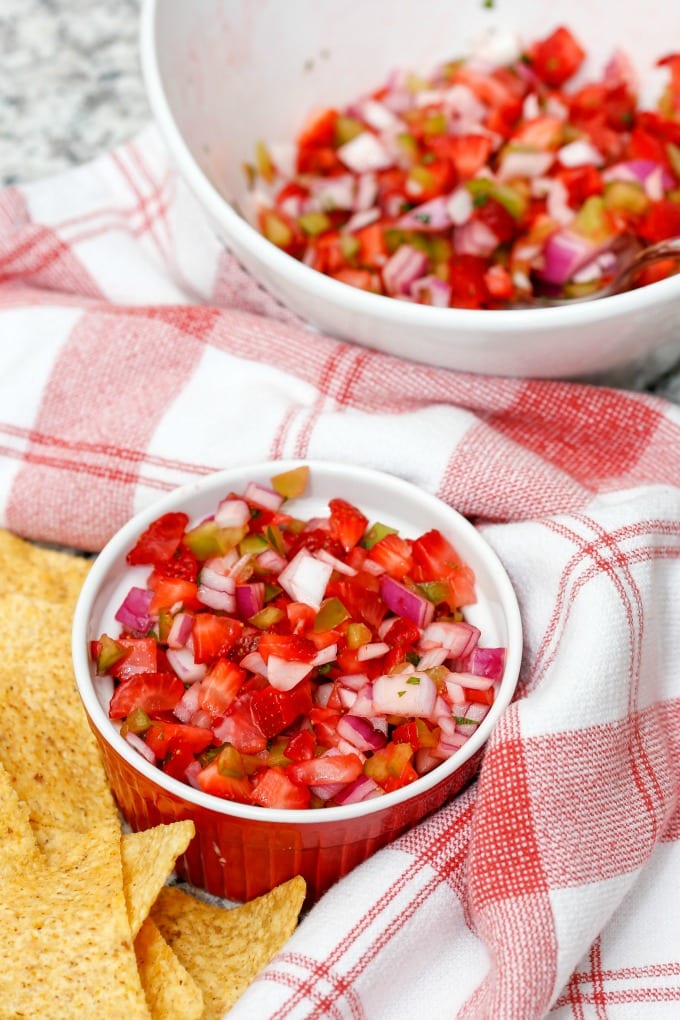 You won't want to miss this list of the Best Fresh Salsa Recipes for summer.
Best Fresh Homemade Salsa Recipes to Up Your Appetizer Game
Fresh homemade salsa is a quick and easy way to add some fresh flavor to your meal. Whether you're looking for something spicy, sweet, or savory, there's a salsa recipe here that will knock your socks off! It's also a great way to get your kids involved in the kitchen because it only requires chopping, mixing, and stirring! But don't just take my word for it—try these mouth-watering fresh homemade salsa recipes out yourself!
Mouthwatering Salsa Recipes You Just Have to Try
These are a few of our family's favorite salsa recipes, that you'll find right here on Juggling Act Mama.
Homemade Mango Salsa from Juggling Act Mama: Sweet and spicy is the perfect flavor combination. It doesn't matter if you're making this colorful dish as an appetizer with chips or using it on tacos—you'll love every chip-full bite!
Strawberry Salsa from Juggling Act Mama: Time to set aside the jarred salsa for a minute. Before you go reaching for that store-bought stuff, try this Strawberry Salsa recipe instead. With just six ingredients and four steps—it doesn't get much easier than that! The sweet strawberries nicely balance the heat from the jalapenos.
Pineapple Mango Salsa from Juggling Act Mama: Fresh pineapple, juicy mango, and crispy red onions come together for a beautiful salsa recipe that just screams summer. This tropical salsa pairs beautifully with grilled meats but is equally delectable with crunchy tortilla chips.
Sweet Corn, Tomato + Avocado Salsa
This Sweet Corn, Tomato + Avocado Salsa is the perfect summer side dish to serve with grilled chicken or steak at your next cookout!
Get the Recipe >>>
Grilled BBQ Pork Chops with Strawberry Peach Salsa
Just wait until the smell of these amazing grilled BBQ pork chops hits you! Slathered with homemade BBQ sauce and topped with homemade strawberry peach salsa for an unforgetable summer dish!
Get the Recipe >>>
Pineapple Salsa from Little Sunny Kitchen: This easy pineapple salsa recipe will have you going back for seconds (and maybe even thirds)! It has a beautiful, bright flavor, and you can make it in just 15 minutes. Serve with crispy tortilla chips or chicken tacos.
Apple Pomegranate Salsa from Dip Recipe Creations: If you're looking for a light and refreshing appetizer, this recipe for fresh apple and pomegranate salsa is sure to please. This recipe is a little bit savory, a little bit sweet, and just the right amount of spicy. Serve this salsa with sweet cinnamon and sugar chips or with tortilla chips or crackers for a more savory dish.
Roasted Peach Tomatillo Salsa from Babaganosh: This Roasted Peach Tomatillo Salsa makes a quick and easy appetizer. You won't be able to get enough of the sweet peaches, tangy tomatillos, crisp onions, and earthy garlic all roasted together to make an incredible salsa that is perfect as a dip or topping on tacos. It's great served warm over tortilla chips (or other dippers), but it also adds flavor to any meat dish like chicken fajitas or slathered onto burgers, too.
Blueberry and Corn Salsa from The Suburban Soapbox: This will become one of your favorite summer recipes. In the height of the season when sweet corn is ready for harvesting and blueberries are at their plumpest and most delicious, combine the two to make a delectable salsa with a sweet heat. It's perfection as a dip or on grilled chicken.
Fresh Salsa Recipes That'll Knock Your Socks Off
Strawberry Cucumber Salsa from Fit Meal Ideas: This fresh and vibrant homemade strawberry cucumber salsa is a breeze to make. It's made with just six ingredients, but the result is a tantalizing dish that is perfect for summer. It's delicious as an appetizer with chips. It also makes a wonderful side dish or topping for grilled meats, chicken tacos, or alongside grilled tofu.
Chile Piquin Salsa from Mama Maggie's Kitchen: Chile Piquin Salsa is the perfect food for those who like their dishes hot! This spicy salsa comes loaded with flavor and will have you reaching for more chips (and a drink to cool off your mouth). Chile Piquin is a great topping for tacos or as a dip for chips.
Watermelon Pineapple Salsa from Food Wine Sunshine: This sweet and spicy watermelon pineapple salsa is made with fresh fruits and veggies, and it's perfect for your backyard barbecue! This recipe can be prepped in 15 minutes and tastes great on carne asada or grilled chicken. It's also a fantastic topping to serve alongside traditional Mexican fare like tacos, chilaquiles, quesadillas—the possibilities are endless!
(from left to right)
Cranberry Jalapeno Salsa from Alternative Dish: Your holiday appetizer table is about to get a lot more exciting with this cranberry salsa. Combining tangy, tart cranberries with spicy jalapeño peppers and fresh cilantro it's a perfect balance of sweet and savory flavors that will have your guests begging for seconds!

Pear Pomegranate Salsa from Appetizer Addiction: Pears and pomegranates are two of my favorite fruits. This recipe really speaks to me! The fresh flavors from cilantro and lemon add a nice kick that compliments these fruits beautifully. Don't forget about honey for sweetness—it also helps balance out the dish and bring the flavors together!

Orange, Avocado, and Mango Salsa from Muy Bueno: You'll savor every bite of this citrus, avocado, and mango salsa that's bursting with citrus flavor and just a dash of heat. It's sweet and spicy with perfectly balanced flavors! The creaminess of the avocado smooths out the heat without detracting from the other flavors.
Creamy Tomatillo Avocado Salsa from Wholesome Yum: Are you looking for a way to spice up your taco game? Why not try this green avocado salsa?! It's fresh, flavorful, and can be eaten in so many ways. Tacos and taco salads are taken to the next level when paired with this creamy, dreamy salsa.
We hope you've enjoyed this post and found some new fresh homemade salsa recipes to try out! If you love these recipes as much as we do, don't forget to pin them. Share them with your friends too! That way we can all enjoy a little taste of summer all year round.