Our steak tacos are seared in a cast iron pan, sliced against the grain and served with homemade guacamole. These Strip Steak Tacos are a great recipe for Cinco de Mayo or Taco Tuesday!
Our strip steak taco recipe, served with homemade guacamole is a favorite Mexican dish that you can easily make at home. They're perfect for an easy family dinner, or double it for a crowd!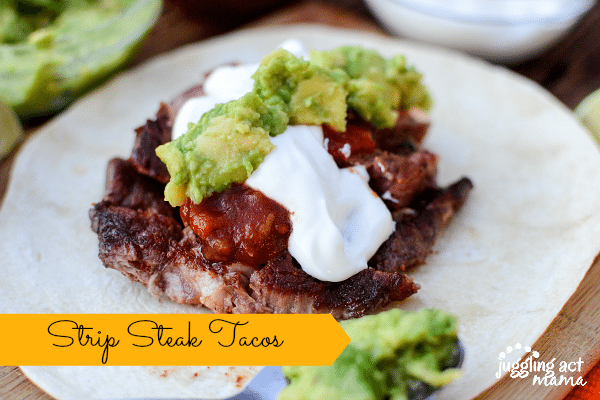 Jump to:
I just love cooking with my cast iron skillet. It's so versatile and can even go from the stovetop to the oven in a flash if needed. Now a cast iron pan might not be the first thing you think of when I say I'm making tacos, right? But these aren't any old boring tacos, these are strip steak tacos!
Get your pan super hot, and then don't fuss with the meat while it cooks. Searing the strip steak in the cast iron skillet means you're going to have uber flavorful meat for your tacos. This steak taco recipe doesn't call for tons of seasoning because when you cook and slice this right, you'll get deliciously caramelized and tender pieces of meat.
What Kind of Steak for is Good for Tacos?
As you may know, strip steak is a very lean, very tender cut of meat. This cut comes from a muscle that does very little work. The less fatty the meat, the more tender it will be. That's why I love making this steak taco recipe with strip steak, the meat is so tender! You could also use flank or skirt steaks.
Ingredients
Strip Steak
Cilantro
Olive Oil
Jalapeno
Lime
Seasoned Salt
Black Pepper
Soft Tortillas

Optional Toppings

Sour Cream
Shredded Cheese
Shredded Lettuce
Diced Tomatoes
Sliced Red Onion
Guacamole
Salsa
If you need to feed a crowd, you can't go wrong with steak tacos. They are a perfect main meal at your game day party or Cinco de Mayo fiesta. The best part is that everyone can customize their taco with their favorite toppings! Whip up a batch Strawberry Margaritas to round out the celebration.
Equipment
The following are affiliate links. We are a participant in the Amazon Services LLC Associates Program, an affiliate advertising program designed to provide a means for us to earn fees by linking to Amazon.com and affiliated sites.
Here is what you will need to make this easy recipe:
Be sure to check out my Juggling Act Mama Storefront on Amazon where you'll find all kinds of great products to make your life easier! Thanks so much for being a part of Juggling Act Mama ❤
How To Cut Against the Grain:
Find the direction of the grain (which way the muscle fibers of the meat are all going).
Using a good knife, slice across the grain rather than parallel with it.
Variations
Personally, I can't stand cilantro, so if you're like me, just omit it. Instead, make the marinade with fresh parsley.
For a smoky flavor, add 1 teaspoon of ground cumin to the marinade.
If you're a garlic lover, add 2 cloves of minced garlic to the marinade.
Cast Iron Skillet Care
Season your cast iron skillet by putting on the stove over high heat until it is super hot. Carefully rub vegetable or canola oil all over the pan and then let it cool before storing.
Clean your pan with soap and water and then dry immediately, or re-season as needed.
Never let your cast iron pan soak in water because it will rust and need to be scrubbed, then re-seasoned.
What is Cinco de Mayo?
Cinco de Mayo (May 5th) is not Mexico's independence day as many in the US believe. It's the anniversary of The Battle of Puebla, where Mexican troops defeated the French on May 5, 1862. (Mexico observes their independence day, or "Día de la Independencia" on September 16th because on that date in 1810, a revolt against the Spaniards began.)
In Mexico, this minor holiday is celebrated more in the Pubela region since that's where the battle took place. Citizens in this region especially celebrate with a parade and piñatas, along with traditional food, music and dance.
In America, of course, Cinco de Mayo has become an excuse - albeit a tasty one - to eat Mexican food like these steak tacos and drink margaritas. Interestingly enough, tequila is not the most popular drink in Mexico - it's actually agua fresco.
Similar Recipes
Serving Suggestions
Add Mr. Juggling Act's favorite Homemade Guacamole to this Steak Taco Recipe - it's like heaven on a plate!
You also might like one of these delicious salsa recipes:
With these recipes for Taco Bar Side Dishes, you'll have everything you need to make your next taco night a success. From Mexican rice to many different types of salsa, you'll find a yummy idea or two here.
Layered Taco Dip
Layered Taco Dip is great as an appetizer, party food, or casual Taco Tuesday meal.
Get the Recipe >>>
Steak Tacos
Strip Steak Tacos
Our steak tacos are seared in a cast iron pan, sliced against the grain and served with homemade guacamole. These Strip Steak Tacos are a great recipe for Cinco de Mayo or Taco Tuesday!
Add to Your Recipe Box
Go to Collections
Print
Pin
Rate
As an Amazon Associate, I earn from qualifying purchases.
Ingredients
1-2

Strip steak

16 oz total

⅓

cup

Cilantro

chopped (substitute parsley if you prefer)

2

tablespoon

Olive oil

1

Jalapeno

seeds removed and finely chopped

2

Limes

juiced

1-2

teaspoons

Seasoned Salt

Black pepper

to taste

Condiments such as Sour cream

shredded cheese, shredded lettuce, guacamole
Instructions
Directions

1. Be sure the meat is at room temperature before you begin

2. In a small bowl, combine the cilantro, oil, lime juice, and jalapeno

3. Season the steak with seasoned salt and pepper

4. On a plate, cover the steak on both side with the cilantro marinade. Let sit for 10 minutes

5. In a cast iron skillet, place a tiny bit of oil, and heat the pan very hot

6. Place the steak in the pan and do not move it for 3 ½ minutes. Flip the steak and cook for another 3 ½ minutes.

7. Remove the steak from the pan and let it rest for 5 minutes.

8. Slice the steak in thin slices on the diagonal against the grain. Lay in the center of a tortilla and garnish with preferred toppings.

Enjoy!
Notes
Serve with homemade guacamole and other and desired toppings such as tomatoes, sour cream, red onion, guacamole, etc.
For best results, be sure to check our Tips and FAQs above with important tips and questions that can help your delicious recipe come out perfectly.
Please Note: I am not a registered dietician. Any nutritional data I provide is an approximation and actual dietary information can vary based on ingredients and portion sizes.
Sign up for our emails and never miss another recipe!!
We'll never share your email or send you spam.
More Recipes You'll Love