As an Amazon Associate, I earn from qualifying purchases.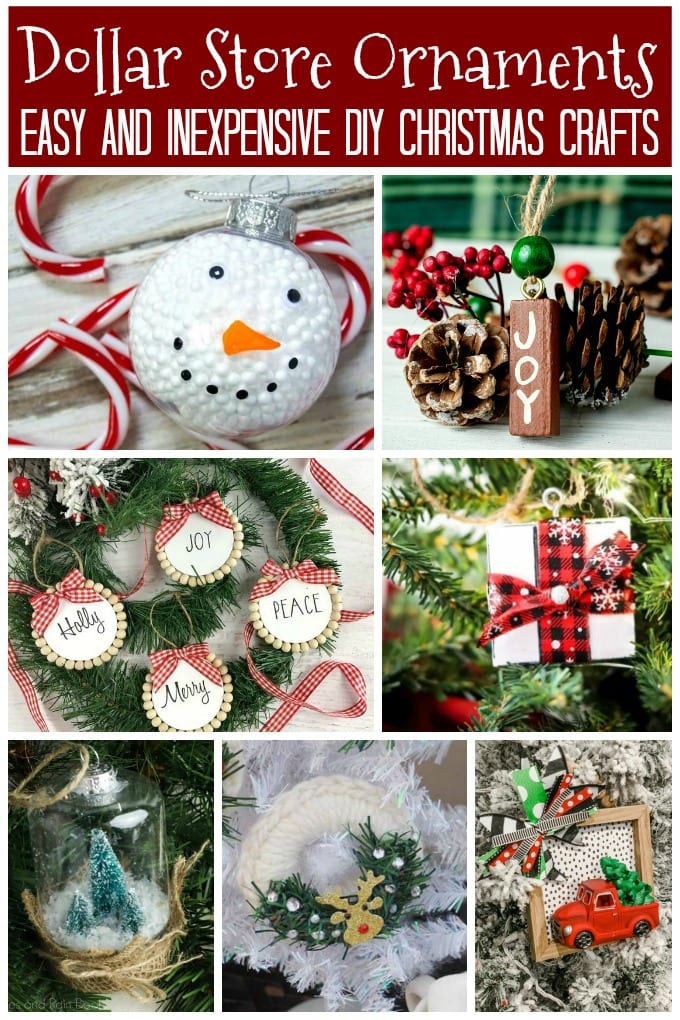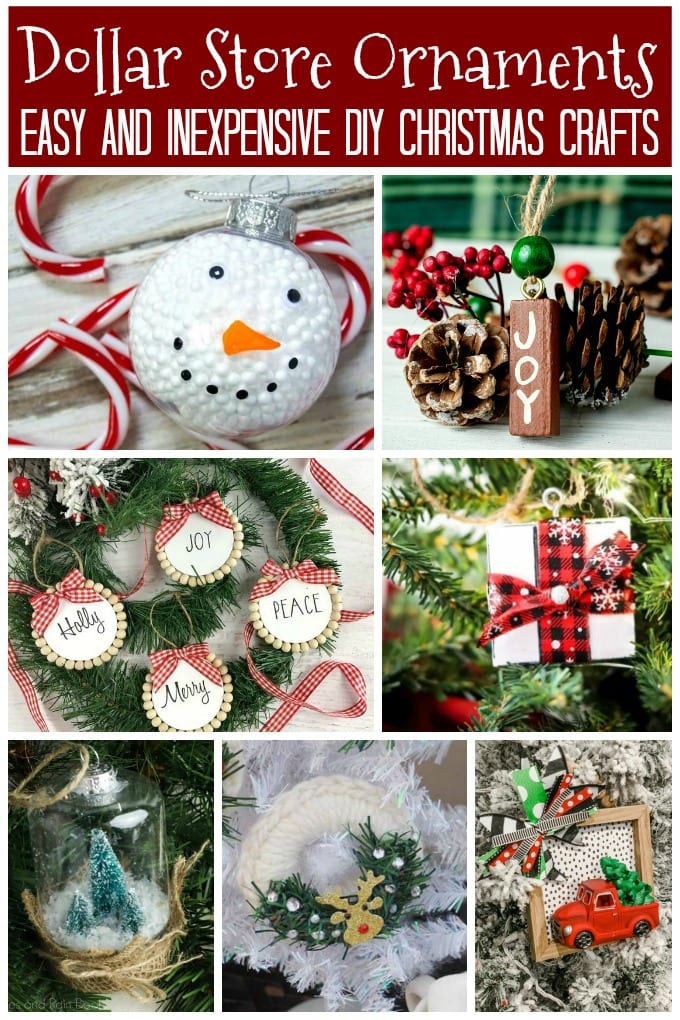 Making your own easy cheap Christmas crafts like Dollar Store Ornaments is a great way to be creative and save money during the holidays. Don't be fooled, we've collected some amazingly gorgeous DIY ornaments that do not look cheap at all!
This post also contains affiliate links and I will be compensated if you make a purchase after clicking on my links. However, I only promote things that I love and think you will love, too. For more information, please see our Disclosure Policy.
Dollar Store Ornaments are Cheap Christmas Crafts
I'm not really a fan of the word "cheap" because it makes me think of junky and tacky stuff that's poorly made. However, these beautiful and inexpensive DIY ornaments have me rethinking my stance. I want to make them ALL! I am positive that you'll find at least one or two that you want to make, too.
Here are a couple of my new cheap Christmas crafts – I've just posted these tutorials which both use bargain blocks from somewhere like Dollar Tree.
DIY Wood Block Ornaments
These pretty little ornaments start with small blocks and are easily made in just a few minutes!

Easy Cheap Christmas Crafts
If you like those, than you are going to love these fun projects, too!
Snow Globe Ornament
This little farmhouse-inspired ornament is almost too cute for words – and the best part is it's so inexpensive to make!
Get the Snow Globe Ornament Dollar Store Craft tutorial from Ruffles & Rain Boots >>>
Christmas Truck Ornament
I'm kind of obsessed with all things related to the red truck and Christmas tree imagery. It remind me of my Grampy! This ornament is absolutely darling.
Check out the tutorial for this DIY Christmas Truck Ornament from Re-Fabbed >>>
DIY Dollar Store Ornaments
More Ornament Ideas on Pinterest
Here are some more DIY ornament ideas that you might enjoy:
These homemade citrus slice ornaments look so pretty on your Christmas tree!
Kids will have a blast making these dehydrated fruit slices with you this holiday season.
With the right supplies, making your own DIY Ornaments can a really enjoyable family craft that makes wonderful keepsakes, or lovely gifts.
Scrabble Tile Ornaments are super easy to make and so fun! You can use them to personalize stockings or gifts.
We'll show you how to make these ornaments in just a few simple steps!
You can also find more DIY ornament ideas here on my Pinterest board.