As an Amazon Associate, I earn from qualifying purchases.
With the right supplies, making your own DIY Ornaments can a really enjoyable family craft that make wonderful keepsakes, or lovely gifts.

This post has been sponsored by Plaid. I have received product from Plaid, but all opinions are my own. For more information, please see my Disclosure Policy. #ad #plaidcrafts #12DaysOfChristmas

How to Make Beautifully Marbled DIY Ornaments
Recently, I lead Olivia's Girl Scout Troop meeting showing the girls how to make these easy DIY ornaments. Everyone had such a blast expressing their creativity with these. You can make these as simple or elaborate as you wish.
Supplies
Some of the items below contain affiliate links; I am a participant a variety of affiliate programs, including in the Amazon Services LLC Associates Program, an affiliate advertising program designed to provide a means for us to earn fees by linking to Amazon.com and affiliated sites. However, I only promote things that I love and think you will love, too.
Clear Glass Ornaments – for kids, I recommend using Acrylic Ornaments because they don't break as easily.
Apple Barrel Acrylic FolkArt Marble Paints
Bakers Twine, ribbon, tinsel wire or tulle
Optional Items:

Mod Podge Extreme Glitter and Small Paint Brush
Sharpie Markers
Embellishments such as sticky jewels or scrapbook rhinestone tape

Other Items:

newspaper, scissors, paper towels, small paper cups
Instructions
Cover your work surface with newspaper then gather all your supplies to make the DIY ornaments.
Choose 2-4 paint colors to work with.
Remove the ornament cap and set aside.
Hold the ornament at an angle and slowly squeeze the paint, allowing it to run down the side.
Repeat with the second color and gently turn the ornament to swirl the paint.
Add additional paint as needed.
Once you are happy with your ornament, set it upside down in a small paper cup, allowing the excess paint to drip out.
Let the ornaments drip and dry for at least one hour (overnight is best).
Secure the ornament cap and add ribbon to hang the ornament.
Embellish your DIY Ornaments (Optional)
Here are some ways to personalize your gorgeous DIY ornaments even further:
To add a little shimmer, lightly paint the ornament with Mod Podge Extreme Glitter and hang to dry at least 1 hour.
Use a Sharpie to write your name and the year, or use your Cricut Cutting Machine to design and cut adhesive vinyl cutouts for your ornaments.
To add more colors and sparkle, use embellishments.
You can even use 'stickers!! After you place your stickers on, brush them with a thin coat of Clear Mod Podge to help them stay on.
Pro Tip: smaller embellishments work best.
More Homemade Christmas Ideas
These cute Scrabble Tile Ornaments are a fun way to personalize your holiday decor. They are simple to make and fun, too! Use them on packages as a gift tag, name tag for stockings, or hang them on the tree.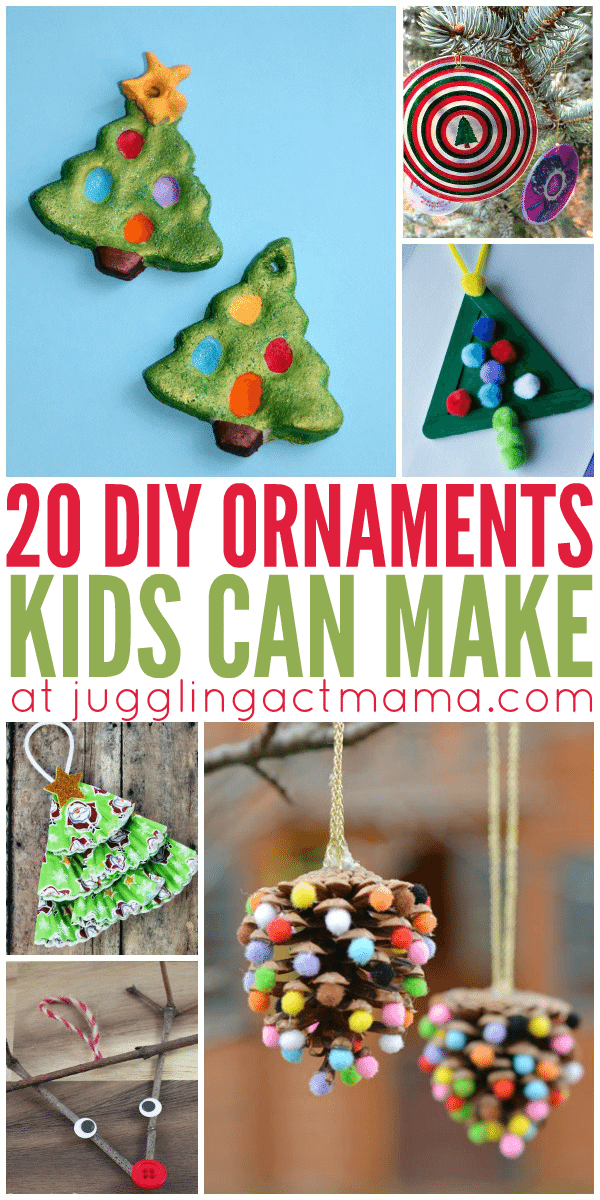 DIY Wood Block Ornaments
These pretty little ornaments start with small blocks and are easily made in just a few minutes!