As an Amazon Associate, I earn from qualifying purchases.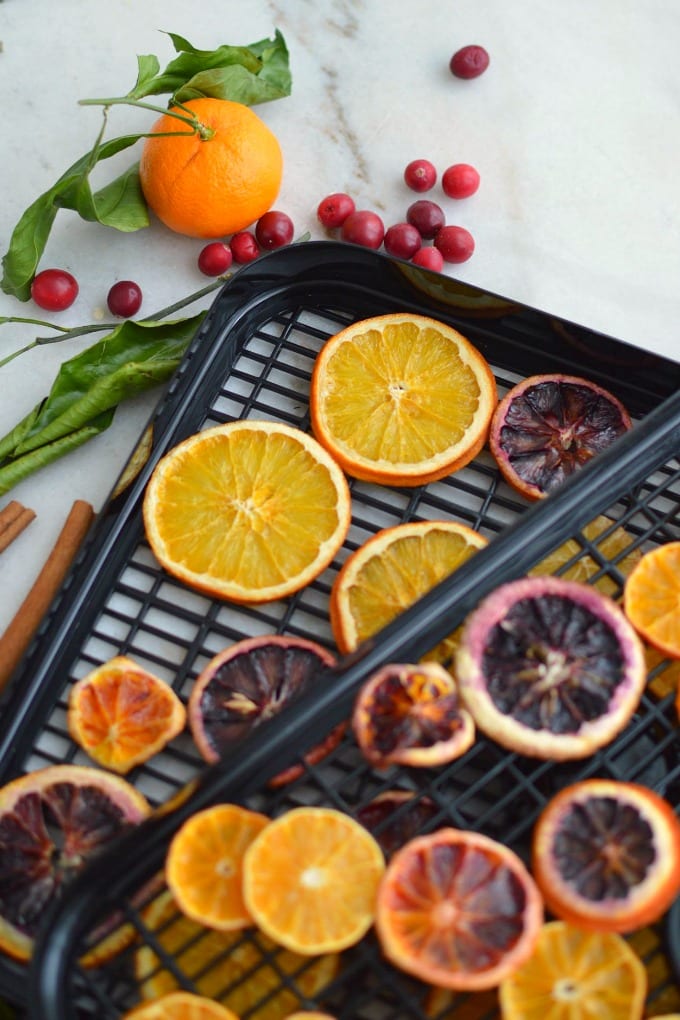 Beautiful dried orange slices for ornaments are a wonderful way to add homemade rustic charm to your holiday decor this Christmas!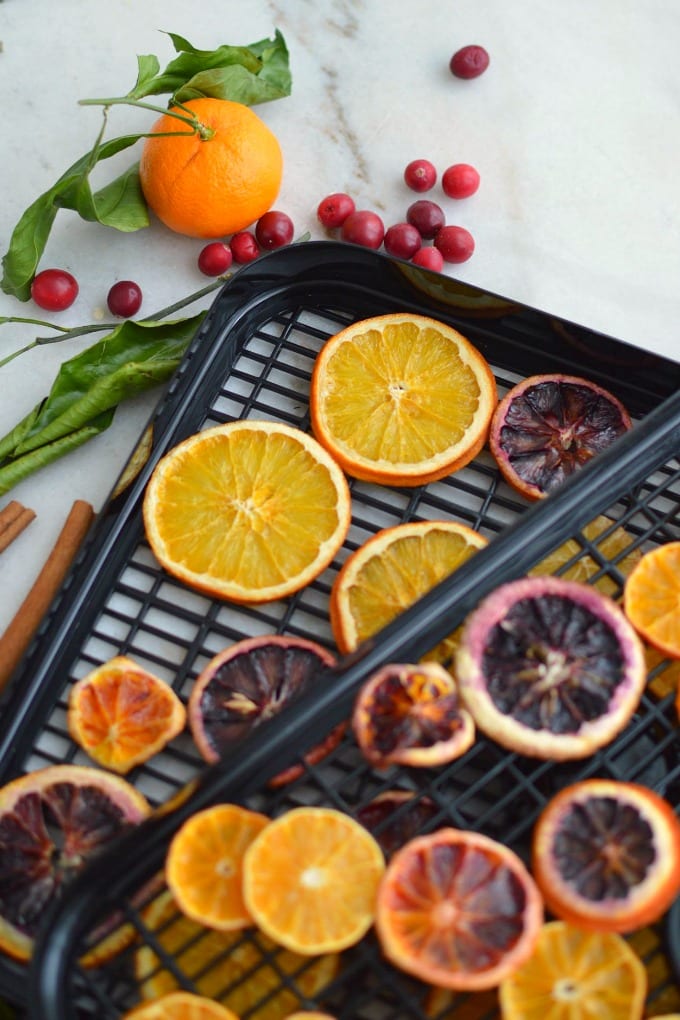 This Dried Orange Slices for Ornaments post and giveaway has been sponsored by Hamilton Beach and Weston Brands, however, all opinions are my own. #ad
When it comes to decorating for Christmas, no one does it like my mom. She's a wizard when it comes to creating gorgeous garlands and whimsical wreaths. Seriously – her Christmas tree takes hours to put together and it is a work of art.
While I inherited her Christmas spirit, I don't have the finesse that she does when it comes to decorating, so my decorations tend to be more simple. That doesn't mean I don't like creating pretty things, though! Today's tutorial for drying citrus slices is just the thing if your decorating speed is more low-key.
There are two different options for drying your citrus slices; the oven or with a dehydrator. With both methods, you'll want to keep an eye on everything during the process because smaller slices will dry quicker than larger ones.
Here's what you'll need:
Citrus Fruits
Dehydrator or Baking Sheets and Cooling Racks
Cutting Board and Sharp Knife or Mandoline
What kind of citrus can you dry?
For dried orange slices for ornaments, you can choose one type of citrus or a mix. Shown here you'll find Navel oranges, Blood oranges, and Clementines.
Navel Oranges
Grapefruit
Cara Cara Oranges
Clementines
Blood Oranges
Limes
Lemons
Kumquats
There are so many options though, consider including Grapefruits of different sizes and colors along with Cara Cara oranges that are a little bit pink inside.
Limes and Kumquats make very small slices but look so pretty when you mix them with the larger slices.
How thick do you slice fruit for drying?
The size of the fruit will dictate the thickness of your slices. For example, smaller fruits can be cut in 1/4-inch circles, while larger fruits should be about 1/2-inch thick.
It is important to keep the slices about the same thickness. Having uniform circles will help during the drying process.
SLICING TIP
For even slices, you might want to use a mandoline – I like this one because it's easy to adjust the thickness.
How to Dehydrate Citrus Fruits
Before starting read through the instructions for your dehydrator as machines vary. Although this did take longer than the oven method, I'm really happy with how well the slices maintained their original coloring.
Start by cutting the citrus into thin slices approximately 1/4 to 1/2 inch circles, depending on the type of fruit.
To remove excess moisture, place the slices onto paper towels or a clean kitchen cloth and gently press.
After that, arrange the slices onto the dehydrator racks.
Set the dehydrator to 130-degrees F and dry for 9 hours. (Be sure to check your specific machine for temperature and drying time.
How to Make Dried Orange Slice Ornaments
This is a fantastic project for kiddos to help out with and they make lovely winter gifts!
Once the slices are completely dry, use a thin ribbon, string or baker's twine, and a cinnamon stick.
Tie a loop at the top for hanging.
After that, loop the string around the cinnamon stick and one of the openings on the slices.
Tie tight to secure.
These would look so lovely with Cinnamon Applesauce Ornaments, too!
How do you use orange slices for decorations?
Once your slices are slightly translucent and cooled they are ready to set into your projects. Here are some ways to use citrus slices other than making ornaments:
Add them to garland for your mantle.
Secure them to a balsam wreath for a pop of color.
String them with cranberries to make festive garland for your Christmas tree.
Place the citrus wheels into different size jars for a pretty centerpiece.
Create a bowl of potpourri with dried citrus, cinnamon sticks, whole cloves, small pine cones, and star anise.
DECORATING TIP
Floral wire works really well for adding citrus slices to wreaths and garlands.
Can you dry oranges in the oven?
Absolutely, you may not have the same results as using the dehydrator, however.
Preheat your oven to 200 degrees.
Cut the fruit into thin slices approximately 1/4 to 1/2 inch circles, depending on the type of fruit.
Place the slices onto paper towels or a clean kitchen cloth and gently press to remove some of the moisture.
After that, arrange the slices on cooling racks that fit into baking trays.
Depending on how many slices and the thickness and diameter, plan on drying them for about 2 to 3 hours.
Keep a close eye on them after the two-hour mark and remove from the oven before they start to brown.
Tips for drying in the oven:
You can put two or three trays in the oven at once, just plan on a bit more time with the addition of each tray.
Try keeping slices that are similar in size on trays together as smaller slices will dry faster than larger ones.
Do not crowd the trays; more air circulation will help the citrus dry faster.
Rotate the tray(s) each hour so that the slices dry evenly.
How long will dried orange slices last?
These dried orange slices will last about 2 years of they are properly dehydrated and stored.
Be sure to keep them in a cool, dark place.
More Ideas for the Holidays
Cranberry Orange Bread
Our Cranberry Orange Bread loaded with fresh berries is perfect for the holidays!

Get the Recipe >>>
Spinach Puff Pastry Cups
Mouthwatering Spinach Puff Pastry cups stuffed with an irresistible mixture of spinach, garlic, cream cheese, cheddar, and feta cheeses and baked until puffy and golden brown.


Get the Recipe >>>
Chocolate Bundt Cake
Sour Cream Chocolate Bundt Cake is a rich, decadent dessert! Top it with a dollop of whipped cream to take it over the top!
Get the Recipe >>>
Free Holiday Place Cards
Download this file and customize your own Editable Place Cards, perfect for your holiday table.
Scrabble Ornaments
These cute DIY ornaments are fun to make and also make great "gift tags."
My Favorite Kitchen Items
Be sure to check out my Juggling Act Mama Storefront on Amazon where you'll find all kinds of great products to make your life easier!
Thanks so much for being a part of Juggling Act Mama
❤ ❤ ❤