This collection includes some of the best barbecue side dishes. These are tried and true incredible sides to go with pulled pork for any occasion!
Jump to:
Pulled pork is one of my favorite foods. The savory, slow-cooked meat is mouthwatering, filling, and oh-so-tasty.
It's a real crowd pleaser, and it goes well with a wide variety of side dishes. If you're looking for some sides to go with pulled pork to round out your next barbecue or family gathering, here are some excellent ideas.
(These would also be great with Pulled Chicken or Shredded Barbecue Chicken!)
You'll find all the classics here, like coleslaw, mac and cheese, fried okra, and potato wedges. Get cooking and dig in!
Breads to Go with Pulled Pork
You can't have pulled pork without some delicious bread to go with it. Sure, you can go with burger buns, but if you're looking for some homemade and hearty bread options, here you go.
Butter Swim Biscuits from Juggling Act Mama: Nothing's better than a soft, flaky biscuit smothered in butter! They're baked until they're perfectly golden brown, tender on the inside, and crispy on the outside.
Cheesy Cornbread from Juggling Act Mama: This is a go-to side dish in our home, and it's perfect for stews, soups, chilis, and, of course, pulled pork! This cornbread isn't your grandma's cornbread. It's moist, slightly sweet, and full of cheesy goodness thanks to a full cup of shredded cheddar cheese. Yum!
Cheddar Jalapeno Cornbread Pudding from Saporito Kitchen: It's the ultimate comfort food side dish and is perfect for using up leftover cornbread. It's a bread pudding, but instead of regular bread for a sweet dish, you're using savory cornbread, spicy jalapenos, and sharp cheddar cheese.
Salads to Go with Pulled Pork
Now that you have your bread and pork taken care of, let's look at some salad options. And by salads, I mean things like potato salad, pasta salad, and coleslaw — you know, the usual fixin's you get with pulled pork.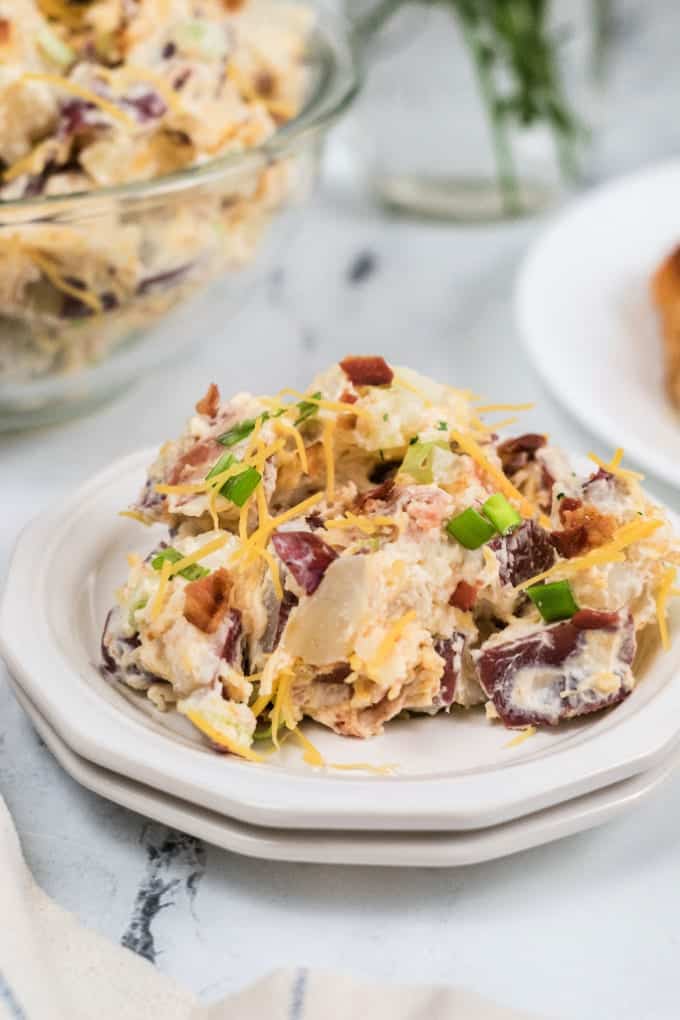 Loaded Potato Salad from Juggling Act Mama: This delicious dish has everything you know and love about loaded baked potatoes. You get red potatoes, bacon, sour cream, cheddar cheese, and green onions in one tasty side. It's almost a meal all in itself, but if you're feeding a hungry crowd, it's an excellent choice.
Watermelon Salad from Juggling Act Mama: For something on the sweeter side, try this bright watermelon salad. Made with fresh watermelon, mint, lime juice, cucumber, and feta cheese, it's the perfect combination of sweet and savory flavors that's perfect for a summer barbecue.
BLT Pasta Salad from Juggling Act Mama: This is a mix of a regular salad and pasta salad that your guests will really enjoy. You can't go wrong with bacon, lettuce, tomatoes, and onions in a creamy dressing. It's the perfect recipe to serve with pork BBQ sandwiches.
Cowboy Caviar from Juggling Act Mama: If you have 15 minutes, you can make this delicious cowboy caviar. Black beans, sweet corn, peppers, red onions, jalapenos, and tomatoes come together in a yummy lime vinaigrette that brings all the flavors together beautifully. It'll be gobbled up fast, so double the batch if you want to enjoy some leftovers later. It'll taste amazing spooned over some pulled pork nachos!
Broccoli Salad from Casserole Crissy: Even folks who claim they don't like broccoli change their minds with broccoli salad. Loads of cheese changes everything, doesn't it? This salad also contains crispy bacon and dried cranberries, and everything is mixed together in a sweet and tangy sauce.
KFC Copycat Coleslaw from Princess Pinky Girl: You can't serve pulled pork crunchy slaw —it's practically a cardinal sin. This version tastes like KFC's famous side dish, with creamy buttermilk dressing and crunchy shredded cabbage and carrots.
Best BBQ Side Dishes
When you're planning a big pulled pork meal, some of the best side dishes are just simple fresh vegetables and fruit.
Try one of these amazing salsa recipes to go alongside your delicious pulled pork dinner! It makes a tasty side dish with pulled pork tacos and, of course, goes great with tortilla chips!
Veggies to Go with Pulled Pork
And now it's time for the veggies! But here's the skinny on these veggie side dishes... they're not exactly health food. Yes, they are vegetables, but they're comfort food veggies, so they're not light, but they ARE delicious.
Easy Grilled Corn on the Cob from Juggling Act Mama: This easy side is pairs perfectly with any pulled pork recipe. Season with black pepper, fresh herbs, or a bit of Compound Butter for loads of great flavor.
Spicy Collard Greens from Spicy Southern Kitchen: Here's another spicy side dish that's great with any Southern fare. The greens are cooked slowly in bacon-flavored broth, then topped with crunchy bacon. The dish gets a kick of heat from red pepper flakes and hot sauce.
Slow Cooker Creamed Corn from Whiskful Cooking: With only 5 ingredients and your Crock Pot, you can cook up this delicious, buttery creamed corn with hardly any effort at all. It's the perfect addition to a pulled pork feast.
Air Fryer Fried Okra from Cooking with Fudge: Fried okra is a Southern staple, but you don't have to live there to enjoy it. If you've never tried it, now's the time, especially since the "fried" versions can be made so much healthier in the air fryer. It still comes out golden and crispy, just the way you like it.
Crispy Oven Baked Potato Wedges from Aleka's Get Together: These oven-baked wedges are a great side dish for your pork platter. They're crispy on the outside and soft on the inside and topped with a delicious blend of herbs and spices.
Southern Fried Green Tomatoes from The Suburban Soapbox: Green tomatoes are a Southern specialty, and they're perfect for frying up. These crispy, golden circles are dipped in a flour and Panko batter and then fried until they're nice and crunchy. Serve them with the creamy remoulade sauce with a spicy kick to take them to the next level. They're the perfect appetizer or side dish for your next pork dinner.
Sweet Potato Fries from Dinner at the Zoo: Sweet potato fries are amazing, and you can make this recipe baked in the oven or fried. They're crispy, salty, and sweet all at the same time. Serve them with a side of ranch dressing or your favorite dipping sauce, and you'll be in heaven.
Other Pulled Pork Sides to Try
Now we're ready to move on to other favorites: the mac and cheese, baked beans, fried pickles, and onion patties. It's hard to pick just a few sides, isn't it?
Cheesy Tater Tots Recipe from Juggling Act Mama: yummy tots topped with cheese and crispy bacon make the perfect side dish to go with pulled pork, and so many other dishes, too!
Instant Pot Mac and Cheese from Juggling Act Mama: Mac and cheese is a classic comfort food, and this Instant Pot version takes all the work out of it. The dish only takes about 25 minutes to make from start to finish. You'll love the combination of sharp cheddar and Parmesan cheeses with just the right amount of garlic flavor.
Instant Pot Baked Beans from Flavor Mosaic: Baked beans are a must-have side dish for pulled pork, and this Instant Pot version is the perfect way to make them. The beans are cooked in a sweet, tangy, smoky sauce that pairs perfectly with BBQ of any kind. The best part is that you don't even have to soak the beans!
Easy Loaded Twice Baked Potatoes from Delicious on a Dime: You can make these yummy potatoes ahead of time, and they're real crowd-pleasers. Serve them as a side or as an appetizer. They're loaded with bacon, cheese, and green onions, and you'll love the combination of flavors and textures in every bite.
Deep Fried Pickles from In the Kids' Kitchen: Pickles are even better when they're deep fried. These golden beauties are crunchy on the outside and soft and tangy on the inside. They're perfect for dipping in a creamy sauce, or you can just eat them plain. You won't be able to stop at just one!
Onion Patties from Totally the Bomb: Forget onion rings. The onion patty is where it's at. They're simple to make and totally crave-worthy. These oniony patties are fried until they're golden brown on the outside and tender on the inside. Take them to the next level by adding some crumbled bacon to the batter before frying. Serve them with some ketchup or BBQ sauce for the perfect bite.
We hope you enjoyed this list of pulled pork side dishes. Pin it so you'll have it handy for your next meal!
Ways to Use Leftover Pulled Pork
More Side Dishes