If you love chocolate, peanut butter, ice cream and cookies, these No Bake Ice Cream Cupcakes are the dessert for you! This recipe is a no bake dream so it's perfect for those super hot summer days!
Hot summer days call for cool treats that don't involve the oven! These no bake ice cream cupcakes fit the bill and they're fun to make with the kiddos. I'm using Dark Chocolate morsels to create a delicious chocolate peanut butter fudge swirl ice cream.
This treat starts by making a chocolate peanut butter fudge to swirl throughout homemade ice cream. This stuff is so good I could just eat it with a spoon, people! For real, it's THAT amazing.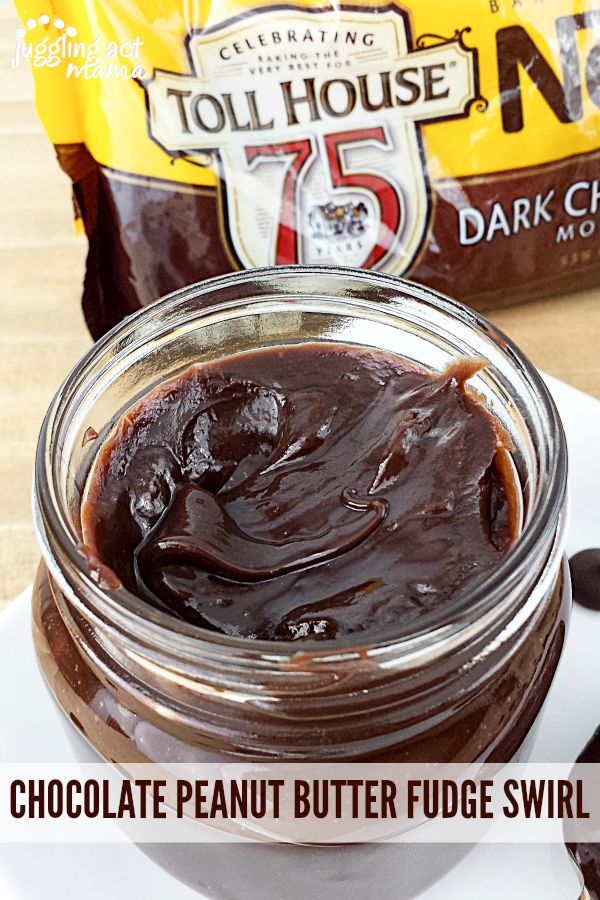 You can put this in a little mason jar - in fact, this recipe will make enough to put a little in the fridge for later! Now on to the ice cream cupcakes - how amazing do these look? You're welcome. I mean, I'm just going to throw that out there. You're welcome.
More No Bake Desserts
Ingredients
For the cupcakes
Peanut Butter Fudge

divided

12

"scoops" Peanut Butter Fudge Swirl Ice Cream

see below

8

Oreo cookies

crushed

8

Nutter Butter cookies

crushed
For the Peanut Butter Fudge Swirl
½

cup

heavy cream

2

tablespoons

butter

3

tablespoons

brown sugar

packed

2

tablespoons

cream peanut butter

1

cup

Dark Chocolate Morsels

1

teaspoon

vanilla extract

For the Peanut Butter Fudge Swirl Ice Cream -

1

cup

whole milk

¾

cup

granulated sugar

pinch

salt

2

cups

heavy cream

1

teaspoon

vanilla extract

½

cup

Peanut Butter Fudge Swirl
Instructions
Cupcakes -

Prepare the Peanut Butter Fudge Swirl, and let cool.

Prepare the Vanilla Ice Cream and freeze 2-3 hours.

Prepare a muffin pan with cupcake papers. Combine the crushed cookies. Fill each cup with 1 tablespoon of the cookie mixture. Drizzle on 1 teaspoon of the fudge swirl mixture.

Top each with a scoop of Peanut Butter Fudge Swirl Ice Cream, pressing it down into the well. Freeze for 1 hour. If you want them to look more like 'cupcakes,' add another scoop and use the back of a spoon to mold into a rounded top.

Drizzle with remaining peanut butter fudge and sprinkle with remaining cookie mixture.

Peanut Butter Fudge Swirl -

In a small saucepan, combine the cream, butter and sugars together. Heat over low until the sugar is dissolved.

Stir in the peanut butter and chocolate morsels and mix until combined.

Remove from the heat and whisk in the vanilla extract.

Let cool completely.

Peanut Butter Fudge Swirl Ice Cream -

This recipe works perfectly for a 6-cup (1.5 quart) ice cream maker. Before starting, be sure your freezer bowl has been in the freezer for at least 6 hours.

In a medium bowl, whisk together the milk, sugar, vanilla and salt until the sugar is dissolved. Gently stir in the heavy cream. Cover and refrigerate 1 hour.

Turn on the ice cream maker and pour the cream mixture into the frozen freezer bowl and let mix until it begins to thicken, about 15 minutes. The ice cream will have a soft, creamy texture.

Use a spatula to scoop the ice cream into an airtight container. Swirl in a little of the cooled peanut butter fudge as you go – you'll want to use about ½ cup, reserving some for later. Store the remaining fudge in an airtight container.

Freeze the ice cream for about 2-3 hours so that the ice cream hardens thoroughly.
For best results, be sure to check our Tips and FAQs above with important tips and questions that can help your delicious recipe come out perfectly.
Please Note: I am not a registered dietician. Any nutritional data I provide is an approximation and actual dietary information can vary based on ingredients and portion sizes.
Sign up for our emails and never miss another recipe!!
We'll never share your email or send you spam.
You might also enjoy these other Frozen Treats:
from left to right: