The hardest thing about making this No Churn Ice Cream was finding the can opener.  No joke.  Do you think I could find that thing in my kitchen? Sure, I have a million kitchen utensils and tools, but my kitchen isn't that big.  I even called Mr. Juggling Act at work to see if he put it in some funny place.  I finally found it stuffed into the dish rack – crisis averted! What? Not having a can opener isn't a crisis in your house?
When it is hot outside, the last thing I want to do is more work. After I (finally) found the can opener, making the no churn ice cream was simple! My family was enjoying fresh homemade ice cream in 6 short hours! You have to try and make this yourself. You will love it! If you do make it, please share it on Instagram so I can see it too – tag #JugglingActMama!
No Churn Ice Cream Shopping List
For this easy ice cream recipe, you only need a few ingredients.
1 box brownie mix
Oil
Eggs
2 cups heavy cream
14.5 oz can of sweetened condensed milk
Vanilla extract
Other Items You May Also Need To Make No Churn Ice Cream
Items You May Need:
Some of the items below contain affiliate links; I am a participant in the Amazon Services LLC Associates Program, an affiliate advertising program designed to provide a means for us to earn fees by linking to Amazon.com and affiliated sites. However, I only promote things that I love and think you will love, too. For more information, please see my Disclosure Policy.
Products from Amazon.com
‹
›
For a list of some of my favorite items to use when cooking, and why I chose them, please visit my Kitchen Resource page.
Once I had all my tools and ingredients in place, I whipped up (no pun intended) this No Churn Brownie Bite Ice Cream in no time.  It's the perfect example of a semi-homemade recipe that really wows.
No Churn Brownie Bite Ice Cream Recipe
Just mix the ingredients and freeze for 6 hours!
Super Easy No Churn Ice Cream
You can even mix things up by putting candy inside, or leave it plain vanilla. It's up to you.
No Churn Brownie Bite Ice Cream
Rich delicious vanilla ice cream studded with chunks of delicious brownie bites!
Ingredients
1

Brownie mix - plus ingredients called for on the box

2

cups

heavy cream

1

14.5oz can sweetened condensed milk

2

teaspoons

vanilla extract
Instructions
Prepare the brownies according to the directions on the box. (I used Betty Crocker Supreme Peanut Butter Brownie Mix and added chocolate chips on top - use whatever mix is your favorite).

Bake in an 8x8 or 9x9 pan for best results.

Set the brownies aside to cool. Place a metal mixing bowl and your beaters in the freezer meanwhile.

Once the brownies have cooled completely, cut about 1/3 of the brownies into bite-sized pieces. (Cover and store the remaining brownies.)

Remove the bowl and beaters from the freezer. Add the heavy cream and vanilla to the bowl and beat until stiff peaks form.

Using a spatula, gently fold in the sweetened condensed milk.

Spoon about 1/3 of the cream mixture into a loaf pan. Add 1/3 of the brownie bites on top. Repeat two more times.

Freeze the mixture for 6 hours before serving.

Store in the freezer - covered - for up to 2 weeks.
How do you make easy ice cream?
The easiest ice cream has the fewest steps. In fact, when I realized how to make ice cream without an ice cream maker, I was hooked!
To make this ice cream, you literally just have a few steps. First, beat the heavy cream and vanilla until stiff peaks form. This is crucial because it changes the consistency of the cream. If you skip this part, the end result will be an ice cream that isn't very creamy at all.
After you beat the heavy cream, gently fold in the sweetened condensed milk. Do not over mix it. Mix in your favorite mixings (for me it was brownie bites). Then freeze it for about 6 hours.
Your first spoonful will be a taste of heaven!
What Else Can You Mix in Homemade Ice Cream?
Trying to dream up new DIY ice cream flavors is the most fun part of all! Become your own ice cream shop and mix up different things – the sky is the limit.
Some ideas to get you started include:
Eggless Chocolate Chip Cookie Dough
Sea Salt Caramel
Candied Pecans
Marshmallow, Chocolate, Graham Cracker pieces (S'Mores)
Cake crumbles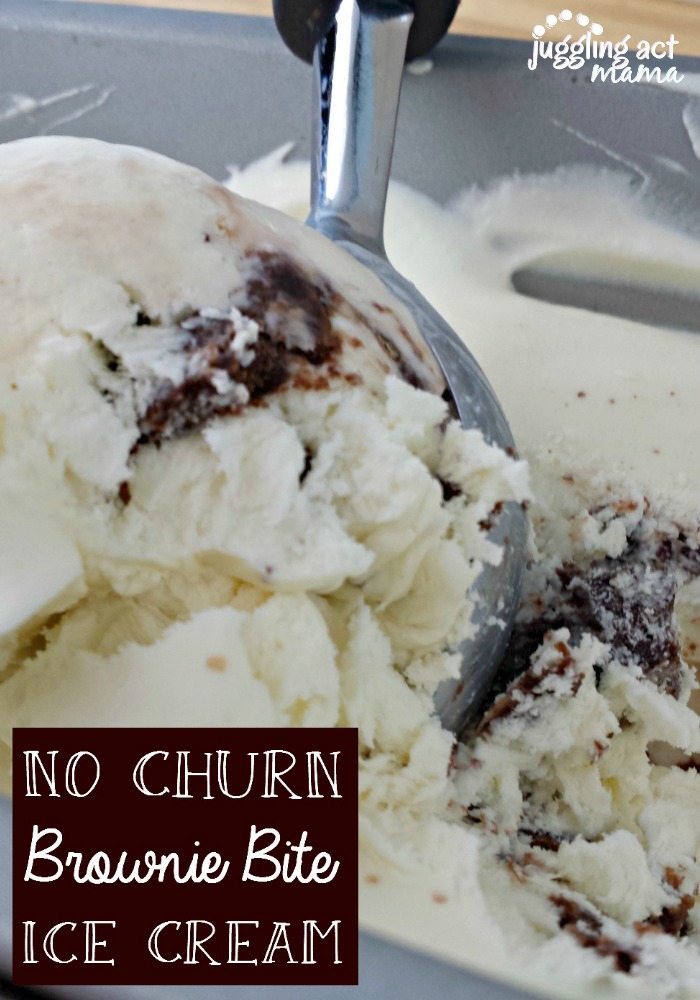 Condensed Milk Ice Cream – So Rich!
This ice cream is rich and delicious, but easily made without an ice cream machine.  I love the bites of brownie throughout, and so does Mr. Juggling Act.  He wants you to know that this ice cream should come with a warning label because it's so rich.  "I had a BIG bowl and it goes down easy, but it hits your stomach like a ton of bricks!"  I think that's kinda of a compliment?  Listen, just use a little restraint and eat this in moderation and you'll be fine.
More Easy Homemade Ice Cream Recipes
If you want some more simple ice cream recipes, I have 3 that you really have to try!
From left to right:
Do you have an easy homemade ice cream recipe? Or do you know how to make ice cream without an ice cream machine? If you have a recipe, please share in the comments! I'd love to hear your ideas too. Don't forget to pin this recipe so you can come back and make it over and over this summer – you will love it!
You might also enjoy these other Frozen Treats:
from left to right: