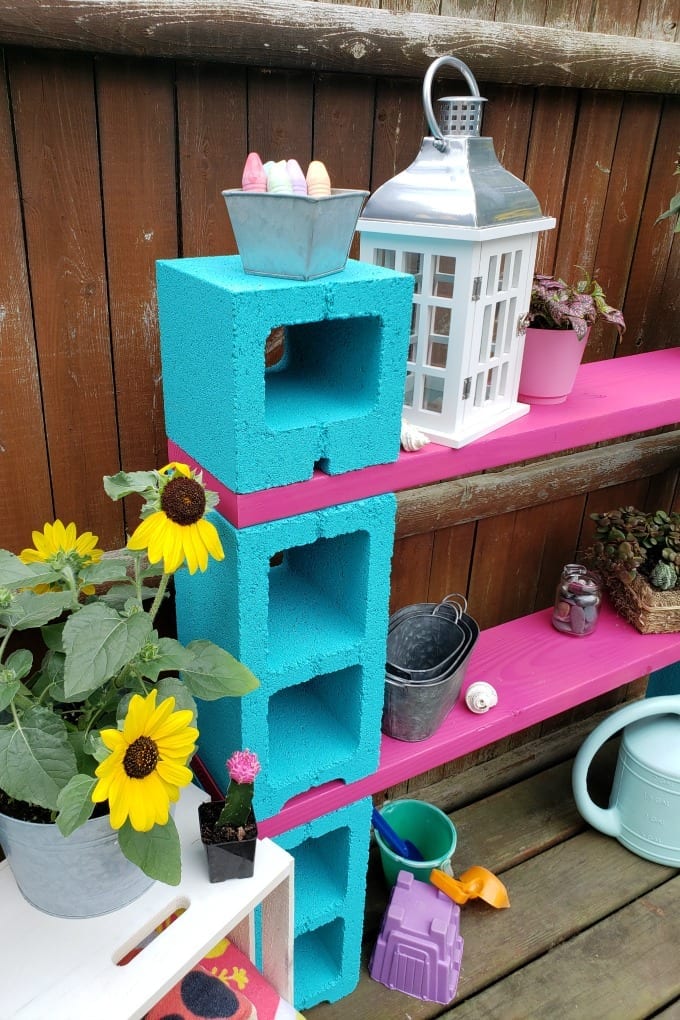 DIY Outdoor Storage can be expensive but these Cinder Block Shelves are simple and economical, too. Add color and functionality to your patio or backyard in no time!
This post has been sponsored by Wagner SprayTech, however, all opinions are my own. Please see my Disclosure policy for more information. #ad #Wagner
I have been enjoying my Flexio 4000 so much! You may have seen the Outdoor Planter Bench and Outdoor Swing Restoration projects here in the last couple of months. I have one last fun outdoor living tutorial to share with you before the summer is over and this one might be my most favorite because of how simple and easy it is to build.
I use the term build loosely because there are no nails or screws - it's just the cinder blocks and wood! Seriously, that's all there is to it.
Since this is a smaller project, I am using the Wagner Flexio 3000 instead. It's ideal for smaller projects like these DIY outdoor shelves.
This isn't the first time we've built our own DIY outdoor storage solution! Our DIY Pallet Pool Storage (below) is actually one of our most popular posts ever! Find more outdoor storage solutions to keep tools and toys organized here and check out how we added gorgeous new patio lights here.
Materials & Tools
The cinder blocks and board cost less than $20 at our local Home Depot store. This is the most economical shelf you can build, in my opinion.
(4) 8x8x16 cinder blocks
(2) 8x8x8 "half" cinder blocks
2x8x8 Douglas Fir or similar board
Wagner Flexio 3000
exterior latex paint
medium spray shelter
orbital sander
safety glasses
dust masks
DISCLOSURE: It is important to note that I am not a professional. The ideas presented here are all my own, unless otherwise credited and I have shared tips based on my experience. I always recommend consulting and/or hiring a professional if needed. Be sure to check with local building codes to obtain all permits required for any DIY project. Please always use all proper safety precautions and be sure to read and follow all manufacturer instructions. Finally, please note that I am not responsible for any outcome if you try this yourself; I am not liable for any injury or additional cost or expense incurred.
Paint Colors
For this project, I wanted vibrant fun colors to go with our already colorful back yard. I used Behr "Diva Glam" for the shelves and "Caicos Turquoise" for the cinder blocks. Both paints are semi-gloss.
How to Make DIY Outdoor Storage Cinder Block Shelves
Sand the 2x8x8 so it is smooth.
Cut the 2x8x8 in half so that you have (2) pieces 4' in length.
Sand the ends of the 4' pieces as needed.
Set up the spray shelter.
Set up the Flexio 3000 according to the enclosed instructions. For exterior paint you will want to set it to MAX. Turn the nozzle so that it will spray horizontally.
Place the boards across two sawhorses and spray in a horizontal pattern holding the sprayer 6-8 inches from the surface. Once the paint dries, turn the boards. Repeat until all the sides are painted.
Place two of the tall cinder blocks for the base, and then set one of the shelves on top, lining up the corners.
Next, place the two other tall cinder blocks on top of that and add the second board.
Finally, top with the two small cinder blocks to hold it in place.
For the best results, I highly suggest thoroughly reading through the instructions on how to assemble and use the sprayer. Likewise, be sure to do a test spray and practice with the included spray poster.
Tips for using the Flexio 3000
The Fleixo 3000 is different from the 4000 that I've used previously, but it was just as simple to use.
First, choose a good quality exterior paint. I used Behr Premium Plus Ultra.
Set the material flow, which controls the amount that will be sprayed. Exterior latex paint is quite thick so you want it on the highest setting.
Change the nozzle to match the direction you're going to paint, either horizontal or vertical.
Add paint to the cup and tighten the nozzle assembly.
Set up the medium spray shelter and move the blocks into it.
Hold the sprayer about 6-8 inches from the surface and move the sprayer in smooth even passes across your surface.
Allow the paint to dry completely before adding another coat or touching up any spots.
The best part of using the Flexio 3000 is that clean up is a cinch! It literally takes only 5 minutes to rinse it all out so switching from one paint color to the next was a snap. Plus, I love that it comes in its own case for storage.
More DIY Projects
DIY Outdoor Storage - Cinder Block Shelves
These shelves are so easy to make and inexpensive, too! Download and print the project from the card below.