Make DIY Chalk Paint in a snap for the kiddos – just three simple ingredients and you have a whole lot of fun for the whole family!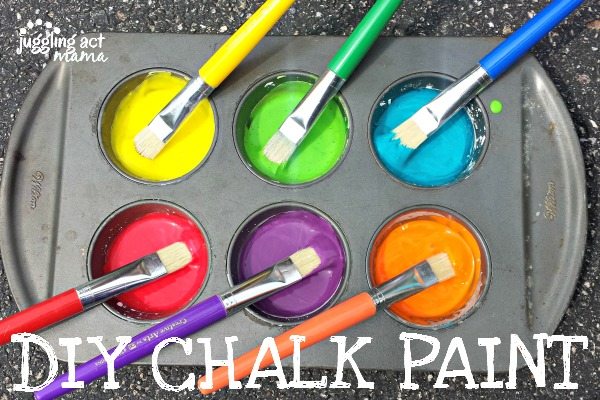 Sidewalk chalk might be one of our favorite family activities. I'm not sure if it's because of the creativity involved, or the idea that you're drawing on something other than paper, but the kids love – and frankly so do I! Since June 19th the kids have been home full time with me. I don't mean to sound like a martyr , but it has been just a tad frustrating at times to have them asking me to play or get them a drink or whatever during my normal 'work hours.' We're adjusting, and I've found that having a planned activity or two for the day makes things infinitely better for everyone! That's where DIY Sidewalk Chalk Paint comes in… it fun, it's free (if you already have materials on hand), and it will keep the kids busy for a loooong time.
DIY Sidewalk Chalk Paint
MATERIALS
water
INSTRUCTIONS
First, pick up an inexpensive muffin tin, or use an old one and use it as an excuse to get mama a new one! To make each paint color, we make a slurry with 2 tablespoons of cornstarch and 1 tablespoon of water. Patiently mix the slurry together with a fork – it will take a moment or two and the mixture will be very thick. Next, add the washable paint to make your color as vibrant as you wish. My kids wanted to bright colors, so we added lots of paint. You can also mix paints to create different colors. Repeat until you have your muffin tray filled up. Then grab some brushes and start painting!
The paint dries lighter and my kids were delighted to see the change in the colors from wet to dry. Sadly, just after we finished this day, it began to rain. Ethan, 7, cried "I don't want all our hard work to be ruined!" and Olivia, in all her 4-year-old wisdom said, "Don't worry E, we can do it again another day." Be still my heart, she's just like her mama!
No doubt this is a messy summer fun project, but it's cleaned up easily enough. The paint comes right of hands with a little warm water (or a fun through the sprinkler!) and the paint comes out in the wash. These are the things memories are made of, so don't worry about the mess, just enjoy the time with your family! (Download this free printable!)
Shop the Post
Disclosure: This post contains affiliate links. Should you decide to make a purchase after clicking on one of these links, I will earn a few pennies, which go toward supporting Juggling Act Mama, without it increasing the cost to you. For more information, please see my Disclosure Statement.