Strip steak tacos with guacamole is a favorite Mexican dish that you can easily make at home. They're perfect for an easy family dinner, or a crowd!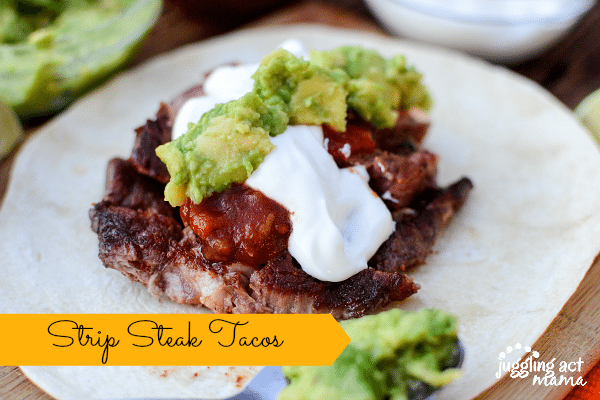 I just love cooking with my cast iron skillet. It's so versatile and I love that it can go from the stovetop to the oven in a flash if needed. Now a cast iron pan might not be the first thing you think of when I say I'm making tacos, right? But these aren't any old boring tacos, these are strip steak tacos! Searing the meat in the cast iron skillete means you're going to have uber flavorful tacos.
As you may know, strip steak is a very lean cut of meat. The less fatty the meat, the more tender it will be. That's why I love making these strip steak tacos with guacamole, the meat is so tender! These strip steak tacos are great for a crowd. And when you add my husband's favorite Homemade Guacamole, it's like heaven on a plate!
These tacos are both kid and husband friendly, and would be a perfect main meal at your game day party or Cinco de Mayo fiesta. Tacos are such a great dish to serve for a crowd. The best part is that everyone can customize their taco to their own liking! You cannot miss with this recipe.
Want more?