Beautiful unicorn popcorn is perfect for your next girly get together, and a must have for unicorn birthday parties!
Our Unicorn Popcorn is perfect for birthday parties for kids - and adults! It's simple to make and fun to do with the kids, too. If you're planning trendy unicorn party, you need to make this yummy snack!
We make loads of air-popped popcorn in our house. It's so simple to add yummy flavors or fun mix-ins (more of my favorite popcorn recipes here!!). This Magical Unicorn Popcorn is perfect for a unicorn birthday party.
Our daughter Olivia just turned 7 and had a unicorn themed party. She had so much fun and wanted to be a unicorn. There are so many amazing products on the market now to help create an awesome unicorn party.
We found many of the supplies online, or at your local Walmart. I loved decorating for this party! It was one of my favorites.
It may seem like the unicorn trend should be over by now, but based on the squeals of delight from my seven year old daughter as we set up her unicorn party, I doubt it!
I totally get it, too.
A unicorn is magical and special. It's something totally unique, of course. And then there are all the beautiful colors and sparkle. It's unapologetically girly. If I'm being totally honest, I probably had as much fun planning her unicorn party as she did experiencing it!
I'll be sharing a look at her unicorn party soon, but in the meantime, you're going to love this whimsical snack! It's was so popular that it made our top recipes of 2018 list!
Ingredients
Wilton Candy Melts, Bright Pink
Wilton Turquoise Candy Melts Candy- I like these better than generic brands because I know that they work well.
Wilton Rainbow Nonpareils - these add a little sparkle and whimsy. You could also use Wilton Edible Gold Stars if you wanted to really make it special!
Parchment Paper - I prefer to line my baking sheet to help with clean up, but this is optional.
Hot Air Popper - This is the newer model of the one I have. It's inexpensive but works great!

Finding the Wilton Unicorn Icing decorations can be tricky, but I found them at Walmart.
If you really want to make this unicorn popcorn extra special, you can buy a box of Lucky Charms cereal and pick out all the rainbow marshmallows and add that to the mixture as well!
Or you can just purchase Rainbow Marshmallow Bits and add those. This adds a little more fun and whimsey to your unicorn party snack.
Another fun way to color the popcorn is with a few drops of dye, (just a few!) Add the popcorn to a paper bag. Mix the dye with a tablespoon of corn oil and whisk it together. Sprinkle it over the popcorn in the bag and shake, shake, shake!
Instructions
Pop 4 cups of popcorn:

2 tablespoons or ⅛ cup of un-popped kernels equals about (4 cups) popped corn (if all kernels pop)

.
Line a baking sheet with parchment paper and spread the popcorn in a single layer on top.
Melt the chocolate wafers one color at a time according to the directions on the package, then drizzle on top of the popcorn.
Add the sprinkles while the chocolate is still warm so they stick.
Repeat with the second colored chocolate wafers.
Let the mixture set (slide it into the refrigerator for 15-20 minutes for the chocolate to harden).
Add the sixlets and the unicorn icing decorations at the end.
Tips for Using Candy Melts
Carefully read the instructions on the back of the package before you begin.
I love this 3-Piece Glass Mixing Bowl Set

- the smallest (1 quart) bowl is perfect for melting chocolate.

Use a spoonula like the one in this Silicone Spatula Set to mix the chocolate.
Handle the bowl and the chocolate with care. These are very hot when melted.
Always supervise children around hot melted chocolate.
It's really that simple to make this magical unicorn popcorn! And, this is method is a fun way to add a whimsical touch to any birthday party. If you can use the same technique to make all kinds of fun popcorn snacks for parties.
Simply switch out the color of the candy melts and the types of add-ins to match the theme or event.
For instance, for a Batman party, you could use black and yellow candy melts with blue, yellow and black sprinkles and sixlets.
Our Unicorn Party
As I mentioned above, Olivia just turned 7 and had a unicorn themed party. It was a such a fun party to plan! Here's a look at some of our decorations and food, as well as a list of products we used.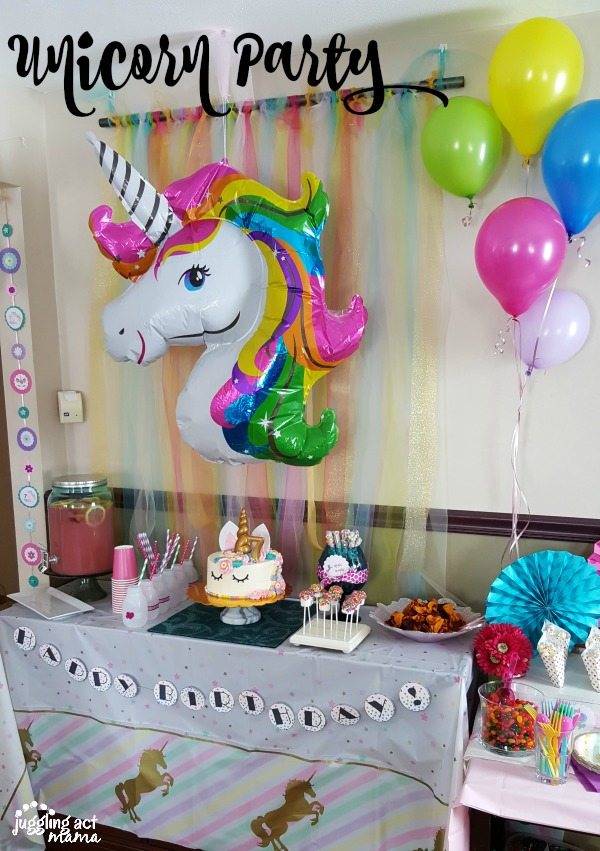 Similar Recipes
More Party Ideas
Looking for more fun party ideas? You came to the right spot!
Ingredients
4

cups

microwave popcorn

12

oz

Wilton Candy Melts

Bright Pink

12

oz

Wilton Turquoise Candy Melts Candy

Wilton Rainbow Nonpareils

Bright multi-colored Sixlet candies

Parchment Paper

Wilton Unicorn Icing decorations
Instructions
Line a large baking sheet with parchment paper and spread the popcorn out onto the baking sheet.

4 cups microwave popcorn,

Parchment Paper

Pour the bright pink candy melts into a microwaveable safe dish. Heat in 30 second increments, stirring until melted. Let cool a few minutes and using a large spoon to drizzle over the popcorn.

Sprinkle multi-colored non-pareils and Sixlets over the popcorn and melted chocolate.

Wilton Rainbow Nonpareils,

Bright multi-colored Sixlet candies

Repeat step #2 with the teal candy candy melts. Sprinkle with more non-pareils.

12 oz Wilton Turquoise Candy Melts Candy

Add the Unicorn Icing decorations and bright colored Sixlets.

Wilton Unicorn Icing decorations

Let the popcorn sit and allow the melted chocolate to harden. Once the popcorn has set, store in an airtight container for up to 3 days.
For best results, be sure to check our Tips and FAQs above with important tips and questions that can help your delicious recipe come out perfectly.
Please Note: I am not a registered dietician. Any nutritional data I provide is an approximation and actual dietary information can vary based on ingredients and portion sizes.