Are your kids obsessed with unicorns? If you're nodding YES, then you're going to love this list of gorgeous unicorn arts and crafts for kids. You'll find an idea here for all ages to enjoy!
Toddlers and preschoolers will absolutely love the headband and the toilet roll unicorn, while tweens will go crazy for the unicorn notebooks, magnets, and bookmarks. You'll even find a few unicorn DIYs that make perfect favors and gifts for a unicorn-themed party.
Unicorn Arts and Crafts for Kids
Choose a project below, grab your craft supplies, and make something magical!
1. Unicorn Headband from Simple Everyday Mom: Any little girl would be ecstatic to rock this adorable unicorn headband. It's super simple to put together—just print the template on cardstock, cut, and assemble. There's also a black and white version for kids to color.
2. Unicorn Planter from Easy Peasy and Fun: Unicorn fans of any age will enjoy this craft. Plant a succulent or flower in your unicorn planter, and give it as a gift. It would be lovely for Mother's Day or a birthday. There are so many uses for this unicorn arts and crafts project. If growing plants isn't your thing, you could use it as a pen and pencil holder!
3. Unicorn Notebook from Projects with Kids: Older kids and tweens will enjoy turning ordinary composition books into fabulous notebooks that sparkle. They're perfect for school, but they'd make beautiful journals, too. And since they're rather inexpensive to make, they'd work well as unicorn party favors.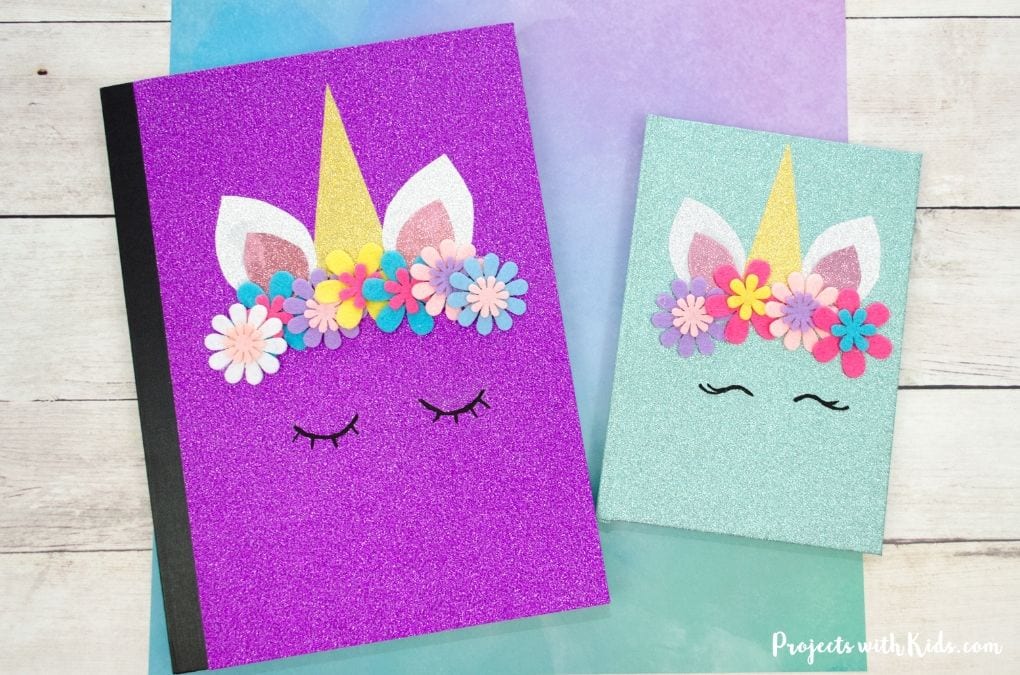 4. Unicorn Magnets from The Inspiration Edit: Make some unicorn magnets to dress up the fridge at home or the locker at school. Unicorn magnets make great DIY gifts for birthdays and Christmas, and they make great party favors as well.
5. Unicorn Bookmarks from Natural Beach Living: Little bookworms will smile every time they see these cute unicorn bookmarks saving their pages in their favorite books. These are easy to make using the printable template, so it's a great craft for a wide range of ages. Another awesome unicorn arts and crafts project!
6. Unicorn Erasers from Happy Go Lucky: Did you know that making your own erasers is super easy? Thanks to eraser clay, you can make erasers in loads of fun shapes and colors in no time. Adults will need to handle putting the molds in and out of the oven, but kids can choose the color combinations and press the eraser clay into the molds.
7. Unicorn Slime Jars from The Best Ideas for Kids: This would make a fun craft or activity for a unicorn party! All the kids could make their slime together, decorate their jars, and take them home at the end. Glue dots are great for younger kids so you don't have to fuss with a hot glue gun.
8. DIY Unicorn Card from I Heart Crafty Things: This beautiful card would brighten anyone's day! The printable template can guide kids through the card-making process. You'll want to make several of these to keep on hand for birthdays!
9. Flying Unicorn Paper Plate Craft from Messy Little Monster: It just doesn't get more magical than a unicorn soaring through the air with a rainbow backdrop! The unicorn is positionable, so kids can move it back and forth to make it look like it's flying.
10. Toilet Paper Roll Unicorn Craft from Red Ted Art: This is the perfect opportunity to use yarn scraps if you have some, but the rainbow yarn is gorgeous if you want to buy that. The rainbow mane and tail really make this craft!
More Magical Fun
Unicorn Popcorn
Beautiful unicorn popcorn is perfect for your next girly get together, and a must have for unicorn birthday parties!
Get the Recipe >>>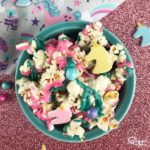 Which of these Unicorn Arts and Crafts projects do you think your child will like best?