Quick, easy raspberry mojito recipe made with fresh berries, fresh mint, vodka and rum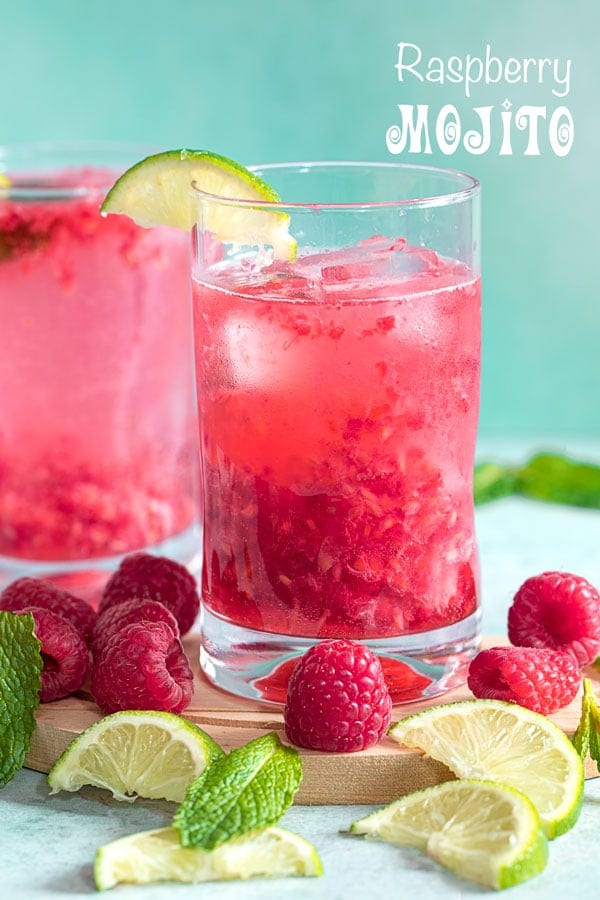 The BEST raspberry mojito recipe made with fresh berries, mint leaves, Bacardi rum and raspberry vodka. Perfect for Happy Hours, Sunday Brunch, or any occasion. There are also non alcoholic options.
This post is intended for readers ages 21+
Jump to:
Hello readers of Juggling Act Mama. Its Rini here again from Healing Tomato. Glad to be back on Ang's blog with another delicious recipe. A little birdie told me that Ang is a fan of rum cocktails, so, I figured I would surprise her with a different kind of rum cocktail.
This is a very simple Raspberry mojito recipe made with just a few ingredients. I wanted to keep it easy to make because mojitos should make life easy, right?
I don't know anyone who isn't a fan of fruity alcoholic drinks and that's because fruits make alcohol taste that much better. Plus, they are so colorful!
What is a Mojito?
Mojito is a classic Cuban drink made with rum. To compliment the taste of rum, fresh mint and sweetness is added to it.
The classic Cuban mojito is usually made with just 5 ingredients:
White Rum
Fresh Mint Leaves
Sugar
Lime Juice
Soda Water
Source: Wikipedia
The popularity of the traditional mojito has given way to creative mojito recipes. Raspberry Mojito, Mango Mojito, Strawberry Mojito, Cucumber Mojito and Coconut Mojito are some of my favorite types of mojitos.
Tips for Making Raspberry Mojito
I always use fresh raspberries and fresh mint for the base. It adds a natural flavor to this mojito recipe.
If you have cocktail shakers, muddle the raspberry and mint in it. Even better, prepare the whole raspberry mojito recipe in the shaker.
Serve the raspberry mojito immediately after making it. I found that the raspberry tends to degrade because of the alcohol, if kept together for a long time.
I used raspberry vodka in addition to the Bacardi rum. If you don't have it, add about 3 more raspberries and a little more of the simple syrup.
I used lime soda in this raspberry mojito recipe because I didn't have club soda. It actually turned out much better with the lime soda, so, I highly recommend it.
If you have extra mint leftover, check out some of my tips and tricks on how to make mint last longer.
When to Serve Raspberry Mojito
The beauty of this simple raspberry mojito recipe is that you can serve it ANY time and for ANY occasion.
Here are just a few occasions where I would love to serve it to my guests:
Happy Hour
Valentine's Day / Galentine's Day
Sunday Brunch
New Years Eve Drinks
Bridal Showers
Shopping List for Raspberry Mojito
Fresh Raspberries (about 10 pieces)
Fresh Mint Leaves (about 7 leaves)
Lime juice (1 tsp, or lemon juice)
Simple Syrup (I used Stirring's Simple Syrup)
Raspberry Vodka (I used Smirnoff brand)
Rum (I used Bacardi rum)
Lemon Soda (I used Sprite's Lymonade)
Ice Cubes (About 3)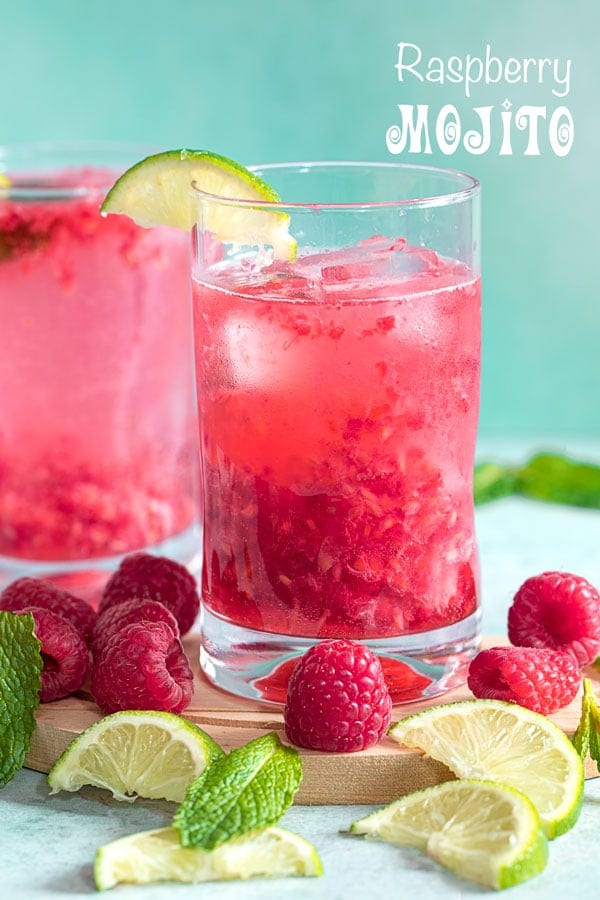 Non-Alcoholic Raspberry Mojito
Its very easy to make a virgin raspberry mojito AKA Rasberry Mojito Mocktail
Muddle the raspberry, mint and ½ teaspoon lime juice as described below
Add ice cubes to the glass
Add 2.5 tablespoon of simple syrup
Fill up the glass with Lemon soda
Serve the non-alcoholic raspberry mojito immediately
Raspberry Mojito FAQ's
As you are making this mojito, I am sure you will have questions. Here are a few questions that I think you might have.
I am sure I am missing other important questions, so, please feel free to comment below with your questions and I will be happy to answer them.
Can I use Mojito Mix in mojitos?
Yes, you can absolutely use a mix. I am all for shortcuts when I am short on time or ingredients.
How do you make Simple Syrup?
Add equal parts water and sugar in a saucepan.
Set the heat to medium and cook until all the sugar dissolves in the water.
Let the simple syrup cool to room temperature and then add it to the raspberry cocktail.
Any leftover simple syrup can be refrigerated. Put the liquid in a glass bottle, refrigerate and use within a week.
You can put it in iced coffee recipes, dessert recipes and even hot chocolate recipes.
Optional: add about ¼ teaspoon of Grand Marinier to the simple syrup.
What can I use if I don't have Simple Syrup?
Triple Sec
Raspberry Chambord
Agave - Use about 1 tablespoon only
Honey - Add 1 tablespoon to hot water and mix well before adding to the cocktail
Can I use other fruits with the raspberry?
Absolutely! Make this a berry mojito by using raspberries, strawberries and blackberries. Or use only one of these berries. The sky is your limit.
You can also make this an apple mojito and make it in the same way as the raspberry mojito.
Can I use gin in this mojito?
I say, "yes" but don't hold me to the results. Personally, I found that I had to add extra simple syrup because it seemed to dry to me. But, if you like it that way, then, gin will be perfect in it.
What if I don't have a muddler?
Use a pestle, back of a wooden stirring spoon, shot glass's bottom, back of a spoon or even a hand blender. Basically, any utensil with a flat bottom will help in crushing the mint and berries.
Used some other thing-a-ma-jiggy to muddle the raspberry? Comment below and wow us with your adapting brilliance.
More Fresh Raspberry Recipes
You are bound to have a few raspberries left over after you make this delicious raspberry mojito. Lucky for you and me, Ang has quite a few recipes which make good use of fresh raspberries.
I love her brownies recipe. Which one is your favorite?
How to make a Raspberry Mojito
In a glass, add about 7 raspberries.
2. After that, add 2 mint leaves.
3. Add Lime Juice.
4. Use a muddling device to muddle mint and raspberries.
5. Stop and admire the muddled mixture.
6. Add ice cubes and 80ml simple syrup (or taste).
7. Add 50 ml of raspberry vodka .
8. Add 50 ml of plain rum.
9. Top it off with lime soda.
Equipment
Muddler

Cocktail Shaker (optional)

Ice Cube Maker
Ingredients
7

pieces

raspberries

use fresh only

2

leaves

mint

use fresh only

1

teaspoon

lime juice

80

ml

simple syrup

or to taste

50

ml

raspberry vodka

I used Smirnoff Raspberry Vodka

50

ml

rum

I used Bacardi rum

½

cup

lemon soda

I used Sprite's Lymonade

3

ice cubes
For Garnish (Optional)
3

pieces

raspberries

3

leaves

mint
Instructions
In a sturdy glass, add the raspberries, mint and lime juice

Use a muddling device to muddle all three

Add the simple syrup, vodka and rum

Finally, top the glass with lemon soda

Garnish with mint and raspberries (optional)
For best results, be sure to check our Tips and FAQs above with important tips and questions that can help your delicious recipe come out perfectly.
Nutrition
Calories:
386
kcal
|
Carbohydrates:
51
g
|
Protein:
1
g
|
Fat:
1
g
|
Sodium:
44
mg
|
Fiber:
1
g
|
Sugar:
49
g
|
Vitamin C:
3.3
mg
|
Iron:
1.8
mg
Please Note: I am not a registered dietician. Any nutritional data I provide is an approximation and actual dietary information can vary based on ingredients and portion sizes.
Sign up for our emails and never miss another recipe!!
We'll never share your email or send you spam.