Make these super festive Patriotic Pinwheel Cookies for your 4th of July picnic and your guests will be super impressed!!
Jump to:
With the 4th of July right around the corner, everything is coming up red, white and blue. Since becoming a mother, the 4th of July has become my favorite holiday. I love spending time with family, watching the delight on my children's' faces as they watch the fireworks. It's just magical.
For the last several years, we've been out on Brandy Pond or Long Lake up in Maine where my parents moor their boat. I love that we're creating wonderfully rich memories for my children with their grandparents - the warmth of which will hopefully live on after they're sometime gone.
I remember my own childhood and summer in Maine with my grandparents so fondly. Even though those days are long gone, the emotion of it all is sometimes too much - in fact as a write now tears are stringing my eyes. But it is not with a heavy heart that I write this - in fact I am so grateful and and full of joy for those precious memories.
From loud cookouts with cousins running all over the place, to quiet afternoons on the porch playing cards with my grandmother, these are moments in time I treasure. If I close my eyes and sit still, I can feel the love, and see so clearly in my minds eye anyone of those moments as if it were a movie playing. I realize now with my own children that these moments have somewhat shaped the way I approach motherhood. Jesh I'm sappy today, huh?
Well I have a fun recipe today you can make with your kids that I hope you will enjoy immensely, both now, and as a memory in the future!
These Patriotic Pinwheel Cookies are perfect for summer - from Labor Day to Memorial Day, and definitely Independence Day, these just scream out SUMMER!
🧂 Ingredients
flour
baking powder
salt
unsalted butter
granulated sugar
eggs
Red & Blue gel food coloring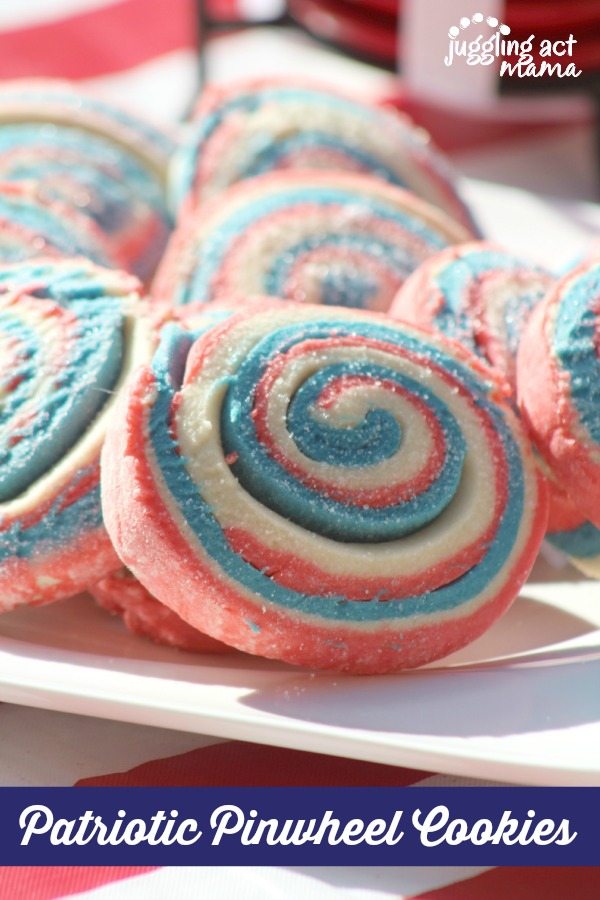 😋 Similar Recipes
🍴 Serving Suggestions
If you want to make these sugar pinwheel cookies extra special, grab some vanilla ice cream and make ice cream cookie sandwiches. Place a scoop of ice cream on one of the cookies, then gently press a second cookie down on top. Wrap in parchment paper and freeze for an hour before serving. Enjoy!
⏲️ Storage
These cookies will store well at room temperature in an airtight containers for about 5 days.
You can make this dough ahead of time and freeze it also. Roll the dough into a log and place it on parchment paper. Twist the ends shut. Place the log into a labels freezer bag. Freeze for up to 3 months. Remove from the fridge, slice the cookies and bake!
More Patriotic Ideas
Not ready to make sugar pinwheel cookies yet? Don't forget to pin this recipe for later! When you do make it, please be sure to tag me on Instagram @jugglingactmama or #jugglingactmama – I'd love to see your pictures! And finally, if you get a chance, please comment and leave me a ⭐⭐⭐⭐⭐ rating below!
Ingredients
Ingredients
5

C

flour

2

teaspoon

baking powder

1

teaspoon

salt

1 ½

C

soft unsalted butter

2

C

granulated sugar

4

eggs

Red & Blue gel food coloring
Instructions
- Cream the soft butter with the sugar until the combination is smooth not grainy to the touch in a mixing bowl.

-Add all 4 eggs at one time...Continue to mix. -Add the vanilla.. Continue mixing.

-Sift the four, baking powder, and salt together.

-Add the dry mixture to the wet mixture.

-Continue mixing to make sure all ingredients are thoroughly blended.

-Divide your batter into thirds.

-Place in separate bowls.

-In bowl #1 add red gel food coloring. Using your hands to knead the dough to make sure the color is even throughout.

-In bowl#2 add the blue gel food coloring. Using your hands to knead the dough to make sure the color is even throughout.

-In bowl #3 the color remains as it is.

-Remove each of the balls of colored dough from their bowls and wrap tightly in plastic wrap.

-Place in the refrigerator for at least one hour or over night.

-Remove from the refrigerator.

-Select your main color which will be the outside roll of the pinwheel.

-Flour 3 cutting boards and rolling pin.

-Taking your primary colored chilled dough and cover it with flour.. Using your rolling pin flatten (roll) out that dough. Leave on that cutting board.

-Taking your secondary colored dough and cover it with flour... Using your rolling pin flatten (roll) out that dough.

-Taking your third dough out (white) and cover it with flour... Using your rolling pin flatten (roll) out that dough.

-Using a metal spatula to lift up the #3 (white) rolled out dough.

-Lay that batter on the top of your primary dough. (Red)

-Using a metal spatula to lift up the #2 (blue) rolled out dough.

-Lay that dough( blue) on the top of the white dough.

-Using your rolling pin roll the two together... Cut away any extra chilled dough.

-Roll the combined chilled dough into one log.

-Wrap this log with plastic wrap closing both ends.

-Place in your freezer for about one hour.

-Preheat oven to 350 degrees.

-Take out of your freezer and remove the plastic wrap, cutting the dough into 2 inch pieces, keeping the shape of a circle.

-Place the cut slices on a parchment paper lined cookie sheet.

-Bake at the 350 degrees for 18- 20 more minutes or until they are slightly brown on the edges
For best results, be sure to check our Tips and FAQs above with important tips and questions that can help your delicious recipe come out perfectly.
Please Note: I am not a registered dietician. Any nutritional data I provide is an approximation and actual dietary information can vary based on ingredients and portion sizes.
Sign up for our emails and never miss another recipe!!
We'll never share your email or send you spam.
Recent Recipes