Get organized while you teach the kids more responsibility, and you'll get more done! Download our free Printable Cleaning Checklist for kids and adults!
Jump to:
As a work-at-home-mom, I need all the help I can get - especially as we get back into the swing of things this fall. As PTA president, I'm also spending countless volunteer hours planning for the school year.
With all that we are juggling during the fall, staying organized is key! My daily housekeeping checklist helps me break up the household chores into manageable bites that my kids can help out with this summer. Busy moms and dads will love this You're going to love this printable house cleaning checklist!
Teaching kids personal responsibility and a good work ethic is so important. If your child can operate a smartphone or tablet, he or she can definitely help with chores around the house!
One of the biggest things the kids help me with is actually laundry. Our washer and dryer are both front-loading, so it's simple for them to switch the laundry for me. I'm still working on getting them to help with the folding and putting away, but this saves me a lot of time.
There are a lot of simple chores kids can (and should) do. Picking up their clothes or toys is a simple way they can help with clutter around the house.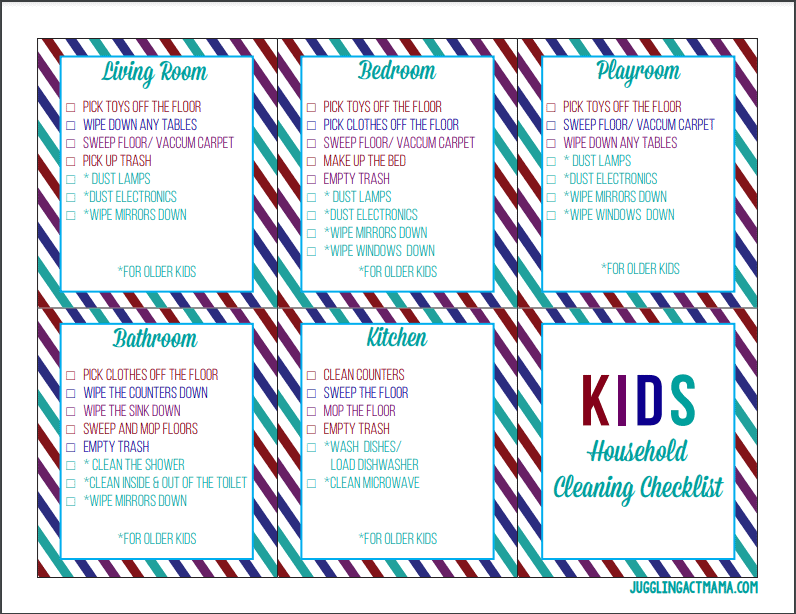 These household cleaning checklist cards for kids are a great way to get the kids to help out. In our home, we use an easy reward system. Ask your children to do all the items listed for one room, or for younger children, have them complete all the colors on one card to earn things like screen time or a new book.
🖨️ Printing Tips
The following are affiliate links. We are a participant in the Amazon Services LLC Associates Program, an affiliate advertising program designed to provide a means for us to earn fees by linking to Amazon.com and affiliated sites.
Select the highest print quality under your printer settings.
Check that the printer is not running low on ink.
I like to use cardstock for more durability.
Take care removing them from the printer so as not to smudge them.
Printer Recommendation
I have used Canon printers for many years, and now have a Pixma model that I love. It is simple to use and produces good quality.
The kids can use dry-erase markers to check off the items they've done.
We'll walk you through how to clear out the clutter so life becomes more manageable!
Copyright Notice
You may print and download these files solely for your own non-commercial use provided that you agree not to change or delete any copyright or proprietary notices from the materials. For more information, please see our Copyright Notice Policy.
Just download the file HERE to get started with your printable house-cleaning checklist
More Free Printables
New Posts You'll Love