As an Amazon Associate, I earn from qualifying purchases.
How to Make a Succulent Terrarium- If you are a lazy gardener or looking for an easy way to add a little plant life to your home, you can't go wrong with succulents!
Succulents are such an easy plant, even for those who don't have a green thumb. If you are looking for an easy decorative way to display your succulents, why not try making your own terrarium!
One of my all-time favorite succulent projects we've featured here on Juggling Act Mama is this gorgeous DIY Succulent Wreath using faux succulents. However, if you're looking for a simple project to do with live plants, then this is perfect for you!
Best Succulents for Terrariums
When it comes to choosing the right succulent for your terrarium, you can select the succulents you want based on the way you want your terrarium to look and feel.
Here are some suggestions to get you started:
Haworthiopsis limifolia
Aloe brevifolia
Echeveria elegans
Haworthia cooperi
Jade plant
Anacampseros
Crassula ovata
Crassula graptopetalum
Portulacaria afra
Caring for Your Succulents
Succulents are probably best known for being durable and difficult to kill. While they are easy to care for, you do need to make sure that you don't forget about them!
Succulents need direct sunlight every day, so put your terrarium in a place that gets plenty of sun.
Make sure to water your succulents about every two weeks. If your soil starts to dry out, you can water more frequently.
You can learn more about growing succulents by visiting the Cactus and Succulent Society of America.
Materials Needed
Fishbowl (or any clear glass open-top container you'd like to use)
Succulents of choice
Succulent soil mix
Activated carbon/charcoal
Rocks
Sand
Optional: Sheet moss
Optional: Figurines and other decor pieces
How to Make a Succulent Terrarium
First, take your clear glass open-top container of choice. I recommend using a fishbowl or a terrarium bowl, but you want to make sure that it has an open top and is glass so you can see inside. You could use pasta jars or mason jars too.
Next, you will want to fill the bottom of your terrarium with about 2 inches of rocks to collect any drainage. You can use river rocks or just rocks from outside your home. This will serve as a way to collect water drainage, so make sure that you don't leave this part out!
Then, add a layer of potting soil that is designed for use with succulents. If you can't find succulent soil, you could also use cacti soil. You want to make sure that you add enough soil so that your plants have space to root.
Start with the largest plant, dust off the excess soil from the roots, and add it to your terrarium. You want to make a hole big enough for the roots and add the plant inside. Make sure to firmly pack the soil so that it can hold them in place. Then, fill your terrarium with as many succulents as you want.
It's important to note that you will want to work from the largest to the smallest and start at the back of your container and move forward. However, you are free to mix up the succulents in your display and even the colors and sizes.
Once you've placed all of your succulents, add a thin layer of sand around your plants.
Finally, the last step is to add a few details to your terrarium to finish it off. You can add some moss, figurines, or decorative rocks to put your final touches on the terrarium.
As you can see, making a terrarium is pretty easy! You don't need a lot of materials, and you can use what you have at home to build a beautiful terrarium for your succulents.
You might also like: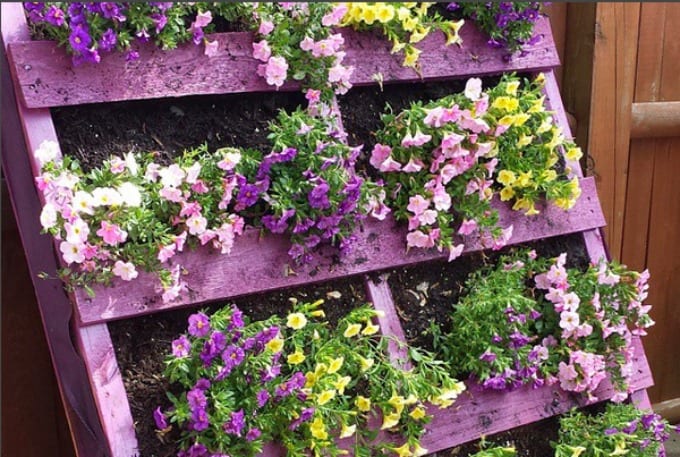 Pallet Planter
This easy DIY project upcycles an old pallet into a planter in just a few hours!