This DIY Rustic Succulent Centerpiece is a fun way to incorporate low maintenance succulent plants into your outdoor living space in just 30 minutes. #tutorial #gardening #succulents

My latest gardening project is this pretty DIY Rustic Succulent Centerpiece. This whole project DIY Rustic Succulent Centerpiece took us just 30 minutes - no really! I love using Hens and Chicks in my gardening spaces. Succulents are easy to grow and maintain, so they're perfect for the gardening novice and expert alike. They're super fun for the kids to help plant, too. They are a hearty little plant that doesn't mind containers, rock walls, or gardens as long as the soil is well-drained.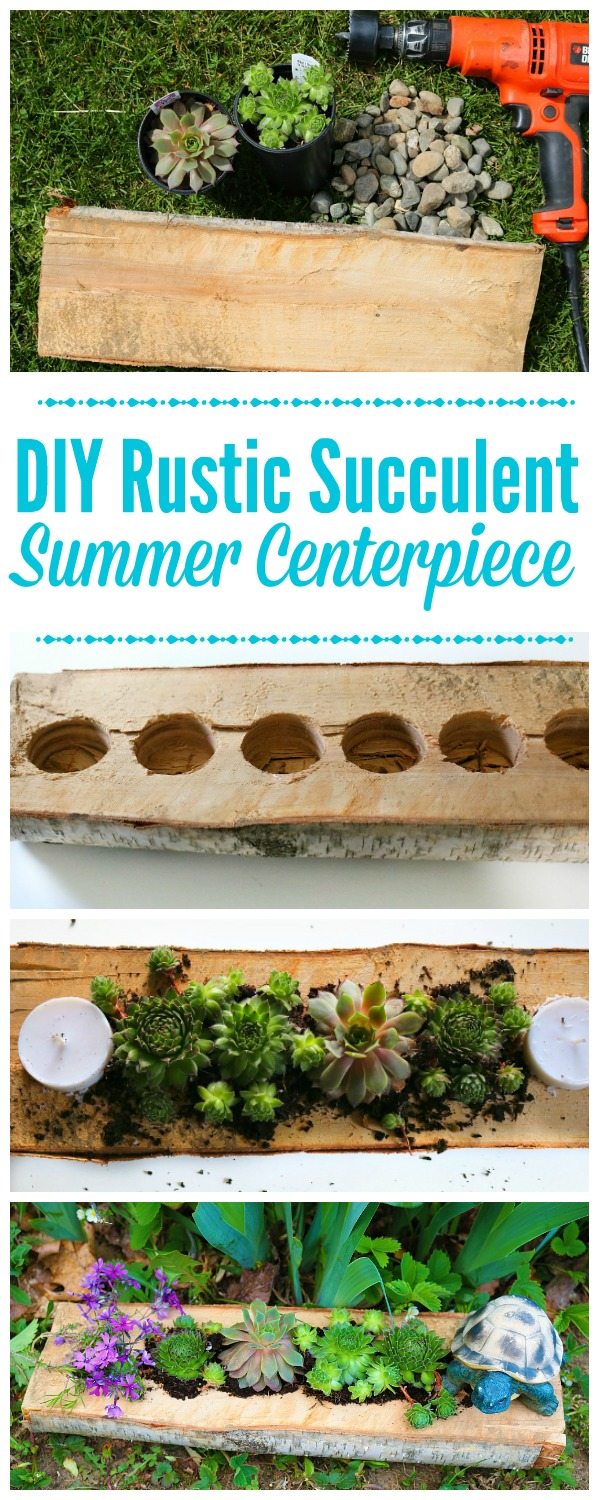 I'm excited to be sharing this post on Little House Living. If you've never worked with succulent plants before, but have always wanted to, this is the perfect easy project to get started! And, it's fun to do with the kiddos, too. It's a great way to get them involved in gardening with you.
Materials
1 Half Birch Log (or soft wood of your choice)
Drill
3″ Woodhole saw bit
¼″ drill bit
Chisel or Flathead screwdriver
Succulent plants
Jumbo tea light candles
Small rocks (optional)
Instructions
Attach the hole bit to the drill, per manufacturer instructions.

Drill holes across the flat , cut surface of the wood about 1-2″ apart and halfway deep. NOTE* Because you are not drilling all the way through the wood circle will put come out, use the chisel of a flat head screwdriver to break it out. Ours split into 3 pieces and popped right out.
Remove the hole saw bit from the drill and attach the ¼″ drill bit. Finish drilling through the existing hole in the bottom of the log for drainage.
Plant a succulent into each hole in the middle. Place a tea light candle at each end.
Clean off the excess dirt and place the rocks around the succulents of you would like. (We didn't use the rocks because our log was slightly tipsy and I liked the look of the wood.)
That's it, just five simple steps and you have a beautiful DIY Rustic Succulent Centerpiece to keep or give away.
This DIY Rustic Succulent Centerpiece is perfect for outdoor entertaining or a cozy dinner for two at the picnic table on a warm summer evening. When you're done using it as a centerpiece, you can move it to an area of your garden and the hens and chicks will continue to grow happily. It also makes a lovely housewarming or hostess gift as well.
You might also enjoy these all-natural insect repellent jars. They are perfect for backyard parties and other summer outdoor get togethers. Your guests will love these as centerpieces that are both beautiful and functional. Use them in conjunction with the DIY Rustic Succulent Centerpiece by placing just the jars around your outdoor space.