Beede Falls NH located in Sandwich Notch Park in Sandwich, New Hampshire is a sweet little spot to relax and enjoy nature with your family.
One of the coolest things about this experience is that the very short trail leads to a crystal-clear pool with a 'horsetail' type waterfall, which you can go under! The Bearcamp River plops into the pool, then continues winding it's way down gently over rocks that look like slides. There are several nice spots to sit on rocks for a picnic or just to enjoy the sounds of nature.
This is one of the easiest hikes we've ever been on – in fact, I'm not even sure it's right to call it a hike! Be sure to bring along your Beach & Boat Tote with sunscreen and bug spray for this outing! I recommend loads of bug spray before setting off on this little hike. Trust me, you'll need it!
Our family had fun wading in the pool to venture under the main falls. It's a one-of-a-kind experience! The water is pretty shallow most of the year so it's a great family-friendly experience.
Beede Falls NH
What you need to know before you go:
Fee: none
Location: Sandwich Notch Road in Sandwich, NH. Learn more about Sandwich NH here.
Parking: scarce with maybe only a dozen spots
Bathrooms: None – there are no bathrooms, so be sure to stop somewhere in the center of Sandwich beforehand.
Picnicking: No tables, but plenty of smooth rocks to sit on. Always pack in-pack out here to help keep the area free from debris.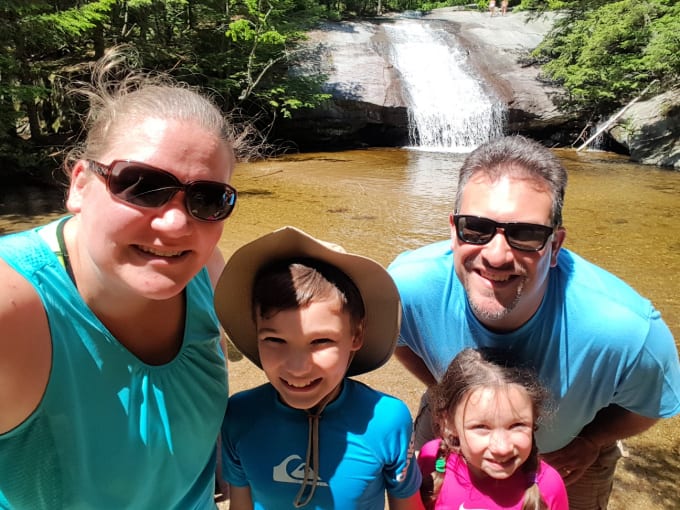 More NH Family Hikes
Visiting New Hampshire?
You might like to also check out these posts: