Beede Falls NH located in Sandwich Notch Park in Sandwich, New Hampshire is a sweet little spot to relax and enjoy nature with your family.
Jump to:
With so many waterfalls in New Hampshire to choose from, sometimes it's hard to decide which one to check out. One of the coolest things about the Beede Falls experience is that the very short trail leads to a crystal-clear pool with a 'horsetail' type waterfall, which you can go under!
The Bearcamp River plops into the pool, then continues winding it's way down gently over rocks that look like slides. There are several nice spots to sit on rocks for a picnic or just to enjoy the sounds of nature.
This is one of the easiest hikes we've ever been on - in fact, I'm not even sure it's right to call it a hike! Be sure to bring along your Beach & Boat Tote with sunscreen and bug spray for this outing! I recommend loads of bug spray before setting off on this little hike. Trust me, you'll need it!
Our family had fun wading in the pool to venture under the main falls. It's a one-of-a-kind experience! The water is pretty shallow most of the year so it's a great family-friendly experience.
Nearby Hikes
When you're in Sandwich, NH, you're not far from a few other awesome hikes including Pasture Trail, Black Mountain Pond Trail, and Dot Banks Nature Trail. Learn more about area hikes here.
Squam Lakes Science Center
From Sandwich, Squam Lakes Science Center in Holderness is just over 20 minutes away. It is a fabulous place for families to see mountain lions, black bears, and other animals. The path feels like a nature walk with plenty of things to stop and do like the welcome center, picnic tables, playground, and more. Learn more here.
TIP: Our best tip for visiting Beede Falls is to go in late Spring, early summer. Go early in the day - weekday if you can - for the best parking and fewer people.
Beede Falls NH
What you need to know before you go:
Fee: none
Location: Sandwich Notch Road in Sandwich, NH. Learn more about Sandwich NH here.
Parking: scarce with maybe only a dozen spots
Bathrooms: None - there are no bathrooms, so be sure to stop somewhere in the center of Sandwich beforehand.
Picnicking: No tables, but plenty of smooth rocks to sit on. Always pack in-pack out here to help keep the area free from debris.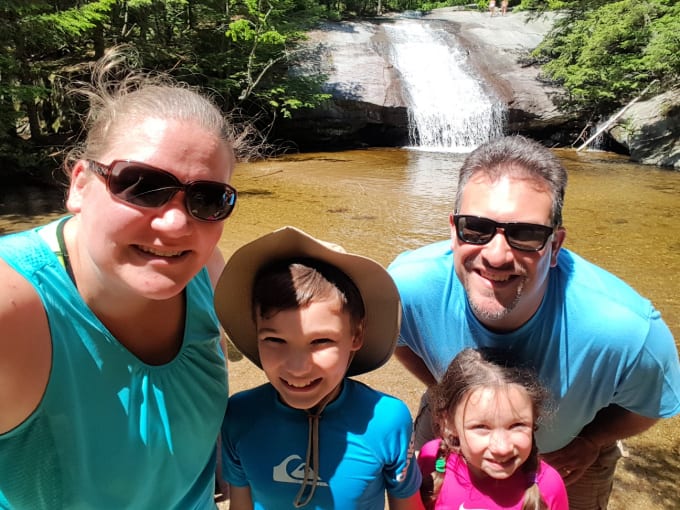 Safe Hiking in NH
It is important to be prepared when hiking! The NH Fish and Game Department and the White Mountain National Forest have provided tons of great information HERE for safe hiking in NH. Here are the ten essential items that you must have for day hikes:
Map
Compass
Warm Clothing:
Sweater or Pile Jacket
Long Pants
Hat
Extra Food and Water
Flashlight or Headlamp
Matches/Firestarters
First Aid Kit/Repair Kit
Whistle
Rain/Wind Jacket and Pants
Pocket Knife
While it is unlikely that you would get lost when you stick to the trail at Beede Falls, it is important to always be prepared. Learn more about the Hike Safe Card.
It is also important to note that cell phone coverage is spotty and you cannot rely on phone apps to help you navigate. Plan on bringing a compass and map (I love this waterproof map).
Keep in mind that if you are doing longer hikes, or those at higher elevation, you will need additional items and provisions.
More NH Family Hikes
You might also like to check out one of these articles about New Hampshire: