Homemade Montreal Seasoning Mix is a pantry staple must-have in my house. It's simple to make and oh-so-very delicious!
This Homemade Montreal Seasoning Mix will become your go-to mix for flavoring everything this summer!
Every week, Mr. Juggling Act makes a big batch of chicken thighs to take to work along with a salad. He loves using Montreal Seasoning Mix for the the convenience and flavor. He's especially fond of the kick from the crushed red pepper flakes. If you've never had Montreal seasoning mix before, it's really a versatile blend of spices that works great for all kinds of recipes including chicken, potatoes, and vegetables, not just steak.
So there Mr. Juggling Act is, prepping his chicken for the week and disaster strikes! We ran out of the mix. No worries friends, this was an easy one to fix. I always have tons of seasonings and spices on hand and love making my own mixes like my Cowboy Seasoning Mix and Italian Garlic & Herb Seasoning Mix. It was only a matter of time before I gave this classic blend a try, too! Our Homemade Montreal Seasoning Mix is quick and easy to make, and tastes even better than the expensive brand from the store.
Homemade Montreal Seasoning Mix
Here's how to make your own Homemade Montreal Seasoning Mix:
Ingredients:
1/2 cup coarse salt
1/3 cup cracked pepper
1/3 cup onion flakes
1/2 cup dried minced garlic
2 tablespoons crushed red pepper
2 tablespoons thyme
2 tablespoons rosemary
2 teaspoons paprika
Directions:
In a food processor, combine the salt, black pepper, onion flakes, garlic and red pepper. Pulse 8-10 times until the mixture is well combined.
In a medium sized bowl, combine the mixture from the food processor, with the rest of the ingredients. Gently combine using a wire whisk.
Transfer the mixture to a large mason jar. Makes about 1.5 cups.
To Use: Sprinkle 1 tablespoon of the Homemade Montreal Seasoning Mix over 1lb of steak or chicken.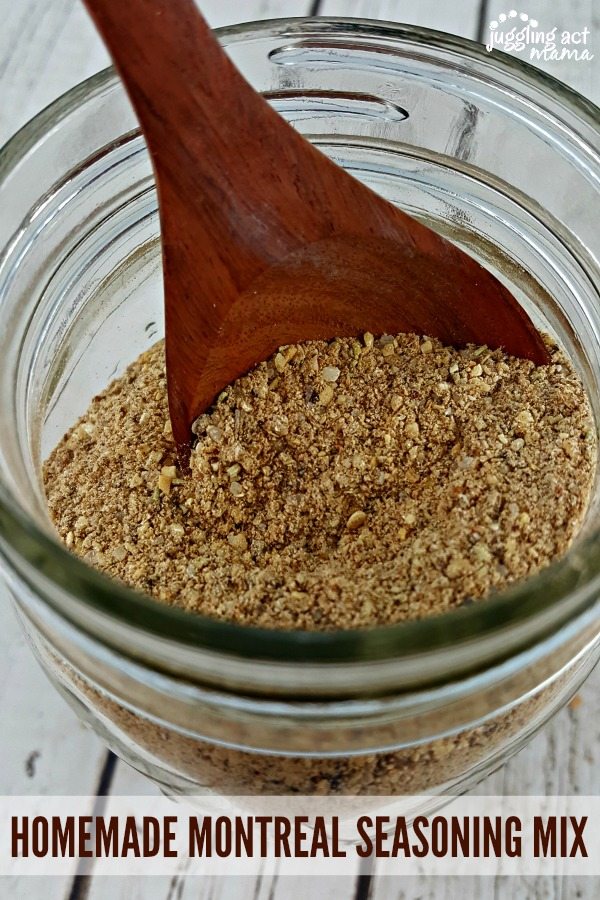 You can also package these in 4oz jars and give them as gifts for family and friends! This makes a nice addition to a grilling gift basket with your favorite barbecue sauce.
Shop the Post
You might also like these other homemade mixes!
Making your own seasonings and spice blends at home is simple and inexpensive. Give one of these great recipes a try: