Make up a compound butter worthy of grilling season in just minutes! This homemade Cowboy Butter is so delicious on grilled chicken and steak.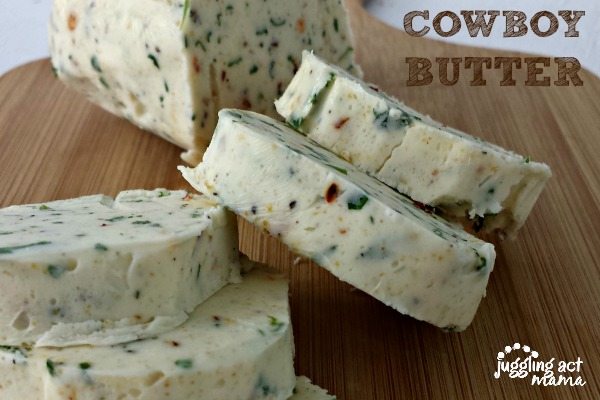 Summer has become my favorite season, and not just because of the weather. Somehow the food of summer just tastes better. Maybe it's because we're eating outside, or maybe it's the fresh flavors, but whatever the reason, it's just good! This Cowboy Butter is full of flavor and compliments the flavors of summer perfectly. Of course, it comes from the great Pioneer Woman, so you know it's gotta be good!
Cowboy Butter
2015-05-29 19:16:05
Make up a compound butter worthy of grilling season in just minutes! This homemade Cowboy Butter is so delicious on grilled chicken and steak.
Nutrition Facts
Amount Per Serving
* Percent Daily Values are based on a 2,000 calorie diet. Your Daily Values may be higher or lower depending on your calorie needs.
Ingredients
1 cup salted butter (2 sticks)
1/4 cup finely minced fresh parsley
A pinch of red pepper flakes
A pinch of coarsely ground black pepper
1 clove garlic, finely minced
juice and zest of ½ lemon
Instructions
Allow the butter to come to room temperature before starting. Beat the butter until creamy, then add in the parsley, red pepper flakes, black pepper, minced garlic, lemon juice and zest. Mix until well combined.
Scrape down the sides of the bowl and turn the mixture out onto a piece of parchment paper. Using the back of a spatula, spread out the mixture into a log shape. Roll the parchment paper up and twist the ends.
Refrigerate for at least 4 hours to allow the flavors to come together.
Notes
Store leftovers in an airtight container for up to 2 weeks.
Adapted from Adapted from The Pioneer Woman
Juggling Act Mama https://www.jugglingactmama.com/
There is nothing like a big 'ole pat of this Cowboy Butter on top of a perfectly grilled steak! Serve pats of the butter on top of grilled steak or even chicken at your next cookout and you'll really wow your guests! It also makes an incredible garlic bread!
Amazon Disclosure: This post contains Amazon Affiliate links. All opinions are my own, but I only promote things that I love and think you will love, too! This does not increase the cost to you, but does help support Juggling Act Mama. For more information, please see our Disclosure Policy.
See how easy it is to make:
Check out more amazing compound butter recipes:

Tomato Basil Compound Butter is my favorite for quick pasta dishes.
Cranberry Butter makes a great addition to your holiday dishes.

My Cowboy Butter, adapted from The Pioneer Woman, is a reader favorite!
My Simple Dill Compound Butter is great for seafood dishes especially!
No brunch spread is complete without this Maple Bacon Butter!
Garlic Basil Compound Butter makes the most amazing garlic bread you've ever tried!
The following two tabs change content below.
Ang Paris is a crafting and cooking mama who is addicted to Pinterest and chocolate! Ang lives with her husband and 2 children in New Hampshire. After more than a decade multi-tasking in the workplace, she's now a full time mom, writer, and blogger who tweets up a storm!
Latest posts by Ang Paris (see all)