This quick White Chocolate Bark is perfect for the holidays! Festive sprinkles and mini chocolate chips take it to the next level!
Jump to:
There are just so many people this time of year that I want to remember with a little something. Gift giving can get out-of-control, overwhelming and expensive fast. That's why so often I turn to food gifts. Homemade bark is a simple and delicious gift you can make. It's especially good for teacher gifts, because it's easy for the kids to help with the sprinkles or other decorations (please take care with the melted chocolate when it comes to the kiddos though!)
White Chocolate Bark Ingredients
1 bag white chocolate candy melts (I prefer Ghirardelli's)
1 cup mini chocolate chips
Holiday Sprinkles
Instructions
Spread a piece of parchment paper out on a cookie sheet.
Add the candy melts to a small bowl and microwave according to the instructions on the package.
Once the candy melts are smooth, spread it out on the parchment paper so that it is about ¼-1/2 inch thick. Sprinkle the mini chocolate chips over the layer of chocolate, pressing them gently into the chocolate. Top with holiday sprinkles.
Refrigerate until the chocolate is hard. Break the chocolate into pieces with your hands (some of the topping will fall off, but that's ok). Package into festive containers or bags.
Recipe Variations
I love the way these sprinkles look with the mini chocolate chips, but you can change up your toppings any way you like.
Chopped candy bars, red and green M&Ms, or even dried fruit are pretty tasty on this, too! The toppings are the most fun, especially for the kiddos. Just make sure you work quickly so that the white chocolate doesn't set up and harden before you having your toppings in place.
For a perfect gift, download and print out these tags.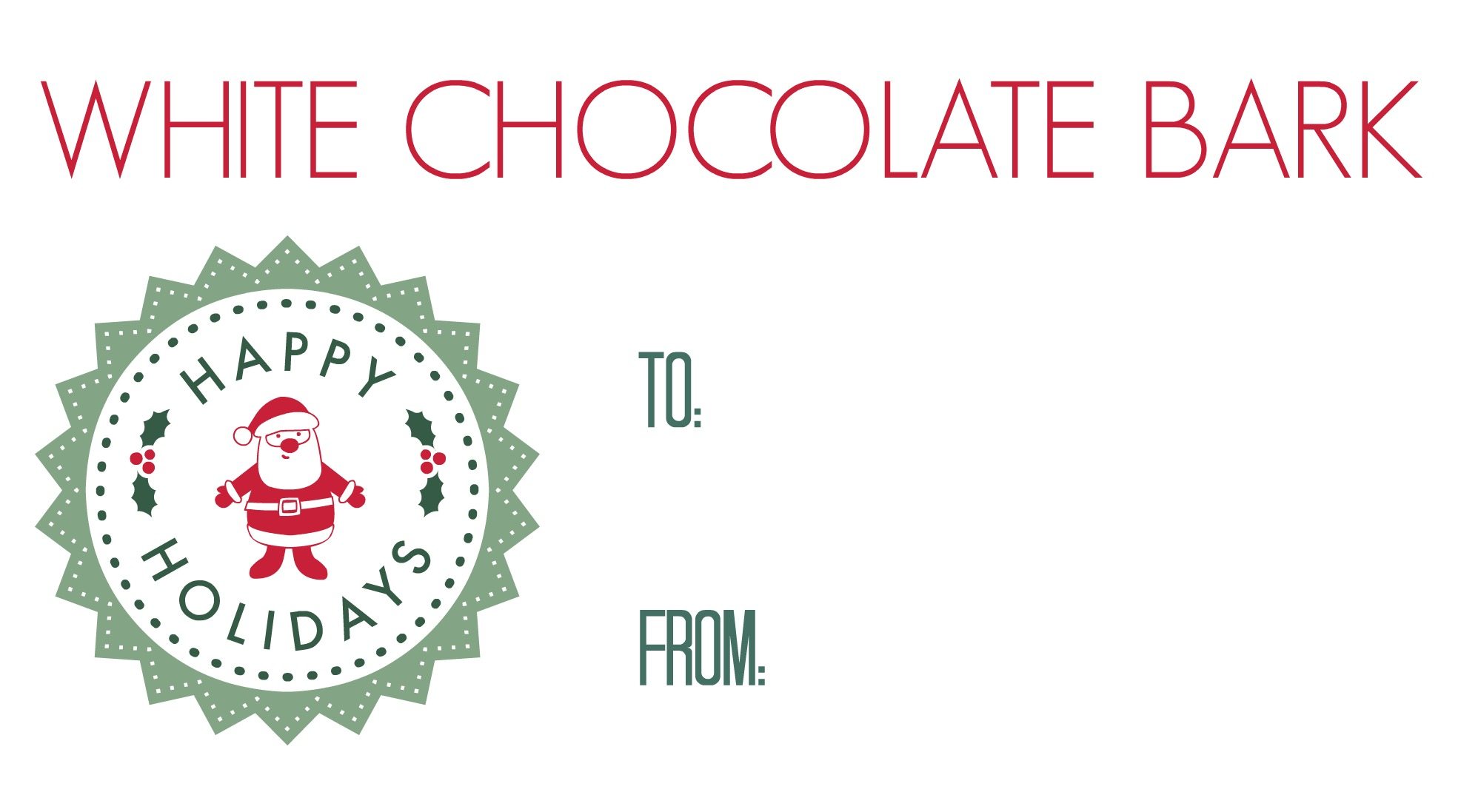 Copy Right Notice: You may print and download these files solely for your own non-commercial use provided that you agree not to change or delete any copyright or proprietary notices from the materials. For more information, please see our Copy Right Notice.
Check out a few homemade gift ideas:
from left to right: