As an Amazon Associate, I earn from qualifying purchases.
Mr. Juggling Act and I rarely go out for New Year's Eve – I'm not a big fan of the crowds and the idea of heading out to a "first night" celebration in single digits is so not appealing.
But that doesn't mean we don't celebrate in our own small way.
I love making a delicious fondue or steaks and settling in for a nice quiet (late) meal after the kids have gone to bed. It's like going on a date without the hassle of finding a babysitter (or cleaning the house before she comes!)
Last year, I made this champagne fondue and it was amazing! Served with lots of yummy things for dipping, it was the perfect way to celebrate.
This year I'm making some of these babies – Caprise Antipasticks with a little drizzle of balsamic vinegar and olive oil and just a touch of sea salt. Best part? No cooking, no dishes, no mess! They are super easy!
Caprese Antipasticks
Ingredients:
1 pint grape tomatoes
1 lb marinated bocconcini (small mozzarella balls)
(Note: I got my bocconcini from the deli section of the grocery store where they were marinated in a garlic and herb mixture)
24 fresh basil leaves
Balsamic Vinegar
Extra Virgin Olive Oil
Sea Salt
Directions:
You can use extra long toothpicks, or skewer cut in half. Thread on one tomato, then half the basil leaf – add the bocconcini then the other half of the basil leave so it's wrapped around the cheese. Repeat until all your appetizers are assembled.
Plate onto a platter and drizzle with olive oil, balsamic vinegar and sprinkle with sea salt.
I hope you enjoy your New Year's Eve friends – it's been an amazing 2013 and I hope 2014 is a tremendous year for you!
Looking for more finger foods? Check out one of these recipes: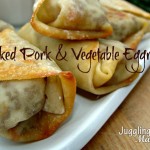 Baked Pork and Vegetable Eggrolls