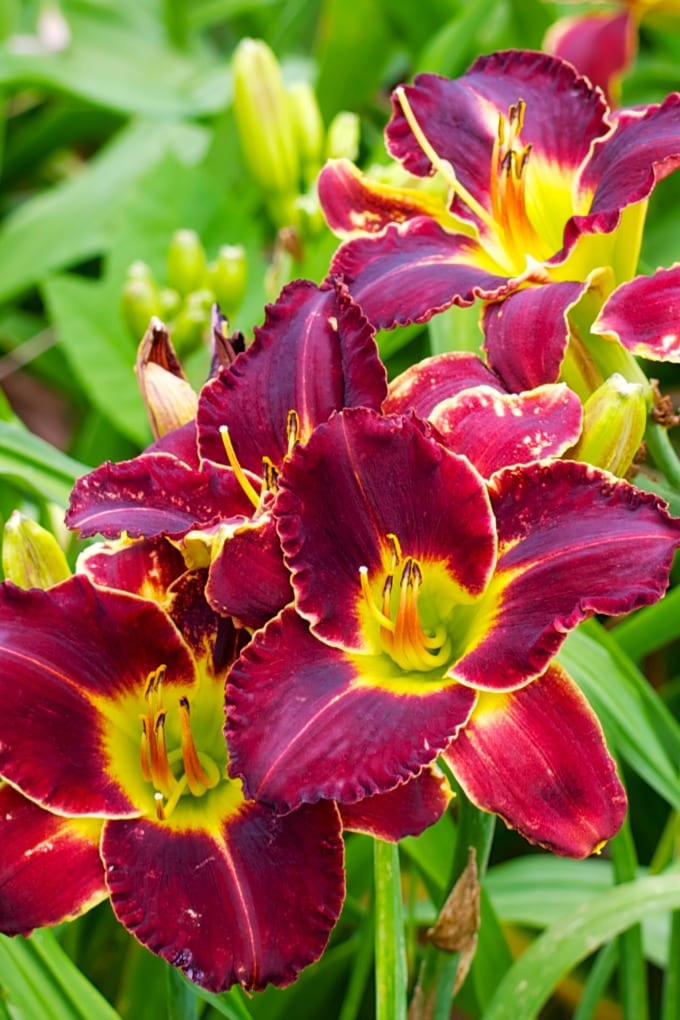 Daylilies can be used in many different ways throughout your garden, unlike other perennials. Here's a quick guide on how to grow daylilies this summer.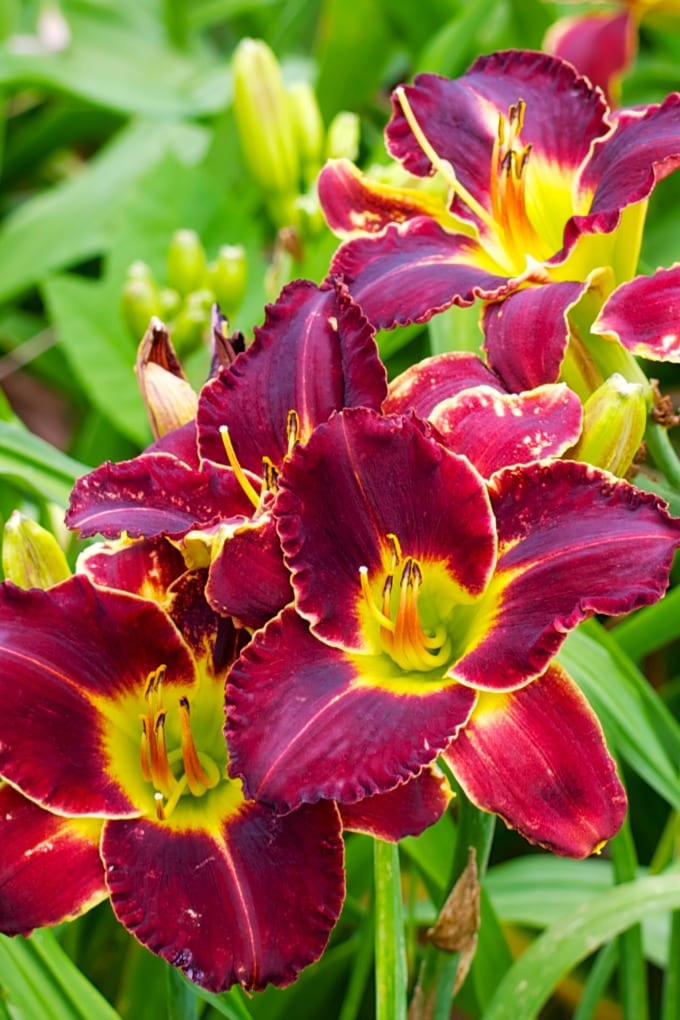 And, when you're ready, Learn How to Divide Daylilies, too!
Jump to:
Daylilies are one of the best perennial flowers you can have in your garden. They are tolerant of a wide variety of different soil conditions and are sturdy against pests and disease.
With their small short and compact structure, this makes them perfect for your garden borders, or as a welcoming summer boost to your garden when in bloom.
It is important to know when to plant which is based on your growing zone. If you're not sure what zone you are in, use the USDA Hardiness Zone Finder here.
How to Grow Daylilies
If you are looking to add some daylilies to your garden, here is a guide to help you get started! This has everything you need to get started growing your own daylilies.
How do you care for daylilies?
There are a few things you need to know about caring for daylilies. To get the most out of these sturdy growers, you'll need a few basic things to make sure that your daylilies thrive.
In the spring and during bloom, you will want to use a 10-10-10 fertilizer. This should be all you need, but you can care for them a little more frequently if you'd like. These plants are hardy so they won't have issues with a drought, but you will want to make sure your plants are well watered.
You will want to remove any dead leaves from the ground during the early spring and do some light weeding. If you cover the area with mulch, you should be able to keep the weeds down though you shouldn't need it for the plant itself. Once daylilies are fully grown, their leaves are thick enough to shade surrounding weeds.
How much water do daylilies need?
Daylilies have fleshy roots that enable them to survive a drought, but that doesn't mean you shouldn't water your plants. Ensure that you give your flowers plenty of water at least an inch a week, but make sure not to overwater them. Daylilies don't do well when their roots are immersed in water for long periods. You want to make sure that the soil has had a proper chance to drain before watering them again.
What is the best fertilizer for daylilies?
Fertilizers will go a long way when it comes to daylilies. I recommend using a 10-10-10 granular fertilizer in the spring. Make sure to spray over the top of the daylilies. Other good choices for fertilizer are compost, liquid fertilizer, or a slow-release fertilizer.
Should you cut back daylilies after blooming?
Over time your daylilies will start to fade, and their foliage will fall. However, cutting back your plant to tidy up the garden will weaken your daylilies. Instead, please resist the urge to cut back the leaves until they have begun to brown or before the first frost, depending on what happens first.
Daylilies are beautiful flowers that can brighten up any space in your garden! However, they do require some upkeep to keep them looking their best! Despite this, these are hardy summer flowers that will be able to withstand the hottest summers and still give you a beautiful garden at the same time!
Dividing and Propagating Daylilies
You can propagate your day lilies using a simple Homemade Rooting Hormone. Learn how to divide day lilies here.
Gardening Tools
The following are affiliate links. We are a participant in the Amazon Services LLC Associates Program, an affiliate advertising program designed to provide a means for us to earn fees by linking to Amazon.com and affiliated sites.
Be sure to check out my Juggling Act Mama Storefront on Amazon where you'll find all kinds of great products to make your life easier! Thanks so much for being a part of Juggling Act Mama ❤
More Gardening Ideas