Learn how to make your own cake pop stand and download our free template.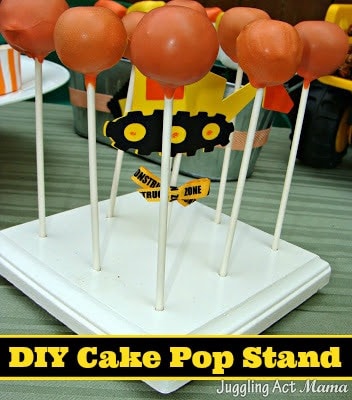 With back-to-back birthday parties this spring, I quickly became pretty good at rolling cake balls for pops, but I hadn't yet mastered how to display them.
There are tons of gorgeous stands on Etsy that I drool over, but Mr. Juggling Act was increasingly becoming agitated with the amount of stuff I was purchasing for the parties - despite my 'we'll use it again and again' excuse.
So, it was time to take matters into my own two hands, and so with a little help from a pal, we made two of these cute cake pop stands in no time. In fact, each stand cost about $5! You can grab everything you need at your local craft store.
Here's a step by step guide, and even a free template you can download for drilling the holes.
Materials
6-¾" square wood plaque
(4) 1" wooden split ball pieces
Drill with ⅛ drill bit
Hot glue and glue gun
Paint
Sand paper
Template (free download)
Instructions
Step 1: Download the free template here. With this size wood and this template, each stand will hold 9 pops.
Step 2: Carefully tape the template to the board using painter's or washi tape. Drill the holes as marked, taking care not to go all the way through the wood.
Step 3: Gently sand the holes to remove any loose bits of wood.
Step 4: Turn the piece of wood over and use the hot glue gun to attach the split ball pieces to make little 'feet' on your stand.
Step 5: Paint your stand - I used white so it would be versatile (plus I already had it on hand!) I used a semi-gloss from Krylon Colormaster, which is a primer and paint in one. That's it, you're done!
The best part about these simple cake pop stand is that they are small, so you can store them without taking up a ton of space, but they look so much more polished than the cheap cardboard ones that fold up.
Copy Right Notice: You may print and download these files solely for your own non-commercial use provided that you agree not to change or delete any copyright or proprietary notices from the materials. For more information, please see our Copy Right Notice.
Cake Pop Recipes You'll Love