Luxury Camping is super popular and for good reason! Huttopia in the White Mountains of New Hampshire is the perfect spot to get into nature, without losing all the amenities you love!
This post has been sponsored by Huttopia, however, all opinions are my own. #ad #Huttopia #MonHuttopia #HuttopiaLiving
I love nature. I love cooking outdoors. I love swimming. I do not love sleeping on the ground, and hunting around for a place to relieve myself safely. Ahem.
After reading discovering Huttopia's first US location in the White Mountains while visiting BostonMagazine.com, I knew this luxury camping experience was the perfect family vacation for us.
When we arrived, I knew we had a winner all around. The kids peeped behind every door and into all the nooks exclaiming "This is awesome!" and "Look over here!"
What is Glamping?
Glamping is like camping... and yet it is a world away. Imagine getting away to amazing places in nature, but then having access to all kinds of amenities. That's glamping. "A fusion of glamour and camping, glamping is a way to authentically experience the most awe-inspiring locales around the world."(source)
Luxury Camping at Huttopia's Chalet
The gorgeous wooden Chalet sleeps up 6 people and is perfect for those that love nature and comfort. Each cabin includes a bedroom with a queen bed on the first floor, a living area with a sofa bed, wood stove, dining area, and bathroom with shower, toilet and sink.
There's even a kitchen area with sink, gas cooker, microwave oven, refrigerator, coffee maker an even a dishwasher! On the second floor, there's a bedroom with two twin beds, and a mezzanine area that's perfect for storing your suitcases or other gear.
The outdoor area includes a covered wooden porch with a picnic table and fire pit. We grilled hot dogs and roasted s'mores and had a wonderful night just enjoying one another's company. Later that night, rain poured down on the tin roof and lulled us to asleep. No soggy sleeping bags here, we were cozy in our little chalet cabin. It rained all the next day and we spent time playing games, checking out the Lodge Tent and playing tourist in the North Conway area. We even used the little fireplace!
All About Huttopia
Huttopia also offers other types of lodging as well including a variety of different wood and tent structures.
What to Know
To keep the sites more peaceful, there are no cars allowed beyond the parking lots. Guests use little green wagons to cart items to and from the parking lot area. The water is not drinkable, but Huttopia provides bottle water for free. We were very surprised to find that there was not only great cell reception, but also fantastic WiFi - luxury camping indeed!
In the Reservation Tent, guests can purchase firewood, ice, and a small selection of groceries. A binder full of area hikes gives guests some ideas on where to visit off property. The staff was friendly and helpful, too!
Luxury Camping Amenities at Huttopia
Huttopia has loads of outdoor activities including ping-pong, volleyball, basketball, badminton, baseball, bocce. The swimming pool is heated and there is plenty of seating and umbrellas for shade, though tables would be a nice addition. And in case that's not enough, there's a slew of activities like guided nature walks, evening concerts, craft workshops and much more available to guests during peak season.
The Lodge Tent is a nice place to gather or play Foos Ball. You can borrow games like Monopoly and Trivial pursuit from the Reception Tent. This is the common area for Huttopia, adjacent to an open air terrace. The pool is located centrally here. Also here, you'll find the The Airstream Trailor, which offers pizzas, sweet and savory crepes and gourmet ice cream.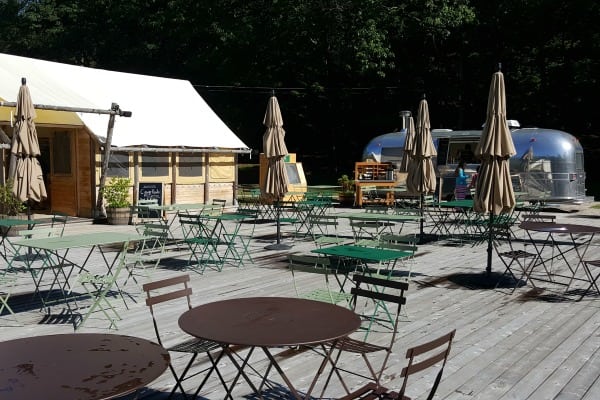 One of my favorite activities was canoeing on Lake Iona. Huttopia has a private beach for guests where you can swim, fish or build sandcastles. Canoe rentals are $15 per hour or $35 for a half day. They also have paddle boards $12 per hour for adults and $8 an hour for children.
Mr. Juggling Act and Ethan went in one canoe, while Olivia and I went in the other. From Lake Iona, you can see the waterfront Trapper's Tents. These are canvas tents built on a wooden platform. We saw dragonflies dancing over the water and a loon gliding along. We heard bull frogs and the gentle sound of the canoes moving through the water but absolutely nothing else. It was, in a word, tranquil.
Visiting the White Mountains
There's really no reason to leave the grounds of Huttopia, but it would be a shame to miss out on all the the White Mountains have to offer visitors. Here are a few of our favorites spots.
Amusement Parks
Families with young children will love visiting StoryLand, which is just minutes away.
Santa's Village in Jefferson is also a great family favorite about an hour away.
Restaurants
Visit the Market at White Mountain Cider Co in Bartlett for the most amazing cider donuts and delicious breakfast sandwiches, too.
The Muddy Moose right in North Conway serves up a nice variety sandwiches, seafood, pasta, burgers and steak. It's a fun place to take the kids to get out of the heat.
Natural Wonders
The Flume Gorge is about an hour away and is an awesome chance to families to check out many different natural features.
Diana's Baths
The base of The Mt. Washington Auto Road is also about an hour away. Drive up the mountain and from the submit see scenic vistas that encompass 5 states plus Canada.
Less than 20 minutes away, the whole family will enjoy Diana's Baths, which includes a hike and natural rock slides where you can wade in the crisp mountain waters.
Rocky Gorge offers several hiking trails, as well as the breathtaking Gorge itself.
What to Pack for Luxury Camping
Sunscreen
Bug Spray
Hats and Sun Glasses
Water Bottles
Wet Wipes
Mini First Aid Kit
Camera and Batteries
The Chalet at Huttopia provides linens and dishes so all you need to bring are your personal items. Here are a few other things you might want to bring along to make the most of your luxury camping experience:
Bathing Suits and Towels (you can rent beach towels if you forget them)
Extra Camp Chairs (The Chalet provides 2)
Roasting Sticks and S'mores Supplies
More Summer Vacation Ideas
More Camping Ideas