As an Amazon Associate, I earn from qualifying purchases.
Homemade Oobleck inspired by Dr. Seuss is super fun for the kids. You'll love that our 'recipe' is borax free!
Pick up a some single serve packets of Metamucil for this project. Yep, you read that right! We're swapping out the borax for Metamucil, which contains psyllium. The Psyllium will make the mixture thicken. I don't know about you, but I don't really want my kiddos playing with a borax mixture. Know what I mean? So I like that this is a little bit more natural… or at least it's meant for consumption so it's not dangerous!
Your kids are going to love playing with this! You can customize it with different colors by changing out the food coloring. Make it sparkle with glitter, or leave it out. It's fun to let your kids choose.
Dr. Seuss Inspired Homemade Oobleck
Here's how to make the homemade oobleck in just a few easy steps:
Materials
1 single serve packet of Metamucil (or 1 tablespoon)
1 cup warm water
Green food coloring
Glitter (optional)
Microwave safe dish
Instructions
To make your own Dr. Seuss Inspired Homemade Oobleck, simply mix the Metamucil with the warm water in a small dish.
Be sure to mix until fully dissolved.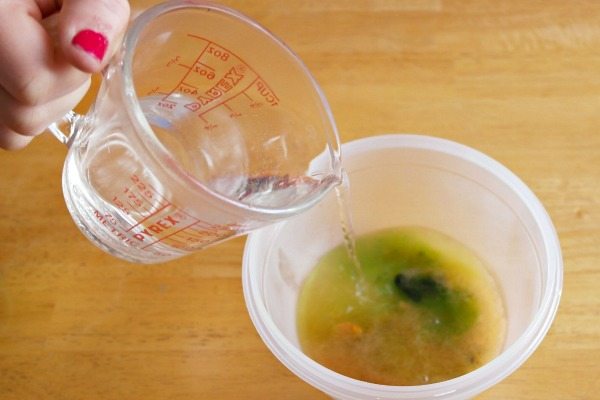 Add the food coloring. Stir.
Microwave for 4 minutes on high. Slime will thicken as it cools.
Store in an air tight container.
How simple is that? Easy Peasy as we say here in the Juggling Act household. I hope you and your little ones will have lots of fun making and playing with this homemade oobleck!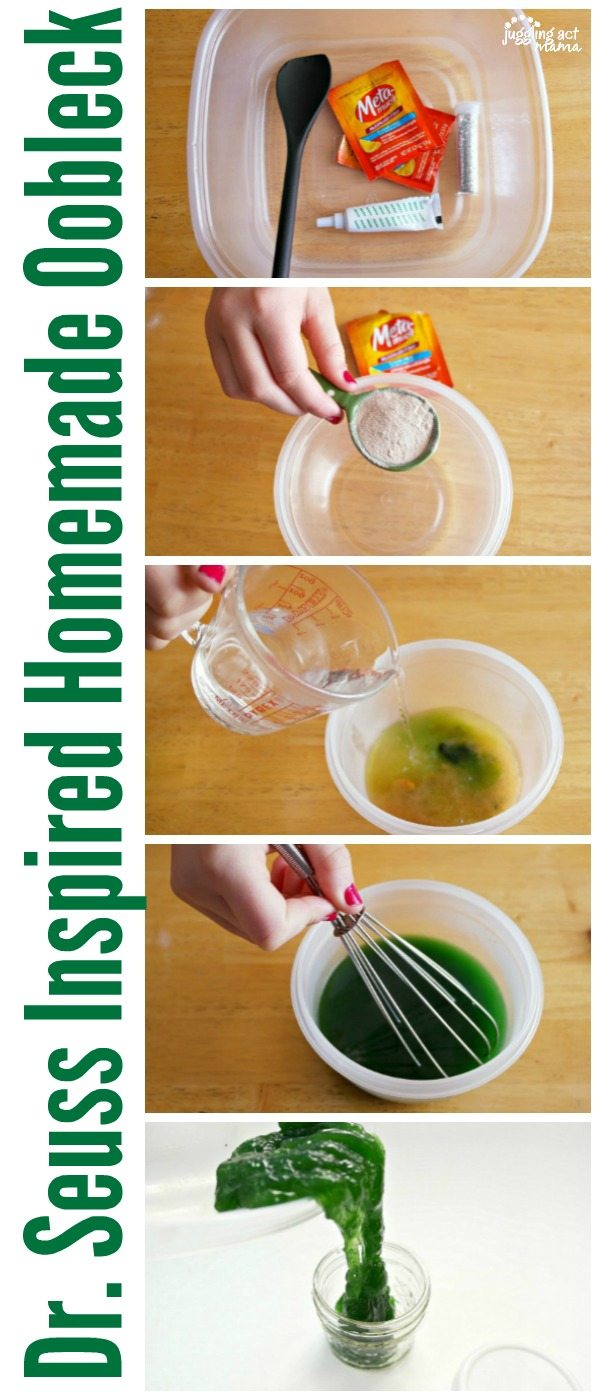 If you love this homemade oobleck, check out my Pinterest board for more #BoredomBuster ideas!
Follow Juggling Act Mama – Ang Paris's board Juggling Kids Crafts & Activities on Pinterest.
You can also request to join my #BoredomBusters Facebook group for more ways to keep the kiddos busy!