If you love making your own DIY Bath Bombs, this collection of homemade bath bomb recipes is for you!
Making your own are an affordable way to indulge and they make perfect gifts, too. They rival fancy boutique versions too!
Bath bombs can be a little pricey. When it comes to making bath bombs, you may have to spend a few extra dollars upfront for the materials, but you can create as many as you want for just pennies!
These easy bath bomb recipes are perfect for an at-home spa day, thoughtful gift, or a fun way to help you relax!
Instead of spending $7+ to get one bath bomb from the store, invest that money in the materials for yourself, and make your bath bombs that could rival any Lush bath bomb!
Easy Homemade Bath Bombs
Headache Bath Bombs from Crayons and Cravings - with peppermint and lavender essential oils, this step by step tutorial will show you how to make bath bombs that are partcularly soothing.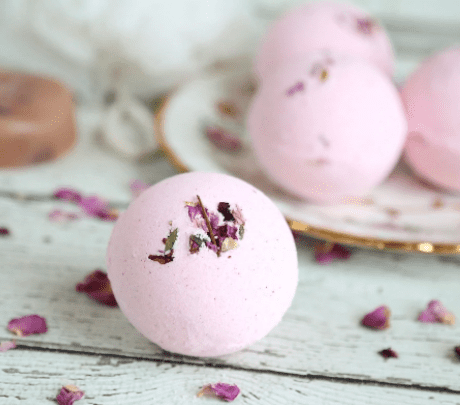 DIY Rose Bath Bombs from Beauty Crafter - in addition to citric acid and baking soda, these gorgeous bath bombs include rosehip oil and dried rose petals.
Meyer Lemon Bath Bombs from Dear Crissy - a combination of fresh lemon zest and lemon essential oil make these bath fizzies are made in an extra large ice cube tray.
DIY Floral Bath Bombs from Club Crafted - epsom salt and flower petals make these pretty bath bombs an especially great gift for Mother's Day.
DIY Citrus Bath Bombs from The Proper Blog - don't let the shape fool you! While these do not use a traditional round bath bomb mold, these smell amazing thanks to both grapefruit zest and grapefruit essential oil. Plus, you can download a cute little printable gift tag.
DIY Amethyst Bath Bombs from A Pumpkin and a Princess - mica powder, sea salt, and lavender essential oil (among other ingredients) make these stunningly gorgeous bath bombs that remind me a bit of a geode.
DIY Peony Bath Bombs from A Pumpkin and a Princess - to achieve this beautiful color, use Cosmetic Pigment or gel coloring. Keep in mind that the color of the dry mixture will look lighter than the finished bath bombs.
Lime and Coconut Milk Bath Bombs from Tweak and Tinker - with hemp seed oil and coconut milk powder, these smell almost good enough to eat!
Mango Bath Bombs from Hunmble Bee and Me - mango butter and mango essential oil, along with mica powder, makes these fabulous bath fizzies beautiful and leaves your skin feeling great, too.
DIY Moisturizing Bath Bombs from Country Hill Cottage - a combination of cocoa butter, goat milk powder, and Honey powder, make these milk and honey bath bombs perfect for any relaxing bath.
More Bath Bomb Ideas
More DIY Bath and Beauty Products