This Homemade Sparkle Playdough is easy to make and super soft and fun to play with - your little Frozen fans will just love it!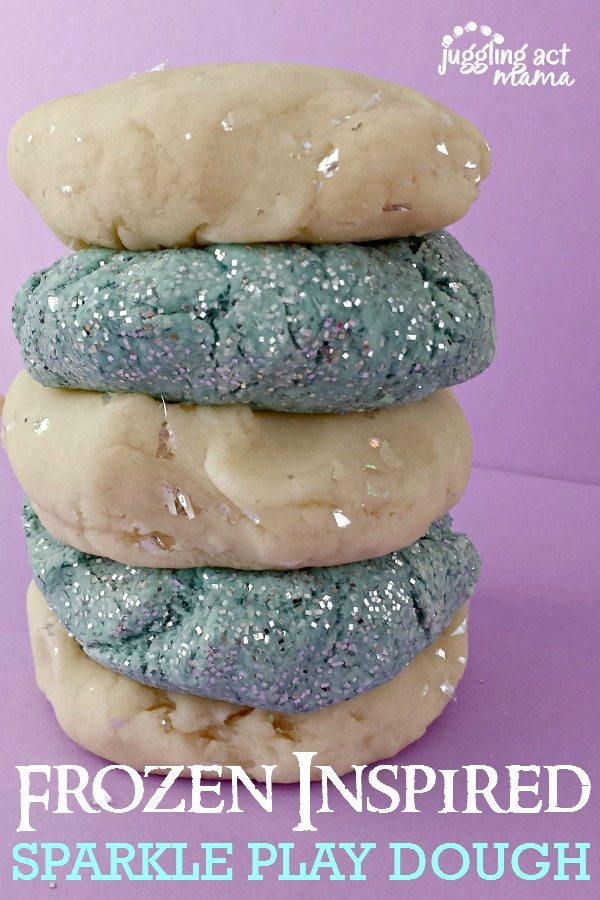 Jump to:
I've often written about how much my daughter loves the movie Frozen, and especially magical Elsa! She was Elsa for Halloween, received Elsa and Anna dolls for Christmas and we recently just saw Disney on Ice Frozen. Her obsession shows no signs of waning!
With all the snow we've had, I've had to be creative to keep the kids entertained. Playdough is always a big hit (my kids love their apple pie scented play dough), but who knew that when you add glitter to it the kids would love it even more?
How do you make playdough sparkle?
Glitter seems like to obvious answer, right? However, there are so so many cool products on the market now. Check your local craft store or shop online for items such as:
Tiny snowflake confetti glitter adds a fun dimension to play dough.
Snow Glitter is larger than regular glitter and looks more like pieces of ice in the snow.
Traditional Glitter in silver, translucent, opal or white are all great ways to make your play dough sparkle.
Aqua Sparkle Playdough Materials
1 cup of flour
½ cup of salt
2 tbs of cream of tartar
1 tbs of vegetable oil
Blue & Green food coloring
1 cup of boiling water
silver glitter
White Sparkle Playdough Materials
1 cup of flour
½ cup of salt
2 tbs of cream of tartar
1 tbs of vegetable oil
1 cup of boiling water
Snow Glitter
Frequently Asked Questions
Here are some questions that readers sometimes ask about making playdough at home.
Does homemade playdough need to be refrigerated?
There's no need to refrigerate homemade playdough. Just store it in an airtight container.
Can I use baking powder instead of cream of tartar?
If you don't have cream of tartar on hand, you can use baking soda instead. Replace the 2 tablespoons of cream of tartar with 3 tablespoons of baking soda.
Can you make playdough with olive oil?
I use vegetable oil, but olive oil will also work.
How do you make homemade playdough?
In the bowl of a mixer, combine the flour, salt, cream of tartar and oil.
To make the colored dough, add 8 drops of the blue food coloring to 1 cup of boiling water, then add just enough green to make the water look teal. (It will lighten when mixed with the flour. (Skip this step if making the white.)
Add the boiling water and mix well. An adult should handle this part.
Turn the mixer on low until the mixture starts to come together.
The kids can get in on the fun next - it's time for the sparkle! Add whichever mix-in you choose. I like the snow glitter for the white, and silver for the colored, but it would be cool with iridescent glitter, too!
Turn your mixer on low again (trust me, you do not want to go too high because that glitter will poof out of the bowl and go everywhere.) Mix well until the mixture is well combined. Now you're ready to play!
Store the dough in an airtight container or Ziplock bag and you'll be able to use this over and over again!
Do you have Frozen lover at your home, too?
This sparkle playdough makes a great party favor for Frozen-themed birthday parties!
Check out these other great ideas: