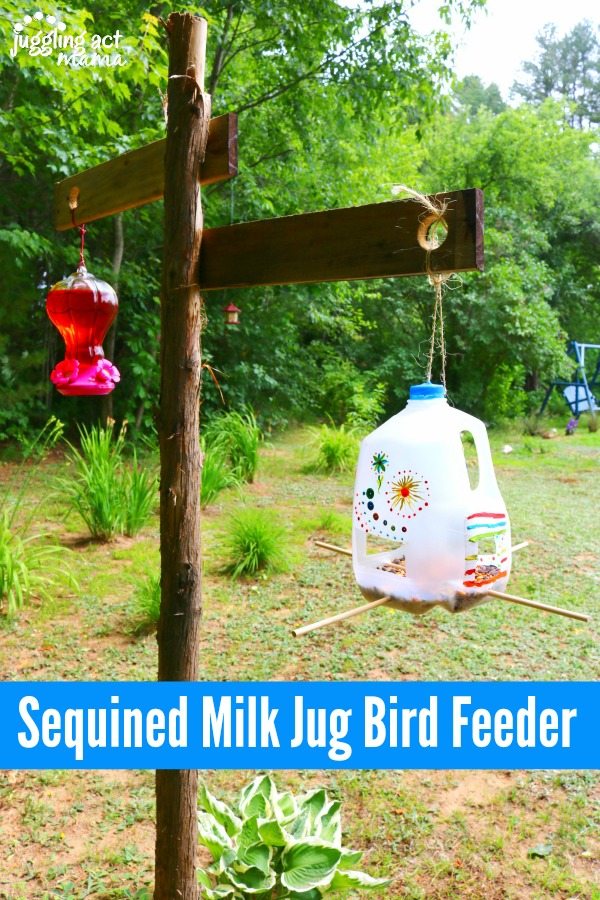 A Milk Jug Bird Feeder is a fun project for the kids this summer to fight off boredom. Make one in just a few easy steps with our tutorial.
Jump to:
I'm always looking for fun new Boredom Buster Activities for my kids. They love being creative, especially with paint!
Watching the birds and other wildlife that might happen by in our little yard is always a lot of fun. This upcycled Milk Jug Bird Feeder is a great project!
✂️Supplies Needed
Be sure to check out my Juggling Act Mama Storefront on Amazon where you'll find all kinds of great products to make your life easier! Thanks so much for being a part of Juggling Act Mama ❤ ❤ ❤
Empty Milk Jug
Twine or String
Sequins or Glitter
Paint Brush
Paper Plate
Wooden Dowels or Twigs
Scissors or Exacto Knife
Bird seed
📝Instructions
Start with an empty, clean milk or water jug.
Use the razor knife to cut a small X on each side of the milk jug.
Slide the wooden dowels or twigs through from one hole to the opposite hole. These are the perches!
Cut a rectangle out above each perch.
Glue sequins or glitter and paint as desired.
Cut a hole in the cap and thread the twine through.
Fill the bottom of the feeder with seed, screw the cap back on and hang!
TIP* It is easier to fill the feeder from the top than the sides.
I hope you will enjoy making a Sequined Milk Jug Bird Feeder with your family soon!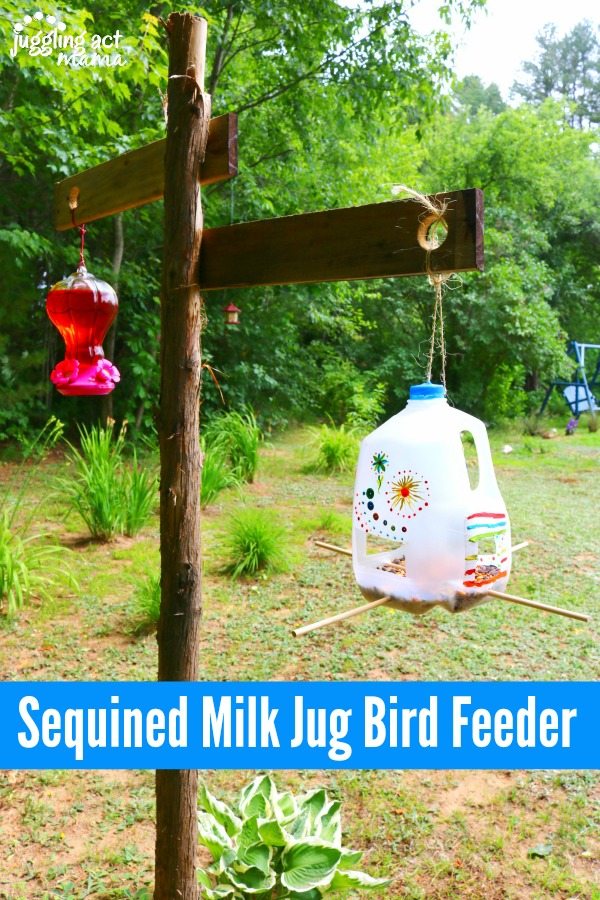 ⭐ Tips
Always supervise young children when using glue or paint and when handling small objects such as the sequins.
For this project, acrylic craft paints are best. Washable paints will rinse right off the jug the first time it rains.
More Fun Ideas:
You might also like these fun summer boredom buster craft activities you can do with the kids: